Is Uber in Pakistan risky or convenient?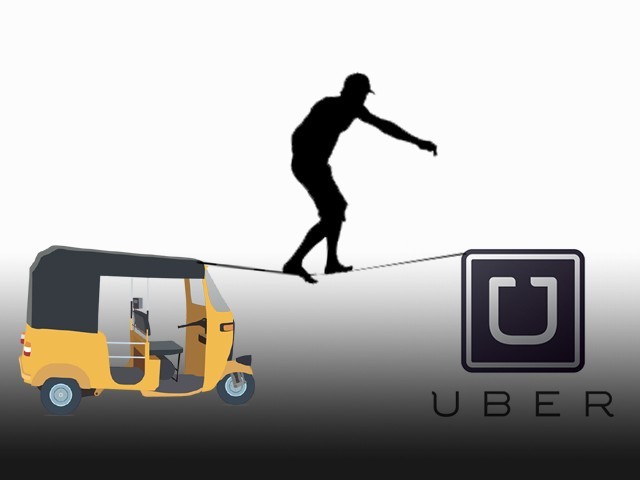 Usually, rickshaws, as well as the older black and yellow taxis are available at every other street corner in Pakistan, and are effective in getting consumers from point A to point B, though the quality of service is far from ideal.
The challenge in riding a rickshaw, especially for taller individuals, is reaching the destination with as few bruises and head injuries as possible, considering how adventurously the drivers of these open vehicles drive.
Taxis, on the other hand, are a test for anyone with a fondness for personal hygiene. Sometimes the seats of these vehicles, which lack in air-conditioning, carry foul odors, especially after baking in the summer with the sweat of various passengers.
What's sometimes more painful is the process of bargaining, especially when there are time constraints.
White Cab services across Karachi, such as Metrocab, are certainly better, but carry their own caveats, including higher expenses and tardiness. If I had a rupee for every time a Metrocab didn't show up on time, I'd have enough for a few plates of biryani.
I suppose this is why the news of Uber's arrival has been met with so much excitement.
Based out of San Francisco, California, Uber is the biggest transportation network company in the world. Since the launch of the Uber app in 2012, and subsequent extension to international territories in 2014, the company has skyrocketed, today standing at a valuation of over 50 billion USD.
For those unfamiliar with the app, it basically acts as a platform for drivers and consumers to conduct business. All you need is a smartphone with Android or iOS, and you are ready to hit the road.
As you can see, the app is fairly simple to use:
Once you've asked for transportation, you can track your driver on Uber if you please, while an SMS will be sent to you once a driver arrives.
The robust nature of the software allows users to see estimated costs at the beginning, and split the fare fairly with any other riders at the end. Payment can be automatically deducted from a bank card on file once the share is decided. This minimises any unpleasantness associated with haggling with the driver or your (cheap) friends. In short, the system protects all involved.
Similarly to eBay, you can also leave detailed feedback about your experience with the driver at the end of the transaction.
Reuters reports that Uber is set for launch around the end of 2015
Shaden Abdellatif, Uber's head of regional communications says,
"We want to launch by the end of the year or at the latest by early next year. We will put together a team in Lahore within the next couple of months."
Recently, while writing for Aurora on carpooling apps in Pakistan, I researched Tripda and Savaree. The former is an international venture by German incubator Rocket Internet (Food Panda, Daraz.pk etc.), while the latter is a local start-up. Although both apps are run by dedicated teams determined to grab a chunk of the market, the two are still finding their footing.
Tripida's reception on the Google Playstore in neighbouring India has been mixed. From reviews as early as this month, users are complaining about software issues with the app crashing or not allowing users to login. Savaree on the other hand has been changing directions like a headless chicken. Finally, the company seems to be settling on a business model, but with the introduction of Uber, the future could be bumpy.
Considering how Uber has both an established business model, as well as polished software, it shouldn't suffer from either of these issues here. It could, on the other hand, run into other roadblocks.
Pakistan's credit card conundrum
CEOs of online shopping businesses and bankers alike tell me that many Pakistanis are still mistrustful of using credit cards, even in 2015. Although Visa and MasterCard were introduced to debit cards several years ago, many banks were frightened of letting their clients harness this power. Today, while most banks allow consumers to shop online with ease, some continue to ask users to jump through rings of fire. Perhaps what is worse is the incompetent nature of some of the banks themselves.
Reuters says Uber may have a fix,
"Uber usually uses credit cards or other electronic payment methods to charge customers but the company plans to develop new products and payment solutions for Pakistan, where credit cards are much rarer than Internet connections."
Of course, this just could be a fancy way of saying 'cash only', which takes away one of Uber's conveniences.
The other challenge Uber faces is the low smartphone penetration in the country
According to Reuters,
"Fourteen percent of Pakistan's population of 190 million has access to the Internet and 73 percent to mobile phone."
Unfortunately, both of these statistics are irrelevant to the potential strength of the Pakistani Uber marketplace. Fourteen per cent access to internet holds no meaning if it isn't mobile internet. Meanwhile, though 73 per cent of Pakistanis may own mobiles, the vast majority of these cellphones cannot use the smartphone only Uber.
App developer Gertjan van Laar told TechinAsia that smartphone users in Pakistan stand at between seven and 10 per cent. This is backed by a Pew Survey from early this year claiming that eight per cent of Pakistani users owned smartphones. In a nutshell, this means only one out of every ten people in the country has the capability to use the app.
On a side note, the reason behind the lower smartphone adoption is simply cost; entry level smartphones that are 3G capable stand at just under five thousand rupees. This is expensive for drivers of yellow and black taxis, as well as rickshaws, which leaves only private car owners interested in becoming Uber drivers.
The safety factor
Recently, in India an Uber driver was found guilty of raping and kidnapping a 26-year-old woman. An ex-Uber driver in the United States pleaded guilty to rape in 2014. Meanwhile, a Pakistan Uber driver in Australia stands accused of raping a 22-year-old British tourist in Sydney.
Some Pakistani bloggers have already asked if Uber will increase the likelihood of sexual assault. Here, I have to side with Uber.
Does Uber have a rape problem? No, I am afraid mankind has a rape problem. Unfortunately, men who don't have respect for another's body will use whatever tools at their disposal to sexually assault when the opportunity strikes. A rapist will rape regardless of whether he is on Uber or not.
Pakistani women use unknown rickshaws and taxis as a mode of transportation every day. While most have safe experiences, some, as shared on the #talkdammit initiative have fallen prey to drivers. Needless to say, these drivers did not use Uber.
As Reuters states, Uber plans to have stronger checks in Pakistan to battle the security issue,
"The company says all Pakistan drivers will go through a rigorous screening process and background checks, while the app itself will send riders the driver' name, photo and car license plate and allow them to share their route with family or friends."
Hopefully, Uber will introduce the panic button that allows passengers in trouble to notify the police. In India, clients have a safety net of five people who can keep up with exact details of the ride. Alongside the feedback system, this should make an Uber driver a lower risk than the average taxi driver on the street.
Of course, Uber encourages its drivers to maintain good ratings. This happens through timely pickups, clean vehicles equipped with phone chargers as well as snacks and drinks, and courteous drivers who have a sense of basic hygiene. Certainly, this beats the average taxi experience in the nation.
Uber has sometimes faced the ban stick
For various reasons, Uber has found itself on the wrong side of the law in various places across the world. Controversially, Uber doesn't consider itself an employer of its drivers, leaving various world governments to believe that the company wants to have its cake and eat it too.
The list of various nations where Uber has struggled with various legal issues is a mouthful, and includes Australia, Belgium, Brazil, Canada, China, Croatia, Denmark, France, Germany, Hong Kong, India, Italy, The Netherlands, Malaysia, New Zealand, Philippines, Poland, Romania, South Africa, South Korea, Spain, Taiwan, Thailand, United Kingdom, and even the United States.
In all likelihood, Uber could face a set of bureaucratic hurdles from a Pakistani government that has only now acknowledged the digital age and has struggled with it ever since. Does Uber have enough gas to power through local red tape? Only time will tell.