Congratulations, Pakistan, on hosting a phenomenally successful PSL!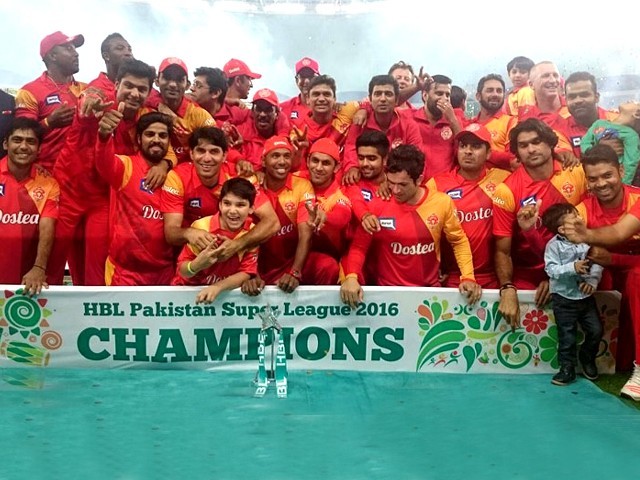 It came, it started and it conquered the hearts of millions, in our nation and beyond.
The Pakistan Super League (PSL) finally concluded last night and what an ending it was. It was, arguably, the biggest and most colourful cricketing event ever held in the history of this country. PSL was an event which many thought would not kick off and an event that was continuously bombarded with criticism from all directions during its inception stage. But PSL's success proved everybody wrong. I'm pretty sure its success may have even surprised its financial backers.
Speaking of surprises, the winners of the PSL also surprised everyone with their performance in the second half of the tournament. Islamabad United were never the favourites to win the tournament. At least for me they weren't.
But that's what Misbahul Haq's magical captaincy does. He doesn't create the hype others can but can produce equally good or even better results quietly. Tuk Tuk has convincingly led another side to produce great results against all odds. He's done this in the past and he's done it yet again. Amongst all the great T20 players, teams and captains we have in the country, Misbah and Islamabad United rose to become champions.
But this does not discredit the Quetta Gladiators for entertaining everyone with such great performances throughout the tournament. They were said to be the underdogs at the start of the tournament in comparison to star-studded teams like the Karachi Kings and Lahore Qalandars, but they proved themselves to be the dark horses.
Under the mentorship of Sir Vivian Richards, Quetta Gladiators gelled brilliantly. Their teamwork was exceptional and it was great to see the likes of Sarfraz Ahmed, Kevin Pietersen and Kumar Sangakkara come together in one team.
Social media was filled with appreciative messages for the passion the great West Indian legend showed during the matches from the dugout. Sir Vivian Richards is an inspiration and if he does work with the Pakistan national side (as rumors are suggesting) it will do nothing but benefit the team.
Thanks You Sir Vivian Richards..!! @vivrichards56 #PSLFinal pic.twitter.com/kdemU6p5hN

— Waheed Gul (@waheedgul) February 23, 2016
Salute to Sir vivian richards and his loyalty

Just saw Viv Richards interview by Wasim Akram. Great man. https://t.co/OGiFfSAKh0

— Sky is Neela (@SkyisNeela) February 23, 2016

As far as talent is concerned, PSL did uncover some jewels from the domestic circuit in Pakistan. However, various local players were exposed to high class bowling and batting from international players, something which they aren't used to. This reiterates the importance of having international cricket in Pakistan.

The top five run scorers in the tournament featured three Pakistanis, Umar Akmal, Sharjeel Khan and Ahmed Shehzad, all of whom have experience of international cricket. No new batting talent was unearthed from Pakistan during the tournament. Even Sharjeel Khan's total run tally of 299 in 11 matches only includes a single innings score of 117. The remaining 10 innings do not present a rosy picture. The selectors were quick in offering him a place in the T20 national side. Only time will tell if this will be a beneficial move for the team. I wonder if Misbah will get a call from the selectors for the World T20 as well. I wish he does.

As far as bowling is concerned, Mohammad Nawaz and Mohammad Asghar were discovered during the PSL. Apart from that, PSL was mostly dominated by international players such as Andre Russel, Grant Elliot, Ravi Bopara, Tamim Iqbal, Brad Haddin, Luke Wright and Kevin Pietersen. Nevertheless, the experience of young Pakistani talent sharing the dressing room with such great international players and having the chance to learn from legends like Wasim Akram, Sir Vivian Richards, Dean Jones and Andy Flower will certainly pay off for Pakistani cricket in the future and may even uplift the standards of domestic cricket in the country.

Coming back to how well the inaugural edition of PSL was organised, there is just one word that comes to mind; grand. No matter what the world has to say, Najam Sethi and team have pulled off something that has never been achieved as far as organising sports tournaments in Pakistan is concerned. And the best part is, there is no loser – we are all winners!

From the first minute of the opening ceremony till the last minute of the closing ceremony, every single detail was flawlessly taken care of, resulting in making the event impeccable.

Let's just hope the next edition of this mega event comes to Pakistan so the nation can feel the adrenaline rush from the stands rather than from their TV lounges.

Well done, Pakistan Cricket Board!