Deadpool is unapologetic, in your face and fantastic!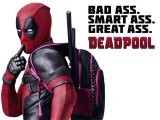 Directed by Tim Miller, Deadpool is an American anti-superhero movie based on the popular Marvel Comics character, Wade Wilson/Deadpool (Ryan Reynolds). It is a story of Marvel's most peculiar, nonconforming and atypical hero.
Wade Wilson plays the protagonist and the story line of the movie revolves around him trying to win back his former girlfriend, Vanessa (Morena Baccarin). The initial scenes of the movie focus on Wade meeting the love of his life. Everything seems to working out fine, up until he is diagnosed with cancer. During this point in time, he's approached by an individual who promises him he can be cured. Eventually this leads to Wade undergoing a lab experiment cum torture session which not only ends up curing him but also gives him the ability of self-healing and immortality. The downside to all this is that it completely scars his face, leaving him unrecognisable.
This isn't his first time Ryan Reynolds is playing an offbeat super hero going against the grain, as compared to the usual heroics of other well-known Marvel superhero characters such as Captain America or Iron Man.
He starred as Deadpool in the X-Men Origins: Wolverine but that role didn't earn him much praise, instead he was criticised simply because his character was the polar opposite of what Deadpool was envisaged as in comics.
This time around though, he has his own movie and Ryan Reynolds has managed to excel playing the character of Wade Wilson (Deadpool). Equipped with sarcasm and lewd humour, his one liners will make the audience blush and laugh out loud all the same.
While staying true to the character's comic strip heritage, he adds a new layer of spontaneity and witticism. Those who don't follow X-Men or Marvel based movies can instantly relate and form a certain likeness for the central character, owing to his unorthodox and profane demeanour.
The cast is made up of your token British villain Franklin/Ajax (Ed Skrein) and his sidekick Angel Dust (Gina Carano). They are passable and have delivered average performances. For me, Ryan Reynolds stole the show. He owns the Deadpool character in letter and spirit, much like Robert Downey Jr as Iron Man. These two have managed to bring their actual quirkiness on screen.
Deadpool's camp of friends includes Colossus (Stefan Kapicic) and Negasonic Teenage Warhead (Brianna Hildebrand). The mudslinging banter between Deadpool and Colossus is extremely entertaining. Negasonic Teenage Warhead's role is too small to warrant a good performance because her role demands her to remain quiet most of the time.
The other character I personally loved was Deadpool's friend Weasel (TJ Miller). Together Deadpool and Weasel crack some of the crudest and PG 18 based jokes which will leave you in fits.
Mind you, this is not your average $100-$150 million superhero movie. It had a limited production scale and budget which was utilised efficiently. The action sequences are craftily shot and stylised making them a pleasure to watch. Even though much of it is CGI, it doesn't look out of place, it simply fits.
Deadpool is an R rated movie, so it's not your typical superhero saving the day type of movie. Instead it's peppered with double entendres and crass humour, which redefines the superhero genre.
It kicked off with a good start at the box office in Pakistan as well as abroad. It has smashed box office records internationally with over $135 million in just three days. As far as Pakistan is concerned, it was recorded as the highest grossing Hollywood film (adult genre) within the country.
Deadpool is unapologetic and in your face. It sets a new bar for how adult based super hero movies should be. Sometimes it's okay for superhero movies to deviate from a darker theme.
If you decide to watch this in cinemas, leave your kids at home in order to enjoy a good laugh. I would rate it a 9/10.
Loading ...