My massive love affair with these mini quiches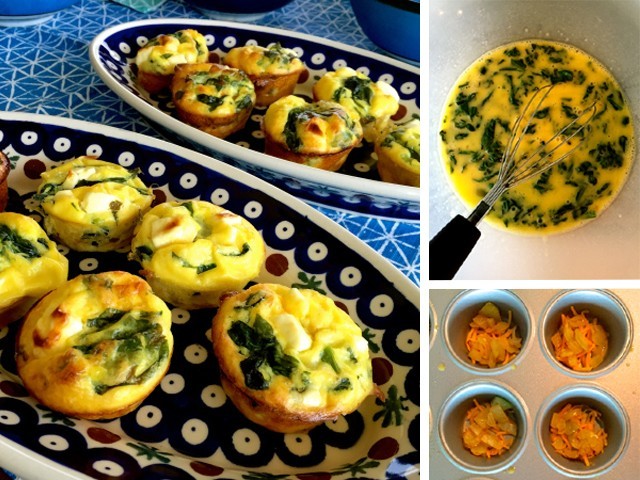 When I was hosting some friends over for an afternoon tea, I had already thought of having scones and a chocolate tart. I needed one more dish! Growing up, it was always important to make sure that there was enough food to feed all your guests and more; always more, than less.
Since it wasn't a lunch or dinner, I wanted to have little bits that people could pick on while hanging out. Dips, chips and all of that is the easy part. I needed something else that I could make over the weekend and freeze easily since I would have had to make the scones fresh on the day.
Quiches are always great for that – easy to make, easy to freeze and easy to reheat for eating purposes. I usually make a nice full quiche, but since I was going to have a round chocolate tart, I opted for mini crustless quiches instead. Makes it easier to just pick up and eat with your hand.
The thing that I love about quiches is how you can change around your fillings every time. This time I went for spinach, feta filling – that also included some caramelised onions and cheddar cheese. I'll have to share my full quiche recipe another time as the pastry shell for that is the EASIEST one to make and it's so light and delicious.
So for the mini quiches, I wanted something light and fluffy. So here goes:
Ingredients:
Onion – 1 (small and chopped)
Eggs – 8
Milk – ½ cup
Salt – ½ tsp
Spinach
Feta Cheese – ½ cup (chopped)
Shredded cheddar cheese
Method:
1. Oven set at 375 Fahrenheit.
2. Cook the onions in some butter until nice and soft – then set aside.
3. Take fresh spinach and cook it in a pan with olive oil and salt until it shrinks down. Then chop it up into small pieces.
4. In a bowl, put eggs, milk and salt. Add in the chopped spinach and the feta cheese and mix it up.
Spray each mini muffin tray with cooking spray. At the bottom of each muffin section, put in the onions and cheddar cheese. Then pour in the quiche filling in each tin to the top.
Stick them in the oven for 15 minutes or until they are nice and golden.
And like I said, if you aren't into feta cheese and spinach, feel free to choose whatever you want as a filling. Sun dried tomatoes, asparagus, goat cheese, salmon, the sky is the limit!
This post originally appeared here.