Don't have Great Expectations from Fitoor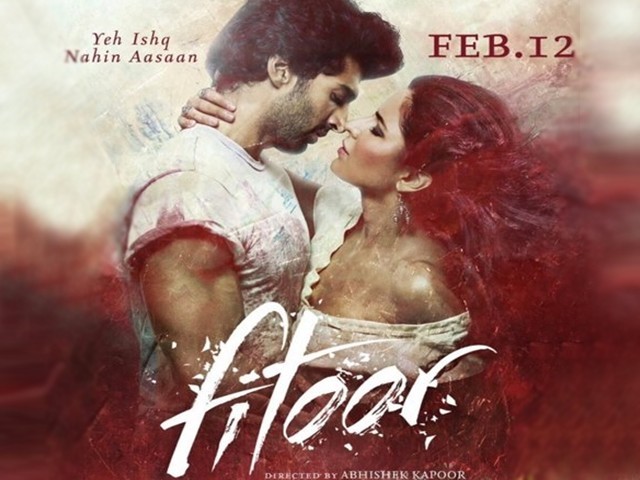 Charles Dickens may have been a literary genius; however, the Bollywood flick Fitoor – based on Dickens' Great Expectations is not as great as expected. A Katrina Kaif starrer has always excited viewers but her acting falls short in Fitoor.
She remains somewhat below par and her chemistry with Aditya Roy Kapoor did not spark any on screen excitement, leading to a lack of romance. However, Tabu, who has always been graceful on big screen, did manage to add to the story line with her commendable acting skills as Begum Hazrat, Firdaus' (Katrina Kaif) mother.
Set in Sringar, Fitoor focuses on a childhood affection intensifying and developing into a passionate love. Noor, (Aditya Roy Kapoor) the lead actor, is projected as a curious young boy from a lower class family. He happens upon Firdaus at the place of his employment and is dumbstruck from the moment he sets eyes on her. His feelings deepen with every passing day and the two are seen as developing a deep friendship over the course of time. However, Firdaus is sent abroad for further studies and this sudden decision leaves Noor heartbroken. Though what's more upsetting is the fact that Firdaus does not feel the same way for him.
The two lose touch over the years and are seen carrying on pursuing their goals in life. Fast forward into the future, we see Noor ending up as an accomplished artist, moving between New Delhi and London and hosting successful art exhibitions. Personally, I liked the first half of the movie as it focuses on Noor's feelings developing for Firdaus. There are moments where you will literally want to shake young Noor in order to express his love for Firdaus.
Once they hit adulthood, things don't remain the same.
The second half of the movie focuses on Noor's life in Delhi and London, meeting Firdaus after years and revisiting his childhood love for her. What's puzzling is how he adjusts to his new lifestyle without any snags; keeping in mind he had never left Srinagar before this.
There is immense scenic beauty in the movie since it has been shot in Kashmir. Sadly the same cannot be said about the screenplay and story progression. Some scenes are overly dramatised and some have been blown out of proportion. Furthermore, scenes do not add up and their inclusion in the movie confuses the audience.
Choosing Katrina Kaif to starr in the lead role was not the right decision either. This led to Aditya Roy Kapoor and Tabu overshadowing her in the movie. He has displayed great acting talent so it can be justified to say the reason behind Katrina Kaif and Aditya Roy Kapoor's lack of chemistry can be traced back to her lacklustre performance.
Tabu, who we love to hate over the course of the movie, has done justice to her character. Her facial expressions remain in line with the dialogues and she has carried off her role as a cynic pretty well. Once the reasons behind her actions become clear, the audience don't know whether they should sympathise with her or despise her. I wouldn't be surprised if this movie lands her a Filmfare award.
Ajay Devgan also graces the screen in a cameo role as Abel Magwitch, the convict. He couldn't do much since he barely got any screen time, but keeping in mind the existing slow progression of the movie, it could have become a drag if more scenes were included. Similarly, appearances by Rahul Bhat, Lara Dutta, and Govind Namdev did nothing for the script or movie, as they were just up taking space and not strengthening the plot in any way.
The songs managed to make up for the lack of chemistry and slow pace of the movie. Arijit Singh has done wonders in his song, Yeh Fitoor Mera. Ranga Re is a melodious song sung by Amit Trivdei, Sunidhi Chauhan and Caralisa Monteiro. Our very own Zeb Bangash contributed to Fitoor's music scene as well.
Had there been no melodrama or superficial love saga, the movie could have been much better. Fitoor has a good cast but better screenplay could have added the flavour of Great Expectations to the movie. However, imbalanced screenplay, mediocre execution of the scenes and numerous supporting roles can end up confusing the viewers.
In the end, Fitoor remains a love story where two individuals have to fight for their love in order to stay together. I would recommend it as a weekend watch, nothing more.
I would rate the movie 3.75/5.