Sanam Teri Kasam is the cinematic equivalent of Chinese water torture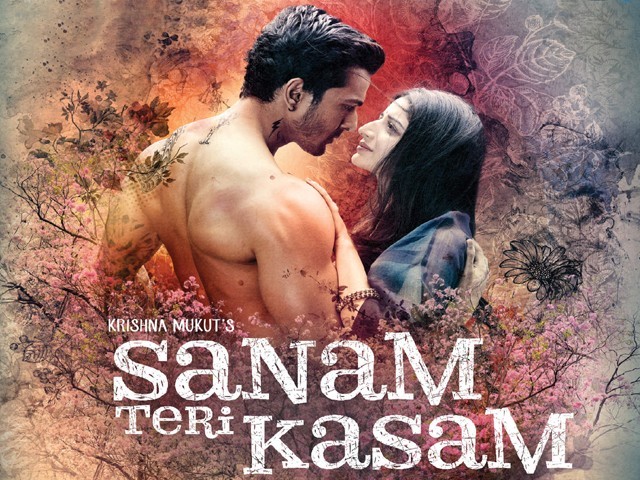 Back when I was in college, I was acquainted with a certain someone who was notorious for being uber-pretentious throughout campus. Amongst a tonne of her other pseudo acts, what everyone found the most cringe-worthy was her insistence on her surname being spelled as 'Raphae Ubbasee' instead of the official, perfectly reasonable 'Rafay Abbasi' and as a consequence she got a lot of flak for it by virtually everyone at the institute. It wasn't just the act of trying to 'coolify' her name, but what made her pretty much the butt of every joke that the college canteen had to offer was the extremely forced nature of this particular act.
Now kids were generally okay with 'Sairas' turning into 'Syras' or 'Zulfis' naming themselves 'Xulfis', since the naming transition was sort of seamless to say the least. But 'Raphae Ubbasee' on the other hand just took the pseudo-cake in terms of trying a little too hard to seem cool and exotic, hence the institution-wide mockery.
Well, what can I say! That's kids for you.
What made Ms Raphae Ubbasee adopt such an annoyingly peculiar behaviour was later revealed, what I can only surmise, as deep rooted insecurities about her being, when she started dating a really close friend of mine. Needless to say, the fling inevitably ended in parting of ways due to a certain someone's psycho complexes. No prizes for guessing who that certain someone was by the way.
Now you might ask, why was this anecdote even relevant, considering you clicked on what seemed like a standard review for an Indian movie starring a Pakistani actor.
Now, the Pakistani actor in question is Mawra Hocane. That is Mawra 'Hussain' for everyone who now knows the reason behind the inclusion of my seemingly random college tale. And I must admit, I find Hocane topping Raphae Ubbasee as far as 'forced name exotifying' goes. Now let me get this straight, I have got no issues with her trying to pseudo-name herself as 'Hocane' instead of 'Hussain' even if she is at least 10 years too old for such frivolous childishness.
Even if it doesn't seem so, Sanam Teri Kasam (2016) is precisely the reason why I brought this up.
Sanford Meisner, one of the most renowned acting teachers ever, once said,
"Acting is the ability to live truthfully under the given imaginary circumstances."
So, for people unaware with the intricacies of acting, what Meisner meant was that an actor can only do justice to his craft if he has truly embraced his real true self.
This brings me back to Mawra Hocane on whom the term self-embracement along with the ensuing art of acting is truly lost. 'Hussain' true to her pseudo-fied name, aptly but yet woefully plays an 'insecure' plain Jane librarian named 'Saraswati' aka 'Saru' in Sanam Teri Kasam, which for the record is the cinematic equivalent of Chinese water torture, unbearably slow and perfectly capable of driving any normal person insane.
If there is any role I would expect Mawra Hocane to have nailed, it would have been playing someone with a huge inferiority complex, but alas her real life experiences fail to help her on the silver screen and Ms Self-pity's naive, dorky act ends up seeming more nauseatingly annoying and loathsome than being endearing.
Now Saru is someone who is unable to find herself a good match. This perfect suitor for her conservative South Indian family is a typical IIM-IIT-Brahmin boy that's Indian for an IBA-LUMS Syed boy.
Now the patriarch of the family, a stern, authoritative dad is not willing to sanction the younger daughter her wish of getting married until Saru gets hitched. The spoiled brat younger sister with her raging hormones constantly berates Saru because of her inability to ensnare a suitable groom due to her ordinary looks.
Enter Bad Boy Inder (Harshvardhan Rane), a massively tattooed loner, who is capable of flexing every muscle in his body except for the ones that really matter for an actor; his facial muscles. Saru, being the gullibly virtuous girl that she is, seeks assistance from this murky neighbour for her ugly duckling into beautiful swan transformation. What follows is one absurdity after another, where Saru's dad first banishes her on catching her in Inder's apartment. She tries to remedy this situation by returning to the same Inder, asking for help with a new house, an IIM-IIT groom and a radical makeover.
And what an easy transformation it is! Just get rid of the spectacles, throw in a couple of body-hugging outfits and voila! Apparently that's all you need to turn an ugly nerd into a ravishing stunner! Now physical beauty is pretty much the be all and end all for every woman alive, if you go by Bollywood logic and I am pretty sure 'Ms Hussain' subscribes to it. I thought we were done with portraying 'being pretty equals self-worth' back in the 80s.
The new Saru, which is pretty much the old her, minus the glasses and ill-fitted ethnic kurtis even manages to score an IIM-IIT hunk to get married to and as a bonus even has Inder falling head over heels for her.
From here on out, the plot goes from offensively ridiculous to mind-numbingly bizarre including a father executing the last rites of his living daughter, a wedding day no-show, consolatory lovemaking session and a terminal illness with faux melodrama and background Indian soap music to ramp up the already elevated silliness quotient.
Despite the archaic nature of Bollywood, I can arguably state that 'Ms Hussain's' 'Saru' is one of the most miserable and tiresome female characters to come out of the industry in a long, long while.
Why people would go for shallow cinema in the name of entertainment is completely beyond me, and I refuse to sugar coat such a regressive offering even if it has a Pakistani representative. In a way, this flick is pretty similar to a lot of contemporary Pakistani movies like Jawani Phir Nahin Ani (2015), Ho Mann Jahaan (2016) etc. made by the stalwarts of our drama and advertisement industry; all show and zero substance!
In other words, a lot that is coming out of the Pakistani new wave is akin to a polished turd, which a lot of my green tinted glasses wearing compatriots are naively lapping up due to some misplaced sense of patriotism. Crap is crap, no matter how patriotically striking you dress it.
As for Sanam Teri Kasam, the only people to have the patience to bear up with this tripe are in all likelihood the same kids who resisted the temptation to mock Ms Raphae Ubbasee back in college on her pseudo-naming.
Loading ...