Mann Mayal is teaching our society some horrendously wrong things!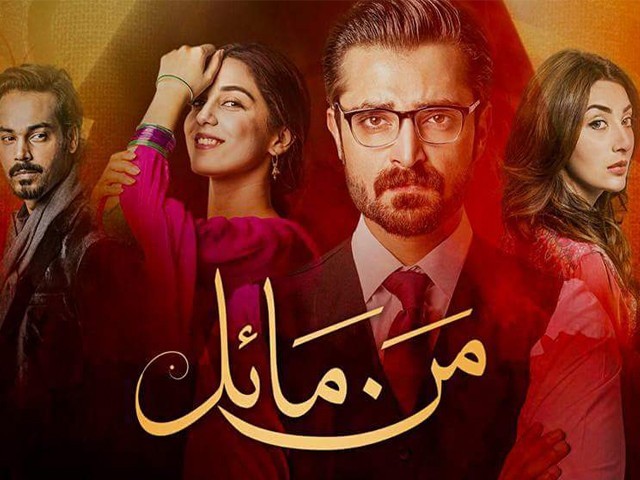 Mannu: "Amma, amma. Please mujhay jaaney dain. Main unkay baghair marr jaun gee. Main nahin reh paaun gee. Please mujhay jaaney dain." 

(Mother, mother. Please let me go. I will die without him. I won't be able to live. Please, let me go)
Dad: " Jaaney do issaay."

(Let her go)

Mom: "Yeh kya keh rahay hain aap?"

(What are you saying?)

Dad: "Jaaney do issaay!"

(Let her go!)
Mannu runs towards her father who signals her to stop.
"'Jao. Khari kyun ho? Raasta khula hai. Tumhain ab koi nahin rokay gaa." (Go. Why are you standing? Your path is clear. Nobody will stop you.)

Mannu: "Aisa na karain, abba. Aap tou mujhe bohat chaahtay hain na. Abba, aap mujhe bohat chaahtay hain na?"

(Don't do this, father. You do love me a lot. Father, you do love me a lot, don't you?)

Dad: "Haan lekin tum mujh se zyaada ussey chaahti ho. Main dekhna chaahta hoon k who tumhain qubool kertay hain ya nahin!"

(Yes, but you love him more than you love me. I want to see if they will accept you or not.)

"Tipu, darwaza khol do aur isko janay do"

(Tipu, open the door and let her go.)
And… CUT!
Our damsel in distress is faced with a major life crisis. She has to make a choice. The choice between her father's honour and the oh-so-handsome tuition teacher she has fallen for. After a dramatic exchange of dialogues and hugs customary in our drama serials, Mannu (Maya Ali) our very naïve heroine makes the worst decision possible in that situation and runs after Salahuddin (Hamza Ali Abbasi), the prince charming of our story.
Tipu obediently escorts his sister to our protagonist's house. Another series of supposedly heart-breaking dialogues ensues, which involves a lot of knocking and not opening of doors and rejection. You get the gist?
This was the cliff-hanger of the latest episode of drama serial Mann Mayal and is all the rage among young, impressionable women nowadays.
This show was highly anticipated given the excellent cast and a very melodious sound track crooned by Quratulain Baloch.
Just three episodes in, I have to say that I, for one, am heavily disappointed. The director and producer chose to tell a story of a weak woman who falls in love with her neighbour/friend's brother for no apparent reason. She then employs every cheap trick in the book to attract him and convinces him to ask her parents for her hand in marriage.
Our hero is so gullible, that he agrees to do just that, no questions asked. To top it all off, he falls in love with her too, instantaneously, of which he showed no signs earlier.
Love marriages are thought of as a taboo in Pakistan. It is a privilege of only the filthy rich to be in love and get married without any uproar caused by the immediate family, relatives or society. I always asked myself this question, why do our middle class parents shun love marriages? What is so wrong with two people knowing each other and happily deciding to spend their lives together?
Now I have the answer. Our elders are not to be blamed, but we are.
We encourage the makers of television shows to make such vile drama serials by watching them. We tell our elders that this is what being in love is like. We tell them that we'll happily run after guys who act aloof and pay us no attention because women always fall for jerks, don't they?
We lure guys into our houses on the pretext of them teaching us, and then we trap them in the vicious cycle of love. We are showing our parents that there is no honourable, adult way to go about this. We're making things difficult for ourselves.
The rating of Mann Mayal has gone through the roof; young women are ardently watching the show and what's sad is that they are even impressed and inspired by it! We are showing these girls that it's okay to lust after our smoulderingly handsome teachers. It's okay to hit upon any tough-looking guy who happens to cross our paths. Having said that, let me be very clear, love is an amazing thing to fall in, if done right. There is absolutely nothing wrong with falling in love, and that ending in marriage. But there is everything wrong with practically begging some guy to marry you, losing your self-esteem in the process, and not realising your self-worth and orchestrating a pitiable future for yourself.
We need more shows like Daam, Zindagi Gulzar Hai and Durr-e-Shehwar, portraying women as self-sufficient and harbingers of change. Powerful women, women who could be role models to the younger generation. Our television shows were known to be very content-rich and were used as a medium to educate society. Everyone, not only in Pakistani but across the border too, watched our television shows because they were that good. Our television had content. It had strong story lines. The directors and storytellers never failed to get the message across and recognised their social responsibility while providing family entertainment.
It breaks my heart to see the condition our entertainment media is in nowadays; it has become extremely commercialised and rating-oriented.
This is how it works: Get a good cast, record a really good title track, throw in a pinch of dramatics and voila! You have the perfect recipe for a hit show.
It's high time our filmmakers re-evaluate themselves. They need to realise that they have a huge platform at their disposal. They play a pivotal role in shaping society. Whether we like it or not, our people do watch this content and take these shows very seriously. We need to bring back shows like Alpha Bravo Charlie, which showed strong women playing iconic roles which were commendable and praise worthy. We need more Shahnazs and less Mannus in our society. If we do not correct ourselves and speak up, then we are just damning ourselves to a very bleak future, a future where the woman has no role except child-bearing and being at the beck and call of her man 24/7.
Loading ...