Would they have arrested Maulana Abdul Aziz had he been a Virat Kohli fan?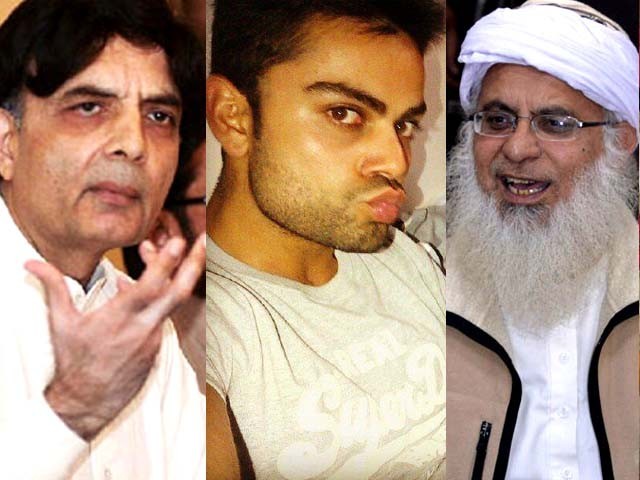 Al Jazeera claims he is possibly the most hated man in Pakistan. Maulana Mohammad Abdul Aziz; a fiery cleric; said to be the torchbearer of sprawling madrassas, 5000 pupils and 550 teachers strong; co-owner of the militia powered seminary Jamia Hafsa; accused of using religion to serve his politics; allegedly a sympathiser of notorious organisations such as Al-Qaeda, Pakistan Taliban and ISIS.
In the late 00s, his Lal Masjid disciples began frighteningly violent acts of arson, vandalism, and kidnapping. In response, security forces hit back with a military operation. Scores died. Eventually, Maulana Mohammad Abdul Aziz became the subject of a meme when he tried to escape wearing a burqa.
In 2014, female students from his madrassa pledged allegiance to ISIS in a video. Responding to criticism, Maulana Mohammad Abdul Aziz said,
"These girls did it on their own. They did it for the love of their religion, so I cannot condemn it. Our leaders have fooled us for 64 years. They told us that they will bring an Islamic system. No one was honest about it. If you are not going to do it and someone else will, then of course it will catch attention."
He followed this with a defence of the terrorist organisation,
"You are seeing videos of violent acts committed by the Islamic State but not the videos of violence committed by the other side."
But much about the Maulana is still shrouded in mystery. Al Jazeera says the cost of his madrassas runs up to Rs15 million per month. Who are these private donors, funding his hard-line values?
Today, the government of Pakistan is openly mocked by opposing politicians and TV journalists for not arresting the preacher, even though he has two FIRs filed against him.
Activist and lawyer, Jibran Nasir, has led the fight, asking the authorities to transparently explain why the Maulana walks free.
In an open petition, Nasir makes an appeal to Federal Interior Minister, Chaudhry Nisar Ali Khan. According to the FIRs, the charges against the Maulana are serious. They can be examined in detail, here.
By contrast, Umar Draz, a passionate fan of Indian cricketer Virat Kohli, was immediately placed in custody for raising an Indian flag and a picture of his hero on his home, after being overwhelmed by an incredible batting display by the flashy player.
Admittedly, Draz's actions were perhaps ill advised considering Pakistan's relationship with India. In India, fans of Pakistan have been similarly reprimanded for open displays of support for their bordering nation. But surely, at worst, the naïve tailor from Punjab deserved a slap on the wrists. Instead he faces 10 years in prison for merely supporting his favourite cricketer while a man alleged to have consistently committed treason against the state still awaits his day in court.
I suppose Draz and the Maulana have something in common. Draz's idol blasts fast bowlers on the cricket field. The Maulana's idols… well, let's not get into that.
In his open letter to Chaudhry Nisar, Jibran Nasir laments,
"We trust that you and your office will keep the interest of Pakistan and the spirit of the National Action Plan, which you claim to have conceived yourself, foremost and will not compromise on the enforcement of law to establish the writ of State with the most politically significant city of Pakistan, our Capital, Islamabad. We hope no criminal and/or terrorists will be allowed to terrorise the state of Pakistan and make a mockery of our National Security, especially under your tenure."
Perhaps Jibran Nasir is going about this the wrong way. Maybe he doesn't have the proper bait to catch this fish. Instead of trying to find the government's attention through videos on social media, interviews on television, blogs, and petitions in court and online, maybe all the activist has to do is hoist a picture of Virat Kohli on the good Maulana's home.
I can imagine it now:
Jibran Nasir,
"He has links to Al Qaeda, ISIS, and the Taliban!"
Chaudhry Nisar,
"Zzzzz.."
Jibran Nasir,
"He has preached violence against citizens of Pakistan! On his behest, Taliban Commander Ehsanullah Ehsan terrorised and threatened Pakistanis! He spreads hatred against the Pakistani army as well as minorities in the country."
Chaudhry Nisar,
"Pffft."
Jibran Nasir,
"Oh no! Look, he is a Virat Kohli fan!"
Chaudhry Nisar,
"My god!"
Loading ...