Yes, adult colouring books do help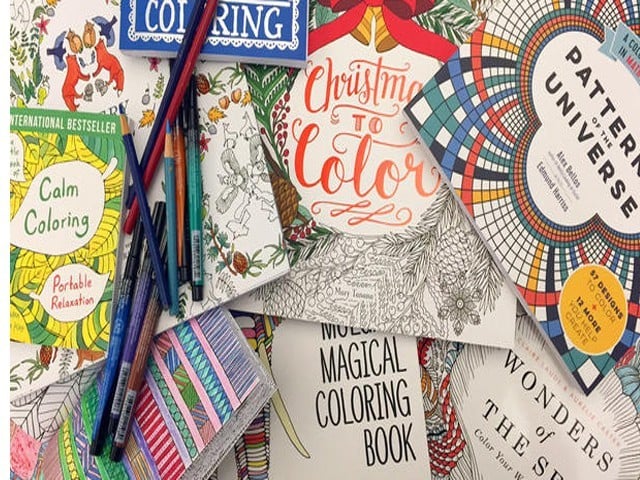 If you're like most civilised people of contemporary times, the first thing you do upon waking up is check your phone to log onto Facebook. This means that by the time you've scrolled to the end of your newsfeed, your mind has a book worth of stimuli to process.
These stimuli would typically include, several of your acquaintances getting hitched, a friends enrollment at a decent university overseas, a few gory pictures of a terrorist attack in some part of the world and if you're lucky, a video of somebody yelling "Bright Karein".
By the time you've reached the bathroom to brush your teeth, you have a ton of emotions to process. You bemuse at the video, you sigh at the graphic images of war shoved in your face before even having breakfast and then wonder when you'll get married because even Sarah's married, whose last memory you have is of a toddler learning to ride a tricycle. You comfort yourself by shrugging Sarah off as someone without ambition and say that you would rather go abroad and study first like Hassan, but Hassan's dad owns half of Islamabad, so you better go the scholars4dev website and check out scholarship updates.
As your mind whirlpools in ponder, a zit stares right back at you from the mirror.
Welcome to the age of anxiety, where an average person's mind is filled with more information than it can process. It is enough to interfere with one's endless to-do lists. Other than the information overload, one can attribute modern-day anxiety to coming of age, desire of perfectionism, disturbances in the economy, long working hours, societal pressures and future uncertainties, etc.
It is no secret that modern life begs the proper management of one's stress levels. While we all have unique ways of managing stress, some are universal and then some are packaged and presented to us with a price tag. These include yoga, meditation, and the latest stress-relieving tool: "Adult Colouring Books". Yes you heard it right.
These products are flying off the shelves quicker than you could have your next panic attack.
The first time I became acquainted with these books was through an online video advertisement. I would have dismissed the idea as a consumerist gimmick if I hadn't seen the book. I was intrigued by the genuinely beautiful, intricately drawn patterns of flora and fauna that were challenging enough for an adult. The books, namely Enchanted Forest, Secret Garden, Animal Kingdom and Lost Garden are marketed as "Anti-Stress" and "Stress-relieving" exercises for adults.
One does not have to be artistically inclined to colour into colouring books and unlike meditation, colouring easily enables us to stop that train of thought and do something fun and creative. Simply put, it is easier to alleviate stress with colouring than with meditation, as meditation requires months of religious practice in order for it to alleviate anxiety.
I do not have a personal experience with adult colouring books but I have studied illustration. I can draw and paint so I can vouch for the therapeutic effects of colouring. I enjoy the whole process of drawing figures, choosing a specific colour combination to paint, and sharing the final result with my friends on Facebook, so that they can enjoy the artwork too (and hit like). This activity is very satisfying for me.
Anybody who has coloured in their lives would know that it is impossible for the mind to simultaneously worry and colour. It is the same kind of zen-like state that one attains when one sings, dances, or does any other activity that is enjoyable to them. Colouring in an adult colouring book is no different in terms of the positive effects on the mind.
According to psychologist Carl Jung, colouring books can help with a number of emotional and mental health issues such as boredom, post-traumatic stress disorder, anxiety disorders, depressive disorders and obsessive compulsive disorders.
Colouring channels your mental focus onto something productive, diverting it from the negative thinking patterns that you may have formed. Colouring further helps calm the amygdala, the part of the brain that controls our fight or flight response and keeps individuals in a heightened state of worry and panic. Focusing on a calming activity like colouring turns down that panic-mode response and puts the brain in a much needed relaxed mode.
You can opt from colour pencils, markers, water colours, and water colour pencils or even get creative by sticking sequins and other embellishments on top of the patterns. Since the patterns are complex, it will take time for you to get done with them, keeping you away from the stress-inducing technologies. Once you' coloured inside the patterns, you can stick them onto your refrigerator and feel good about your achievements.
On Amazon they cost from $4 to $7 (PKR 400-700) and in local shops they average between Rs1000 to Rs1100. Users' reviews on Amazon are positive, confirming the adult colouring books' efficacy in alleviating stress.
One woman in her review writes that it helped her get out of depths of severe depression. Paraplegic artist Muniba Mazari has spoken publicly about how the act of painting enabled her to escape the pits of despair after she had lost her legs in an accident. Also, displaying her artwork in public got her the appreciation and monetary return helping her experience self-actualisation.
While colouring may not abate all of your worries, I believe that art in general is an excellent tool to relieve stress and achieve a state of happiness. Whether it is something that you draw from scratch or whether it is the more convenient use of colouring books. The process is meditative without being boring. In my experience art liberates the soul.
Perhaps you can try this new stress relieving tool and achieve tranquility, an alien feeling in our stressful gadget laden world.