Airlift was saved by its great script and great performances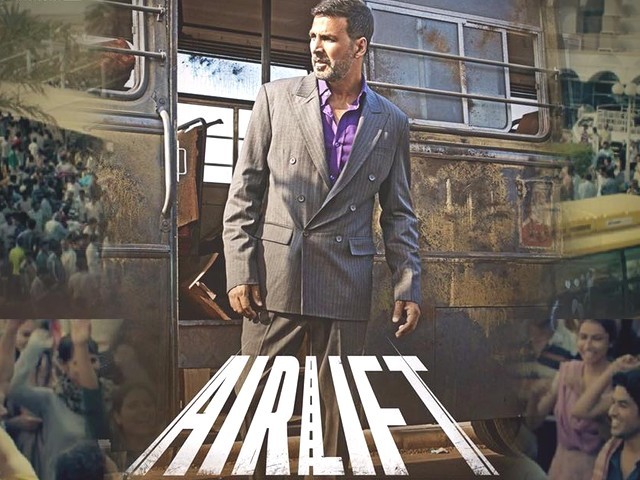 This past few years, it is an undeniable fact that Akshay Kumar falls under the category of the most daring and bankable actors of Bollywood. This has enabled him to act in diverse genres, ranging from senseless and cheesy comedy flicks, to sensible and thought provoking movies.
This time around Akshay Kumar has teamed up with debutante Raja Krishna Menon to highlight a real life incident back in 1990; the Kuwait crisis.
Airlift is a true story based on Iraq's invasion of Kuwait. It revolves around Indians residing in Kuwait during that time and how Ranjeet Katiyal, (Akshay Kumar) along with his family and friends help evacuate 150, 000 Indians from a war-torn Kuwait.
Airlift is based on raw emotions, hope, political procrastination, dedicated officials and the transformation of a shrewd businessman who ends up becoming the nation's only hope.
Ranjeet Katiyal's character is definitely not an easy character to portray but Akshay Kumar has proven that the character was tailor-made for him. I feel this is one of Akshay Kumar's most prominent performances. The character required a mature, sensible, quick-minded and arrogant person who turns into a soft hearted individual – and Akshay Kumar has delivered all these traits remarkably.
The remaining cast has done justice to their characters as well, starting with Nimrat Kaur, playing Ranjeet's wife, Amrita Katiyal. She exudes confidence and elegance along with sheer talent. It can be said that she is extremely selective in her choice of films, since this is her first movie after Lunchbox (2013). If she remains to be this selective, she will soon be rubbing shoulders with the likes of Shabana Azmi and Tabu.
Inaamulhaq, who plays the role of Major Khalaf Bin Zayd is a delight to watch. He has acted with gusto and managed to display a range of shades in his character, which does nothing but impress the audience.
The supporting cast did their job well. Purab Kohli as Ibrahim proved to be reliable actor. Prakash Belawadi as George is fun to watch and portrays his finicky character outstandingly. Kumud Mishra as Kohli attested to the fact that he is an incredible performer.
Direction wise, Airlift is average, nothing to write home about. Its saving grace, however, is the script along with the power packed performances making the movie engaging. The songs are nothing great either. Soch Na Sake is a slow and melodious song whereas Dil Cheez Tujhe Dedi reminds the audience of a 90s Arabic hit, Di Di Wa by Cheb Khaled.
I would rate Airlift a good 3.5 out of 5 purely based on brilliant story-telling and over-the-top yet believable performances.