10 Alan Rickman moments I can never forget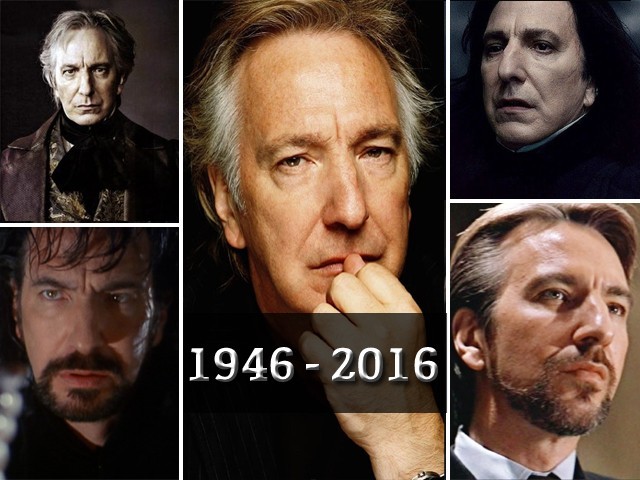 Alan Rickman, the actor who played an array of eccentric roles in different cinematic visuals bid farewell to the world, and parted from his fans, on January 14, 2016. Rickman, who died at the age of 69, was suffering from cancer. The veteran actor was recently well-known for his role of the villain, Severus Snape in the films based on JK Rowling's Harry Potter books. Today, however, I would like to remember him as Alan Rickman, on and off-screen. Here are my top 10 Alan Rickman moments: 
10. Charity work and politics
Alan Rickman was a supporter of multiple charities and causes including Amnesty International, Save the Children, The International Performers' Aid Trust and Saving Faces, of which he was a patron. He was also a long-time member of the Labour Party in the UK. Though preferring to keep his personal views and details of his life private, the late actor has previously spoken about exercising his abilities as both an actor and director for positive change within his capacity.
"It's a human need to be told stories. The more we're governed by idiots and have no control over our destinies, the more we need to tell stories to each other about who we are, why we are, where we come from, and what might be possible. Or, what's impossible?…Actors are agents of change. A film, a piece of theatre, a piece of music, or a book can make a difference. It can change the world."
9. Marvin, The Hitchhiker's Guide to the Galaxy
Although the 2005 film adaptation of Douglas Adam's novel left a lot to be desired by fans of the latter, Rickman's fans were excited to recognise him as the voice of Marvin, the highly intelligent but depressed robot aboard the 'Heart of Gold' spaceship. The film is a light-hearted, trippy comedy with plenty of surreal, Monty Python-esque humour but on and off, Rickman's gloomy sighs and deadpan delivery of pessimistic one-liners will make you wish you could reach in and give the paranoid android a hug.
8. My Name is Rachel Corrie
Alan Rickman was among the small but growing list of celebrities who have been vocal in their criticism of the Israeli Defense Forces (IDF)'s atrocities in the Gaza Strip, in spite of backlash. In 2005, he worked with the editor of The Guardian, Katharine Viner to compile and edit the private diaries and emails of Rachel Corrie, bringing them to life on-stage in a one-woman play.
Rachel Corrie was a young American student and activist visiting the Gaza Strip in 2003, who was killed by an Israeli bulldozer while acting as a human shield in front of a Palestinian home. The play was deemed too controversial by the New York Theatre and the play was 'postponed indefinitely', a decision Rickman sharply criticised as censorship.
In a tribute written by Viner, she remembers that when asked about his 'proudest moment' at the Royal Court, Rickman had replied that it was when he took Rachel Corrie's parents outside the front of the theatre to show them their late daughter's name in neon lights.
7. Feminism
With the rise of celebrity Twitter accounts alongside the use of social media platforms as a tool for activism, it is becoming more common than ever to see celebrities being quizzed upon where they stand on current political issues. Those involved in the fight for gender equality could count Rickman as a supporter. In a 2015 interview for the promotion of his film A Little Chaos, Rickman stated,
"There's nothing wrong with a man being a feminist — I think it's to our mutual advantage."
The film was his second directorial project, starring Kate Winslet as an unconventional landscaper in 17th century France who is hired to work on King Louis XIV's palace garden in Versailles. Rickman also criticised the persisting problem of women being portrayed as 'merely decorative objects' in the media.
6. Judge Turpin, Sweeney Todd
It's difficult to decide which one of Alan Rickman's on-screen villains was the most odious. One solid contender would be Judge Turpin in Tim Burton's 2007 musical adaptation of Sweeney Todd: The Demon Barber of Fleet Street.
Rickman's chilling portrayal of Turpin, a corrupt judge and rapist who keeps Todd's daughter Joanna hostage, makes Todd's final act of bloody revenge all the more satisfying to watch. It's also one of the rare opportunities we got to hear Alan Rickmansing.
5. The Sheriff of Nottingham, Robin Hood: Prince of Thieves.
Rickman stole the show from Kevin Costner in this 1991 adaptation of English folk tale Robin Hood, once again opting for the juicier role as the film's villain. The actor admitted to having issues with the script, to the point where he took it upon himself to sit down with a couple of friends and edit his lines in an attempt to salvage it. Perhaps now we know who to thank for some of the film's more memorable lines, such as when Rickman's character, bleeding from a cut to his cheek and frothing at the mouth, yells to a fleeing Robin Hood.
"I'm gonna cut your heart out with a spoon!"
4. Hans Gruber, Die Hard
After spending about a decade establishing himself in British television and theatre, Rickman journeyed across the pond to foray into Hollywood, securing a role as the main antagonist in Die Hard. The 1988 film was unlike anything Rickman had previously done, and he once admitted that he had almost turned down the role. In spite of this, his portrayal of Hans Gruber, a ruthless German terrorist, became one of his most iconic roles.
3. Severus Snape, Harry Potter series
Naturally, this list would be incomplete without what was arguably Rickman's most memorable role: Severus Snape, the loathsome Potions Master in the Harry Potter franchise. Rickman brought J.K. Rowling's mysterious, poker-faced double-agent to life in the 8-part movie series, complete with greasy black locks and a low, disdainful sneer.
When he wasn't spitting at Potter with venom enough to rival Malfoy, or brooding about being friend-zoned by the titular hero's mother all those years ago, Snape was reducing Potterheads to snotty tears with just one understated, yet iconic, line:
2. Absolem, Alice in Wonderland
Alan Rickman returned to work with director Tim Burton in his unsettling 2010 interpretation of Lewis Carrol's Alice in Wonderland. Rickman voices Absolem, the hookah-smoking computer generated caterpillar Alice encounters in her journey through Underland.
Rickman reprised the role in the film's sequel, Alice Through the Looking Glass, which is in post-production and set to be released in May, 2016. This was the actor's last film role before his passing.  
1. Jimmy Fallon's Tonight Show
In a 2015 interview, the British actor expressed bemusement over impressions of his famous and distinctive nasal drawl, which has been imitated by everyone from Tom Hiddleston to Benedict Cumberbatch. The latter appeared on The Tonight Show with Jimmy Fallon in 2013, and the two had an 'Alan Rickman-off' to see who could do a better impersonation.
Two years later, Rickman appeared on the show himself to take Jimmy to task, exhibiting a rarely seen sillier side of himself, all while maintaining his deadpan expression. The two can be seen inhaling helium from balloonshere.