Women should depend on men for mobility? WoW!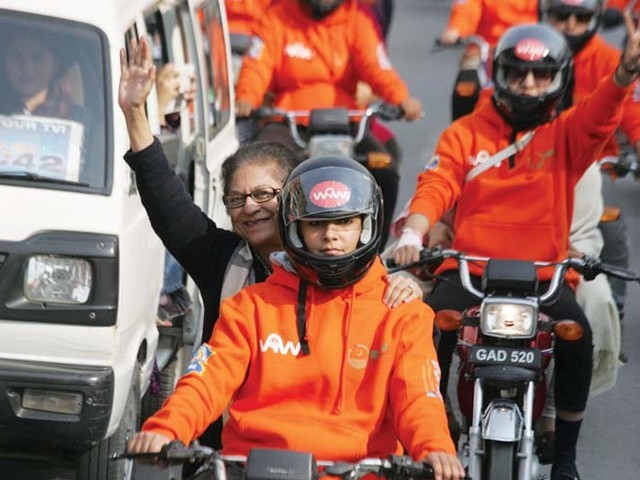 Owing to the fast-paced nature of the world and domestic economic strains, women are no longer confined to the domestic sphere but are seen venturing out into the public. While some say women are taking back the wheel, it can be argued that it is not reclamation that is taking place but for once, it's an assertion of the female right to belong in the streets. The 'Women on Wheels' (WoW) rally is a perfect example of this.
On January 10, 2016, 150 women took a huge step. They swerved onto the streets of Lahore on motorcycles after training with a collaborative team from the Special Monitoring Unit on Law and Order (SMU) and City Traffic Police. The two departments had worked together to train these females at Thokar Niaz Baig.
The involvement of noted activists such as Austrian Ambassador Brigitta Blaha and prominent lawyer Asma Jahangir captured both media and public attention. Danish Ambassador Helen Neilson, American Consul General in Lahore Zachary Harkenrider, UN Women Country Representative Jamshed Qazi, prominent motorcyclist from Singapore Juvena Huang, Provincial Minister for Population Welfare Zakia Shahnawaz, Minister for Women Development Hameeda Waheeduddin and SMU's Salman Sufi were also among those present at the event.
The Pink Scooters program was announced over a year ago with the intention of being implemented by the next budget. Punjab Chief Minister Shahbaz Sharif announced that 1,000 pink scooters would be given to working women and students at a 50 per cent subsidised rate under the WoW project. Focusing on women under 40, it aims to train the next generation of females with the mobility to partake in national development efforts and become more conducive members of the economy.
This is, however, not the first attempt to increase female mobility in Punjab.
Interestingly, Punjab has seen an unlikely feminist rise up and challenge society's norms – Shahbaz Sharif.
The chief minister should be commended for being a front runner in this aspect with both the Pink Bus Service and the Pink Rickshaw Scheme. Although the Pink Bus Service never made it past its three-month pilot period, it represented an attempt in challenging the private-public gendered divide by providing an entire bus for the female population rather than just one small portion. The Pink Rickshaw Scheme, launched by the Environment Protection Fund, furthered the movement as it was meant to provide rickshaws to female drivers at instalments in order to provide women with a safer option for themselves and their families. These measures, along with the WoW rally, depict that a shift towards female mobility is in place.
However, there are still those who question it and have spoken against the endeavour, saying that women should not be seen driving scooters. They are arguing that attempts should be made to increase opportunities in areas of low literacy so that females do not have the need to travel far.
These arguments are flawed because they are built upon society's archaic gender roles.
Why must female mobility be limited to her domestic vicinity?
Why do women have to be tied down to their household bounds?
Projects such as WoW legitimise a female's presence in the public space and decrease her reliance on the male figure. Women shouldn't have to depend on their husbands, fathers, brothers and sons to be able to move around in the city. The right to free movement, for now, has only been awarded to men. Things, however, have started to change. The strong support for the rally is definitely a positive sign.
While I am absolutely in awe of the progress that this initiative has made in moulding public opinion and opening up our roads and streets to women, I can't help but worry that this event might only be celebrated for its singular and collective nature. It's easier to applaud 150 women out on the roads with dignitaries and media personnel. What will the roads be like for a single woman out on a motorcycle? Will she get heckled and harassed? Or have we truly moved past our prejudiced, gendered notions of movement?
I, sincerely, hope that we have.
I hope that there will be a time when a woman riding a motorcycle would not be met with jeers, taunts and disapproval, but a cursory glance and a shrug in acceptance.