Bajrangi Bhaijaan may have ruled the box office, but Wazir is 2016s Bollywood game-changer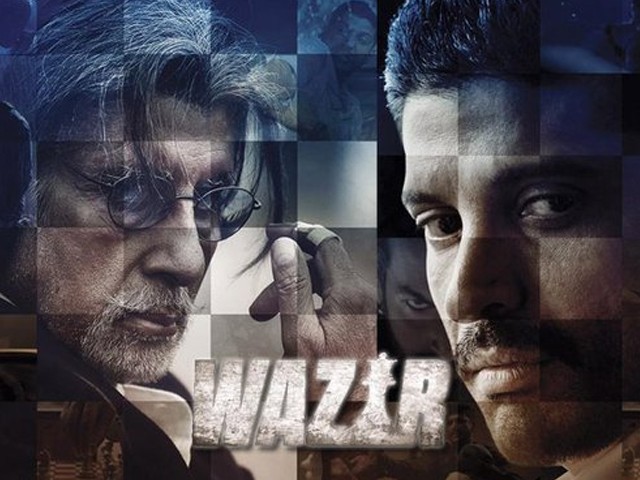 Wazir is one film that proves that, if made well, a good movie has the power to possess its audience. With flawless acting from Amitabh Bachchan and Farhan Akhtar, Wazir is one emotional rollercoaster ride.
There is no question that, even at the age of 73, Amitabh Bachchan's acting is unparalleled. Farhan Akhtar, remaining true to his legacy, gave a performance par excellence. So it is no surprise that this movie is the exemplification of the perfectly synchronised dance of two seasoned actors. You will have to see it to believe these words though.
Bachchan plays the role of Pandit Omkarnath Dhar, a crippled chess master. Pandit is confined to a wheel chair; however, this does not dampen his spirits or hinder Bachchan's entrancing screen presence. As a Bachchan fan, I felt like his performance rekindled my romance with the cinematic maestro.
Farhan Akhtar, on the other hand, plays the role of Danish Ali, a remorseful father and policeman who is seen broken after a personal tragedy.
The movie is woven around a game of chess – the dialogues, the screen and the characters remain loyal to chess metaphors. The rules of chess are used to explain life's lies and truths. This is done brilliantly by director Bejoy Nambiar. Nambiar has proven that Bollywood filmmaking has gotten over its infatuation with item numbers to make movies sell.
The friendship between Pandit and Danish is strengthened by the various tragedies each of them have gone through. The movie opens with lyrics of love and romance, celebrating the idyllic life of Danish and Ruhana, Danish's wife (Aditi Rao Hydari). Though the mood changes extremely quickly, lending to the fast pace of the movie.
Pandit's clever use of words and Danish's vulnerability end up making Danish Pandit's pawn. Danish somehow ends up feeling responsible for Pandit and makes it his mission to save Pandit from Wazir, played by Neil Nitin Mukesh.
Manav Kaul (Yazaad Qureshi), who plays the villain of the story, managed to play the role of an evil individual under the guise of a saint brilliantly. Unfortunately, I felt his role lacked meat and hence was under-utilised.
The emotional scenes in the film, for example parents coming to terms with the loss of a child, are tinged with humour but beautifully expressed. There is just the right amount of humour and action to lighten the emotional burden.
Towards the intermission, the audience struggles with numerous questions that are eventually very artfully answered. For example, is Danish responsible for his daughter's death? Will Danish and Ruhana get back together? Who is Wazir? Will Danish be able to save Pandit from Wazir? Will Yazaad's true face be revealed? Will both Dhar and Danish find justice?
Interestingly, Wazir does not take pride in its plot; it takes pride in its script. Each scene is beautifully scripted and executed. The dual meanings of the dialogues are not lost and one yearns to hear them again.
In my opinion, no other actor could have replaced Big B in his role as Pandit – no one else could have pulled it off with such aplomb. I do not, in any way, mean to discredit Farhan Akhtar's performance, which was executed impeccably as well, but the award definitely goes to Mr Bachchan, hands down.
Wazir's weakness lies in the numerous twists sometime going a little overboard and defying logic. The movie, however, does end up saving itself immaculately. It manages to keep the audience's curiosity peaked throughout. To the delight of many of the female audience members, I could tell that John Abraham cameo appearance managed to enchant the audience with his good looks yet again.
Fortunately for the director and cast, Wazir's achievements outweigh its flaws greatly:
1. Spectacular performances by Amitabh Bachchan and Farhan Akhtar
2. The rare celebration of the drama/thriller/mystery genre by Bollywood
3. Manav Kaul's splendid performance – very few Bollywood villains have managed to invoke emotions of hate within me, and he has managed to do that
4. The rebirth of Neil Nitin Mukesh – he created his magic by changing the plot of the movie with only a few minutes of screen time
5. Amitabh Bachchan's famous baritone voice
For me, the aforementioned reasons are enough to make Wazir a must watch.
Salman Khan's Prem Ratan Dhan Payo and Bajrangi Bhaijaan may have ruled the box office in 2015, but Wazir has bagged the title of being the game changer of 2016. This movie will overshadow the aforementioned movies in the critically-acclaimed department. With thrills and chills, Wazir incites the right amount of adrenaline. It is solid entertainment, keeping the audience on the edge of their seats throughout.
The cherry on top is Amitabh Bachchan's duet with Farhan Akhtar called Atrangi Yaara.
http://www.dailymotion.com/video/x3jdeyb
The review is over, go grab your tickets now! You will not be disappointed!