Bidding farewell to men's and women's fashion trends and faux pas of 2015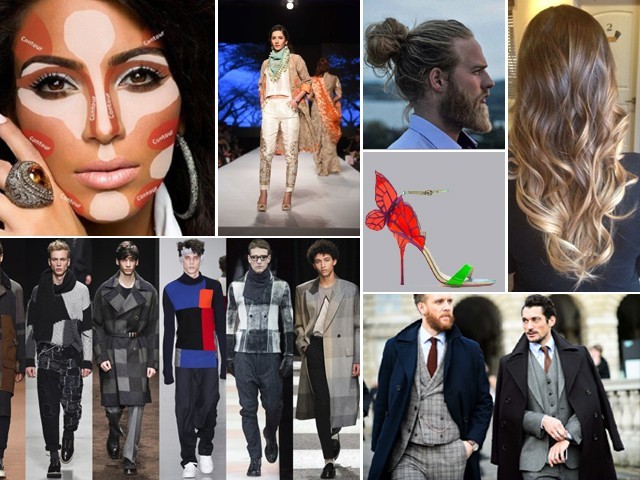 The reunions, the parties and the holiday mood, it must be that time of the year when we reminisce and celebrate the life we had, the milestones we reached and the people we met. More so we hope to finally bid adieu to some bad habits, unhealthy relationships, our darling food babies and truck loads of unwanted baggage. The glorious dawn of a new year is just the portal we all need to start fresh with yet another overambitious list of resolutions and a brand new set of expectations.
2015 has been a year of mixed emotions, from the deadly Paris attacks to the heart wrenching plight of the refugees the world came together in promoting peace, activism and humanitarianism. On a lighter note, the year bore one too many surprises, particularly in the fashion world where Steve Harvey's casual slip up literally shook the universe.
Fashion met its highs and lows, introducing us to certain things that may best be assumed as one time wonders while bestowing us with many others that have successfully paved their way to our ever so generous hearts. Let's recap some of the moments, and see how fashion and trends unfolded across Pakistan and globally.
1. Statement heels
The year was all about statement heels, from the A-listers to regular fashionistas and from private parties to fashion weeks our modern day Carrie Bradshaw's proved their unprecedented love for quirky and fun heels. Sophia Webster, Charlotte Olympia and Aquazzura were the sure shot favourites.
2. Cheeky cross body bags
While bedazzled clutches remained a favourite with the older ladies, the youth was keen to flaunt the phrase embellished purses and cheeky cross body bags inspired by our grocery staples. Such spins on the regular totes and rather boring trademark styles definitely made carrying a bag around much more fun.
3. Furry appearances
Fur Fur… from North West to Mahira Khan, the faux fur made a comeback for the winters. But to fashion police's relief most of the furry appearances remained distinct from Rihanna's meme worthy Big Bird moment at the Met Gala. The love affair with fur however is weather oriented and rather just be pulled off by those who can carry it well.
4. Christian Dior mirrored shades
While burning a hole into the pocket, Christian Dior's mirrored glares gained a cult following of their own. The amount of Instagrams featuring the eye wear speaks volumes of the product's popularity in 2015
5. Embellished trousers
So far the most understated item of eastern clothing found a life of its own in 2015. The designers shifted focus from the heavy encrusted tops to creating delicately attractive trousers. Embellished, colourful and graphic pants became a must have and a favourite on the ramp at this year's Pakistan Fashion Week (PFW), I must say I am a fan.
6. Capes
Capes emerged as a perfect piece to adorn for all ages, while international brand names played well in this field, our very own designers fared equally well. The graceful yet eye catching outerwear is a winter hit and one we are sure to see everywhere this party and wedding season.
7. Healthy options
What a fitness inspired year it has been! In no time the fancy fit bits made way onto our wrists and crates of detox juices found home in our otherwise unhealthy fridges. Coconut oil became all the rage and poor old once famous kale lost its substance (I owe the downfall to its extremely acquired taste). I am extremely impressed by how nutrition is becoming slowly ingrained into the Pakistani culture, even if just for jumping the glamourised band wagon's sake. Kudos to the rising yogis, fitness instructors and nutritionists for luring people towards the right track, hope 2016 remains just as steadfast.
8. International fashion faux pas
While promoting Dilwale via Pakistani morning shows became the talk of the town, the questionable wardrobe choices of the hosts were every bit forgettable. I wish they had offered a more soothing sight to the eyes of social media, but given the allure of Shahrukh Khan and Kajol's incredible chemistry, the audiences proved rather forgiving to the fashion choices.
9. Bye bye ombre, hello balayage
On a hairy note, balayage dismantled the infamous ombre and the street chic half bun proved a saviour to our second and third day hair. If your face cut allows it, no harm in adding a little crazy to your regular updos is it?
10. Contouring
Everyone loves some high cheek bones and a perfectly chiselled jawline, but not one at an expense of looking like you have just been baked inside out. Contouring game reached another level this year, but the mighty times it went wrong was just not a pretty sight, not on the red carpet and definitely not in the day light. 2016 shall be the year for strobing, and also hopefully less obsessed with Kylie Jenner's lips.
Goodbyes are generally hard, and this year while we had to say hello (yes, the Adele way) to an unwelcomed Donald Trump, an interesting Caitlyn Jenner and much awaited Star Wars, we parted ways with Mad Men and so did our politicians.
It's that time of the year when sweaters come out, fireplaces are lit up and when hot chocolate/coffee becomes our kryptonite. 2015 has come to an end and as we bid farewell to 2015 and welcome 2016, lets go over the biggest trends and faux pas of this past year.
1. Statement Coats
The Fall/ Winter campaigns this year were big on oversized Statement coats and long length coats. Double-breasted coats were trending everywhere and bringing the whole retro look back to the racks in menswear shops.
2. Draping Coat
We don't know if Kim Kardashian is the one to be held responsible for making this trend not only popular among the ladies, but the trend picked up very quickly amongst the men of the world. It was big on the streets of some of the biggest fashion capitals of the world. And to be honest, it's not a bad trend considering how it's very difficult to wear layers during the period when the weather is transitioning from Summer to Fall. It's not too hot and it's not too cold yet and wearing a coat makes you sweat.
Solution: Just drape the coat instead of actually wearing it.
3. Longline Shirts/StreetWear
Some people might disagree with this trend because it's not for everyone but 2015 was the year of street-wear. Long-lined t-shirts and shirts in general were big! It's not everyone's cup of tea but for those who can really pull it off.
4. Yeezys / Trainers
Now if it weren't for the YEEZYs. Kanye West's collaboration with Adidas and this fabric trainer was the most sought after shoe of all time. Fans cued outside stores for ages before getting a pair and most of them had to go back without anything. The shoes originally cost $200 but after the soaring demand, the shoes were being resold over E-Bay and other platform for as much as $1500. Well clearly anything touched by Lord Yeezus turns to Gold. Literally!
 5. Monogram Slippers
Formal slippers were already a major trend for men but 2015 was when guys started getting custom monograms and embroidery on their slippers/loafers. A nice way to put an individualistic spin on things.
6. Colour Trends:  Camel and Military Green
Two colours that were bigger than the staple greys, blues, blacks and whites were army green and camel/nude. For complete mono-colour looks to statement coats, both the colours were big in street-style.
7. Metal Cap Shoes
One name: Giuseppe Zanotti. The one man who single-handedly made the whole metallic cap – toe shoe a big thing. He was also the one who introduced metal in footwear for men
8. Wide Legged Trousers
The wide legged trouser was big on the runway. Again, a very retro trend that picked up this year. It is a tricky trend because not everyone knows how to pull it off but for those who do, it some how works out and looks cool.
9. Turtle Neck
Turtle necks and roll over sweatshirts/ sweaters have made a comeback this year. They have never really gone out of style but this year they were seen everywhere from the ramps to the streets.
10. Chelsea Boots
The one thing that comes to mind with Chelsea Boots is British fashion and British street style. You can blame Harry Styles of One Direction for this but the trend is nice. They have become a sort of wardrobe staple for this fall and look nice too. Considering how they can make an entire ensemble look semi-formal.
1. Man Bun
For me, the biggest faux pas for 2015 was the man bun. A lot of guys have been seen sporting the whole trend but for some reason it just has gone a little over board. 'How to make a man bun' was one of the most Googled phrases of 2015 which is absolutely ridiculous. They look good on some people but the worst kind of man buns is the one with the undercut and the pony tail which is just plain absurd.
2. Super Low V- Neck
Okay. Lets take a moment to mourn the death of fashion with these super low V Necks *takes a moment*.
Now that we have recovered from the trauma, let's talk about how this trend was just – BAD! Guys with a nice build might have somehow worked this out but 2015 was not the year for a low V-neck. And for those of you who still have this in your closet, please burn your low cut shirts.
3. Trademark Logo Fashion and Accessories
For some odd and incomprehensible reason, guys from the South Asian regions and Arab countries really like wearing accessories and clothes plastered with trademark logos. And lets be honest, it looks bad. Whether it's the monogram of Gucci print or huge belt buckles with the alphabets LV, H (Hérmes) or G (Gucci) on them. And the idea of wearing Polo shirts and then tucking them in to show off your branded belts is a big faux pas. So please. Stop!
4. Half-Sleeve Button Downs
Half sleeve button down shirts have been a very common piece of clothing that one can easily buy. But for us, it's not the best of trends. It's just off-putting and seems like a disproportionate mistake. It's better to go with a full sleeve button down and fold the sleeves.
5. Ugly Trainers
Yes we know that trainers have been trending for a long while but that doesn't mean you get to wear grandpa jogger-like trainers! If you do like the trend then please invest in a nice pair of trainers. Research a little before you end up buying a pair because even some of the biggest brands sell the ugliest trainers! So don't be to brand-obsessed and look for something that is aesthetically pleasing.
6.Three-Quarter Length Trousers
Three-quarter length trousers, more popularly known as Bermuda pants in our part of the world are a huge mistake. Please just do yourself a favour and dispose off all such items in your closet. These pants are odd and are not trendy in anyway. Nothing can justify the use of these pants unless you're a fisherman or your profession requires you to wear them (both are highly unlikely). Alternative for these is what is more popularly knows 'cropped [ants'. Cropped pants look nice, they provide a semi formal look, they don't look too shabby and they show off your shoes. So if you are fond of showing off some skin then you can always get a pair of cropped pants or crop of a pair of pants that you already own.
7. Patterned Button Downs
Horrendous Printed Button Downs = Big No = Faux pas of all time.
Gentlemen, please get ride of the paisleys or awkward stripes! They do not look good. What you should be wearing is a nice, crisp, plain shirt. Plain shirts are always a safe bet. They go with practically everything. You can wear them formally and casually. The best thing to do is to invest in nice plain white and neutral coloured shirts.
8. Football League T-Shirts
Gentlemen, we don't mean to offend anyone and we understand how serious you are about your favourite football leagues, but you don't have to advocate your fanaticism by wearing your respective Football league T- Shirts (unless you're playing football). If you are into sportswear, there are quite a few other options. It's 2016 and no one will question your loyalty to your favourite league if you don't wear those jerseys.
Let's gear up for an exciting 2016, pucker up that smile, put your best dress on and give 2015 the farewell it deserves.