Stories from 2015 that could only have made headlines in Pakistan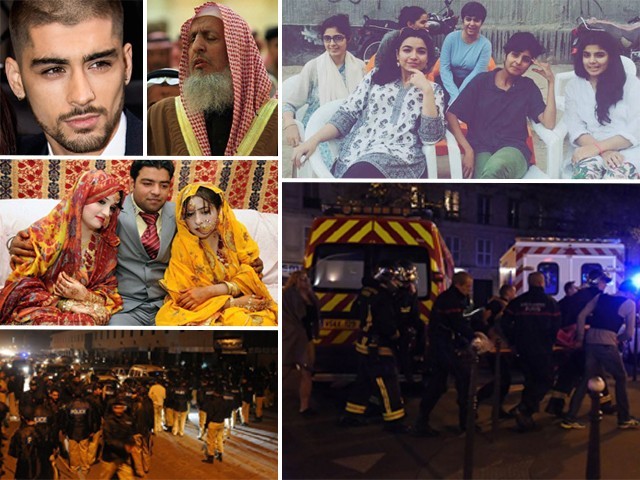 It is the first day of January of 2016. Yes, the New Year has begun. We are all a bit older, wiser, and sadly, a little closer to death. Naturally, this is the perfect time to look back at some of the news stories that made headlines in Pakistan and across the world.
Girls at Dhabas:
For Pakistanis worn down by the taxing life of the big city, nothing quite reignites the brain cells like a good cup of doodh pati (tea). Sold at dhabas (roadside restaurants), these delicious cups of hot tea brewed in milk are consumed by the masses at every corner of the country with great regularity.
While women aren't barred from dhabas, they aren't as regular a fixture at these small tea shops as men due to various social norms. When regular tea consuming friends Sadia Khatri, Natasha Ansari, Rabeea Arif and Najia Khan, decided to confront the gender disparity, they started the hashtag #girlsatdhaba.
Little did they know that their movement would take on a life of its own.
Today, the initiative has thousands of fans on Facebook, Twitter, Instagram, and Tumblr. #girlsatdhaba has been covered by news websites such as The Express Tribune and Buzzfeed, and has even caught on in the neighbouring India.
This, of course, is fantastic. The patriarchal mindset of Pakistani society will start changing when women reclaim their social spaces. Our men need to become accustomed to seeing single or groups of women in public settings without male escorts. I, for one look, forward to #girlsonscooters #girlsinjeans and #girlsdrivingtaxis as the next Pakistani social movements.
Pakistan demands return of Koh-i-Noor diamond from Britain:
After some Indians sued England's Queen Elizabeth for the return of the Koh-i- Noor diamond, many Pakistanis scoffed,
"You're kidding right? Ranjit Singh's capital was Lahore. His empire was in Pakistan. He was born in a Pakistani city. His granddaughter died a Pakistani. OK so it was India at the time… but still!"
So naturally, we too decided to file a court petition for the return of the 105-carat diamond.
Personally, I think Pakistan is better off examining its treatment of various minorities, relics, and heritage sites than chasing the diamond. Our stifling lack of multiculturalism won't be fixed by the return of Koh-i-Noor. Also, I'd hate to see the diamond end up in the government's hands, where 10% of it disappears into the pocket of some politician.
Pakistani man marries two girls on the same day:
The bizarre thing about a man marrying two cousins on the same day in a ceremony where he was embracing both of them wasn't in the act itself, as much it was in how he was hailed as a champion for doing so.
The story was picked up by various Pakistani TV channels, many of whom openly cheered the man for his actions. The groom, in his late 20s, was lauded for saving these two women from the process of finding husbands before they were past their shelf lives.
Oh those poor unmarried girls. Thank goodness this guy came along!
There are so many things wrong with this story. First of all, would the opposite have been okay? Would a woman have been applauded for saving two men from bachelorhood? Also, who says unmarried girls need saving? Why must they be married by a certain date, if at all? Neither gender comes with an expiry date.
Woman from Sialkot gives birth to quintuplets:
In lighter news, a woman from Sialkot gave birth to three girls and two boys at a Military Hospital. Certainly, the process must have been tough for the mother, and will continue to be trying as her children grow older. What's more, the cost of raising these children is going to be very high, and one can only hope the family has been given some aid from the government to help in the journey.
But look at them! They are adorable!
Pakistani men are the third sexiest:
When a dating website ranked Pakistani men as the third sexiest in the world, local social media went into frenzy. The story was shared countless times across Facebook by Pakistani men who gloated and said,
"See… see?"
On the other hand, many Pakistani women were taken aback. Some even said,
"What? Have they even been to Karachi?"
Karachi men were immediately put off by these passive aggressive comments. We have some handsome men, some of whom are currently living in self-exile in the United Kingdom.
As it turns out, the entire report was flawed. Techjuice.pk expands on the issues with the survey:
"In this case, the online dating portal Miss Travel did conduct a survey to collect opinions on 'the Sexiest Nationalities', but they were based on one sample male from different countries as an example. And the only contribution from Pakistan to that list was Zayn Malik, a 22-year-old born and bred in Bradford, United Kingdom, and whose remotest relation to Pakistan is that his father hails from this country.
But did the article-churning, social media sharing machines care? Nope.

Every single post that has been circulated ever since this story went viral has pictures of Pakistani celebrities like Hamza Ali Abbasi, Fawad Khan, Ali Zafar, and Imran Khan plastered all over the place. Were they even a part of this survey? Did any of the participating 66,309 American females ever see even so much as a photograph of these celebrities before they hit Zayn Malik's name on that opinion poll questionnaire? Highly unlikely."
Please play with us India:
In 2015, the Pakistan Cricket Board (PCB) somewhat shamelessly chased its Indian counterpart to agree to a series. While the Indians remained impassive, the PCB released strange contradictory statements almost on a weekly basis regarding the series, hilariously giving their neighbours deadlines that the Board of Control for Cricket in India (BCCI) clearly didn't care about.
Ultimately, after months of trying to woo them, the PCB finally gave up, after losing all self-respect in the eyes of cricket fans across the world.
Although a Pakistan-India series is obviously lucrative, it is a pity that the PCB came across as a would-be lover running desperate circles around a crush who wouldn't give them the time of day.
Paris and The Refugee Crisis:
This last year was an alarming period where extremism made headlines with great frequency. The attacks in Paris shocked the world, where ISIS conducted one of the deadliest attacks in the history of France. While there was backlash against refugees, it is heartening to see that some nations continued in their overwhelming support for those displaced from their nations. Recently, the Trudeau government welcomed thousands into Canada. Meanwhile, Germany is said to have helped over a million refugees.
The price of safety:
The potential for terrorism has certainly affected the way we have lived our lives in 2015. Precautionary measures have affected both public transportation and air travel. Here in Pakistan, we too have had to deal with the inconvenience of restricted freedoms. This past year, more draconian measures were introduced in parliament designed to curb internet privacy in the name of protection. Most recently, Blackberry threatened to pull out of Pakistan after the government demanded unfettered access to their encryption Enterprise Services.
Even New Year's Day was a sombre affair in Karachi. Roads were shut down and security was so tight that many Karachiites ushered in 2015 by sitting in their apartments and listening to the celebratory gunfire.
It was another bad year to be an Ahmadi in Pakistan. In Jhelum, Punjab, a factory owned by the Ahmadiyya community was burned down by an angry mob. Although many escaped the factory complex, which contains a residential section, a number were still inside when the horror began. To make matters worse, an Ahmadi place of worship was also torched. Through no fault of their own, these Pakistanis lost their homes and peace of mind thanks to local clerics who had riled up their worshipers with fiery speeches.
Not a few months later, mobile shop owners at Hafeez Centre hung up signs with derogatory language against Ahmadias. After these men were arrested, and the signs taken down in a commendable move by the Punjab government, a protest began against both the police and the minority group in question.
Sadly, it doesn't seem like 2016 will be any different in terms of how tolerant our general public is of those who different beliefs than them. But there is light at the end of the tunnel. It seems like the Punjab government is serious about turning things around. Taking action at Hafeez Centre may have been a tiny step, but in context of this nation's history, it was a giant leap.
The Kingdom has made headlines in 2015 for a variety of undesirable reasons. One of the most curious news stories was regarding Saudi Grand Mufti Sheikh Abdul Aziz, who has previously reportedly issued a fatwa that men should eat their wives when hungry. He later denied this after the outrage and said that all churches in the Gulf should be destroyed, and blamed Israel for ISIS.
Look Mr Grand Mufti, we realise that Israel's treatment of Palestinians has been deplorable, but let's give credit where it's due:
1. The second highest number of foreign fighters killing, pillaging, and raping for ISIS are from Saudi Arabia, not Israel.
2. ISIS follows a radical version of Islam called Wahhabism which is 'rooted and encouraged' in Saudi Arabia, not Israel.
3. According to Wikileaks, Saudi Arabia, not Israel, has spread the cancerous Wahhabism to countries like Pakistan, infecting people with intolerance against "Christians, Jews, Shiites, Sufis, Sunni Muslims who do not follow Wahhabi doctrine, Hindus, atheists and others", as reported by Freedom House.
4. Ensaf Haidar, the wife of the imprisoned Saudi blogger Raif Badawi, said the Saudi government behaves like Daesh (ISIS). Note, she didn't say Israel.
5. Wikileaks mentions Saudi Arabia as an ATM for terror groups such as Taliban, Al Qaeda, Lashkar-e-Taiba, as well as the unrest in Syria and Iraq. No sign of Israel in the picture.
So let's not try to pass off the blame for this mad dog on to someone else.
Pakistan:
This was a promising year for Pakistani cinema. We were treated to watchable films such as Shah, Manto, 3 Bahadur, and Moor. While none of these films were perfect, they showed that our local film industry is on the right track. Incidentally, none of these cinematic releases made it to the list of top five highest grossing Pakistani films, even though they had respectable takes.
Surprisingly, the highest grossing local film of 2015 was the trashy Jawani Phir Nahi Ani, which just goes to show: sex sells.
Star Wars:
Sure, The Force Awakens wasn't perfect. For one, it closely followed the blueprint of A New Hope. For the other, it carried a couple of plot holes larger than Jabba the Hut's head. But it was the most entertaining film of the year and revived a franchise that had been nearly killed by the prequel trilogy. Perhaps it is because I am a diehard Star Wars fan, but episode seven was my favourite film of the year. To date it has broken many Box Office records, and could even challenge the gargantuan worldwide gross of James Cameron's Avatar.
Thanks for reading everyone. May the Force be with you in 2016.