10 Pakistani dramas from 2015 that everyone should watch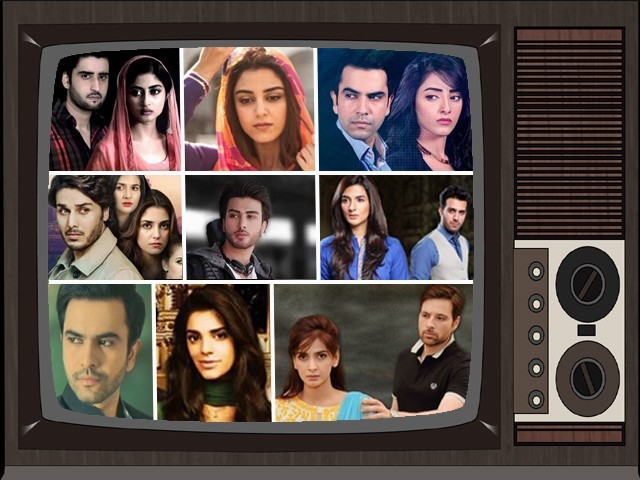 2015 was a year filled with lots of emotions, drama and masala for the Pakistani drama industry. We have a set of directors, actors and producers who have always made much applauded dramas, while on the other hand, we have a pool of artists who are always set to bring out taboo topics and make an impact.
The dilemma to decide which of the dramas rightfully made it big due to its content and which were given overrated popularity for the love of cast and locations is still unanswered.
I feel this confusion will always start a heated debate within the household queens as to which drama should be the best one to win the Pakistani Oscar Drama award.
Without any delay, here are some of the dramas that stood-out in 2015!
1.  Diyar-e-Dil
With a cast so strong, there is absolutely no way that the audience would not be hooked to the drama serial after the trailer. Diyar-e-Dil, is a story of a broken home where Abid Ali as Agha Jaan had caused the family to break away when he rejected his son's wish to marry someone else other than the girl chosen for him.
Diyar-e-Dil revolved around domestic matters and at some points, stirred emotions in families sitting at home but I feel the drama, overall, lacked provoking content. Yet, the viewers loved Agha Jaan and his gorgeous grandson!
2.  Mera Naam Yousuf Hai
Mera Naam Yousuf Hai is a story of fierce love, hatred, money driven characters, pain and sacrifice for love. The drama touched upon the conflicts and hypocrisies of the society, where one's parents are involved in plotting the evil. With actors such as the charming Imran Abbas, beautiful Maya Ali and the most talented Hina Bayyat, the drama had to be nothing but a success. With such a strong script and fierce story, it was really impactful as the audience was captivated throughout by the separation of the forbidden lovers and waited to watch them unite.
So if you feel you'd like to relive the classics of all times like Sassui Punnhun and Heer Ranjha then you must add this to your watchlist of dramas!
3.   Nikah
It has become a culture prevalent in our society to get our children married off before they go abroad to study. But what happens if you grow up and have a different set of ideas, priorities and taste? Well, this is an issue portrayed in this drama.
This serial is best for people who crave family drama, revenge and romance!
 4.   Alvida
This is for the romantics out there! What do we want more than a couple with great chemistry? The Dil-e-Muztar couple has set fire to the screen again with yet another enthralling performance and a great story. The villains of the drama made the serial hard hitting and interesting. The psychotic thrill by Zahid Ahmed as Rameez added the twist in the simple love story. Not only Rameez but also Fareesa was a well thought character that made this serial a hit!
5.  Aik Thi Misaal
This is the tale of a child who comes from a broken family, Misaal is abandoned by her mother and then is mistreated by her father as both the divorced parents are busy in their own lives with spouses and family. This drama gained a fair share of popularity for its great theme!
This serial opened a window for the audience to have soft and empathising corner for those children who have suffered and are in need of care. The character, Misaal, is the epitome for such children.
Whereas some dramas made it to the charts there are a handful of dramas that will touch the core of your hearts and are simply unforgettable. Here is my list of the most impactful dramas that were outstanding in their way:
1.  Kaanch Ki Guriya
The analogy in the name is very interesting as it depicts a woman who faces hardships and is fragile enough to get shattered like a mirror.
It is the story of a young cheerful girl who comes to live with her maternal family to convince her grandfather. It is a tale of family ties, revenge, corruption, innocence and positivity. The protagonist depicts a girl who needs love and acceptance in a family that hates and disapproves. The tragedy happens when the protagonist's grandfather dies and the question of wealth comes up. This serial is a beautifully plotted story, very well executed. A great drama that stole hearts and support throughout!
2.      Mumkin
Mumkin means possibilities. Mumkin, was a drama with good content as it showed sacrifice, love, jealousy and how a mother acts and reacts when her husband abandons her. The conflict of jealousy shown between two step sisters (later revealed) is an added angle to the controversy of the story.
This story has soul like no other sentimental drama and is truly a remarkable serial.
3.  Khuda Dekh Raha Hai
With Bushra Ansari in the lead, the story is about a dominant religious woman who is an extremist in her values and raises her daughter in a conservative environment. This drama has questioned the social norms of society. The daughter, Sajal Ali, is married to a bad household where the husband is uncaring and an alcoholic.
Not only did this serial give the audience a closer look into reality, it was very powerful in terms of story, acting and direction.
4.   Zid
This is an uncelebrated drama. Zid advocates the freedom of right and how to use them. The protagonist is rebellious, outrageous and headstrong, which leads to conflicts with her inner self and society. All in all, I feel this drama was a great personification of all modern day trapped 25-year-old girls who wish to pursue their careers and want to find their own love. They are bull-headed; they question society and challenge the norms and values of the status of traditional women in Pakistan.
This was a very strong modern story showing how unacceptable liberalism is within old school women. Unfortunately, it didn't do as well as it should have!
5. Sangat
There are some dramas that you watch just for entertainment, and then there are some that just take a part of your soul with them. Such dramas are the ones that you give your heart and mind to; Sangat is part of that category. The drama set the bar high for a great storyline, powerful characters and a well-planned plot. Saba Qamar, Mikael and Zahid Ahmed are the leading trio. The queens at home surely loved this!