Looking for organic pizzas tailored to your taste? Place your bets on Pizza Roulette!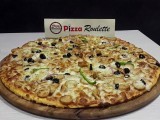 Pizza is quickly becoming Pakistan's go-to-food for hunger pangs. Initially starting with the presence of outlets such as Pizza Hut, the industry has become considerably more Pakistani-centric with local startups such as 14th Street Pizza and New Yorker becoming household names.
The focus has gone from a quick bite to artisan pizzas, brimming with top quality ingredients and unique flavours. One such novel idea is being introduced by Pizza Roulette, an eatery which focuses on natural, organic pizzas tailored to the local palette of Islamabad/Rawalpindi.
I had the recent pleasure of visiting the place in Bahria Town Phase four, where it's located next to Frosty Café.
As soon as you enter the quaint little place, the first thing that catches your attention is the creative black board wall which features messages from patrons and fans. The overall theme is roulette, made popular in Russia and now present throughout the globe, so the red and green décor made sense and was easy on the eyes too.
After reading a number of positive reviews on the wall, I proceeded directly to ordering my meal. I chose chicken fingers as appetizers and opted for a Peri-Peri pizza and the turkey pizza. The Peri-Peri creation had me curious ever since I had seen it on their menu.
During the brief wait, I had a chance to talk to the owner and chef, Saqib Naseer, who started this venture with a few partners after mulling over the idea ever since working in a restaurant in the UK during his studies.
According to Naseer, the idea was to make pizza more organic and healthy than the current variants in the market. Subsequently, the cheese they used is supplied by a special, all-natural manufacturer based in Lahore. Their sauces are made from scratch on a daily basis and the entire process is free from preservatives or MSG.
The short pizza talk made me hungry and I quickly devoured the chicken fingers when they arrived, which were, in all honesty, a no-fuss item and were complimented well with the honey-mustard sauce they came with. But the pizza stole the show – the turkey pizza was filled with tasty turkey bits and true to his word, Naseer's organic cheese formula elevated the experience to another level.
The Peri-Peri pizza, however, was even more spectacular and my favourite. I didn't think the combination would work. But boy was I wrong. It has the comfort of a pizza, spikes your taste buds like Nandos' fiery chicken minus the mess.
Suffice to say, I was stuffed, even though Pizza Roulette doesn't do thick-crust pizzas. Their crusts are definitely not thin but they don't bloat it like Tehzeeb or Rahat either, leading to a firm crust that is chewy in the right sense and doesn't fall apart.
Naseer said the response has been great so far, exceeding his expectations when he started. So much so that he will be looking to expand in the coming months and is already being contacted for franchise offers from other parts of the country. And deservingly so, because Pizza Roulette delivers what the customer wants – a pizza localised for the Pakistani palate and delivered with an utmost focus on quality.