You can work as a waiter or a driver in the US, but not in Pakistan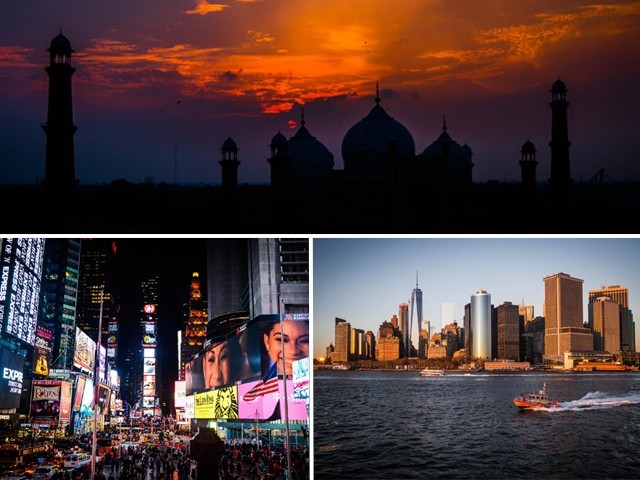 My love for Pakistan is unfathomable! From the lush green valley of Chitral to the hustling bustling streets of Lahore, my love for my country has, in fact, grown over time. Pakistan is my home – mom's food, sister's amazing chai, random hangouts with school friends, street food, the streets of Lahore; the list of things I absolutely adore about my home is unending.
When I came to the US, initially I thought this journey was more like a survival challenge for my existence. I was nostalgic and missed everything about home. But now I feel those things are not missed so much anymore.
While roaming the streets of the US, I realised how I didn't miss my very own Pakistan anymore.
The first thing that struck me hard in Texas were the smiles and kindness with which everyone greeted me. Not just my friends or classmates but everyone everywhere was kind enough to wish me luck for the day ahead. At first, I thought they all knew that it was my first day here because I looked lost and homesick, but in a few weeks, this way of life became my lifestyle as well.
As much as the gesture touched me, it also made me think about why we don't show the same warmth and kindness towards each other back home? Imagine looking at a random stranger and smiling at them in Lahore, that too being a female. It'll definitely send out the wrong message. While we're all indulged in our work, we somehow forget to share our happiness with those around us.
Every smile has a domino effect and I experienced that in Austin. I smiled at this homeless man, sitting on the corner of the road with his paintings, a few broken cans and a box full of pennies. He stopped me, asked me about my hometown and to my surprise gifted me one of his paintings. Sometimes, all someone else is looking for is a gesture full of humility and appreciation.
The Americans not only appreciate their people but they adore their history as well. The upkeep of their monuments has been phenomenal and thus attracts tourists from all over. Let it be the streets of New Orleans or the buildings of Washington DC, the remnants of slavery in Louisiana or Muhammad Ali's memorial in Lexington, they've kept everything alive and open for discovery for people like us.
So, when I see this, it breaks my heart to think about the muddy streets behind Badshahi Mosque, the broken walls of Sheesh Mahal and the flood-stricken homes of Chitral. We, as Pakistanis, in addition to our government, need to take responsibility of keeping our history and heritage alive. Stop littering around the beautiful streets of Lahore, stop harassing female tourists and refrain from damaging walls of the great monuments of the Mughal Empire. We are all responsible for ruining our rich history, a history and heritage capable of stirring hearts everywhere.
Apart from our history, we need to work on our future as well. I've realised that we've become too comfortable with playing blame games. We are taken care of by our parents, financially and physically, till the age of 25 or sometimes even 30. No worries, no debts and yet we complain and whine about our miserable condition. While the kids here start working as waiters, drivers or whatever job they can land, exploring every possible avenue to earn and be independent, we, on the other hand, use and abuse the privilege of 'independence'. We are least bothered about the fact that our parents are struggling with finances, and all we want is the liberty to go out and spend their hard-earned money mindlessly.
I met a photographer in New York who stopped to inquire about my camera. During our brief conversation, he surprised me twice. When I commented on how I saw so many 'non-Americans' (by which I meant people who are not white) on the streets of New York, he said,
"You don't have to be a white person, to be an American!"
And it was so true. America in general, but New York in particular has so much diversity that it is actually overwhelming.
While observing his gear, I thought he was some big shot photographer with an array of lenses and a professional studio. But to my surprise, he was just a 30-year-old Master's student, working part-time as a bartender at night. He had dropped out of college earlier because he couldn't fund his tuition at the time and now he was back in school pursuing his passion.
While I had nothing but sheer admiration for him, I couldn't help but feel sad about how we, the so-called elites of Pakistan, don't value the strong support system we have in our culture. We're either financially supported by our parents or university scholarships. To further aggravate the situation, we rarely respect those who are actually striving to financially strengthen their future on their own two feet. We disrespect and look down upon people such as servers, waiters, drivers, gardeners etcetera just because they belong to a lower socio-economic class.
We're a generation of complacent and self-obsessed young men and women, struggling with our rights without acknowledging our duties. We fantasise about the liberated people of the US, but forget that life is not a one-way street. We have to give respect, share the burden and bear the cost of our own luxuries to be able to live the way other more successful nations strive to make their lives better. Some reverence, a bit of love not only for our parents but for our country, would make Pakistan a much better place to live in.
 All photos: Anam Saeed