When the Pakistani media decided to exploit a painful tragedy like APS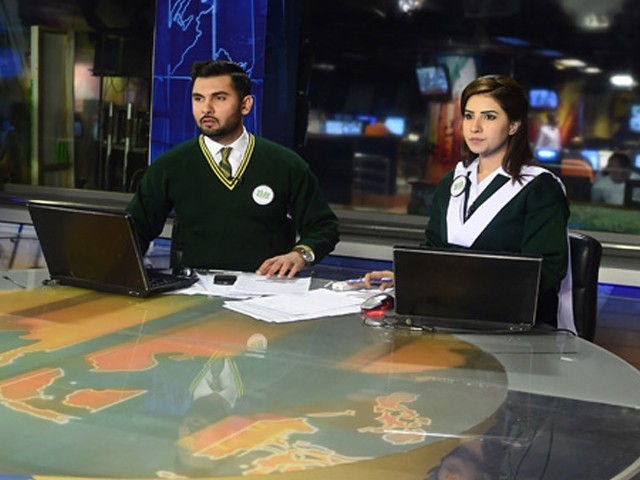 It is difficult to imagine what it is like to be one of the parents of the 122 school kids brutally murdered during the Army Public School (APS) massacre in Peshawar. On the morning of December 16, 2014, these families said goodbye to their children as they left for school, and a few hours later, were shattered by the news that their loved one(s) had been mercilessly gunned down by Tehreek-e-Taliban Pakistan (TTP) terrorists.
I know of parents broken after losing their child to a terminal disease, and eventually found solace. The slow torture of witnessing a brave beloved helplessly battle such an illness is crippling, but some closure can be found during the time granted by the lengthy nature of the ordeal.
The fathers and mothers of the APS children, on the other hand, never got to say goodbye. One instant, their little ones were with them, the other, they were gone, only leaving behind painful questions destined to haunt their imagination in a cycle of ruinous grief.
It is unfortunate that the massacre has been hijacked into a circus. We all want a piece of the suffering and we all want to consume it in our own way. I wouldn't blame the parents for locking themselves away from computers, smartphones, television sets, and the media, rather than relive the ordeal just to satisfy our need to consume their pain.
Should we honour the victims? Of course, we should. The death of these heroes finally gave this nation the will to retaliate against the militant group. When we say #NeverForget #APS, we mean never let it happen again. It's just a pity that we can't honour victims quietly without pushing our own agendas. Instead of empathising with the families, we use their tears to sell news stories or political propaganda.
To start with, someone at Geo News, likely brain-dead, had the bright idea of having the anchors wear APS school uniform to 'honour' the victims:
To see grown men and women wearing childrens' school uniforms on a day when 122 of them were gunned down was both disturbing and comical. It was also incredibly offensive.
Soon, president of Geo Entertainment, Aamir Liaquat announced his resignation on Twitter after claiming that this was a disrespectful attention seeking tactic from the media powerhouse that he could not stand behind.
I am resigning as a President of GEO Entertainment because I am not heard here but It will not stop from standing for the right

— Aamir Liaquat Husain (@AamirLiaquat) December 15, 2015
Apologies to those mothers who are watching GEO news on this day & get hurt by seeing uniforms that bring painful memories #APSMartyrs

— Aamir Liaquat Husain (@AamirLiaquat) December 15, 2015
Yes, you read correctly – Aamir Liaquat took a moral stand.
Imagine that. Even Aamir Liaquat, a man who has built his career on disrespectful attention seeking tactics, could not stomach the publicity stunt.
This is not solidarity but utter nonsense to seek more attention and to hurt feelings may be un intentionaly but they are doing it

— Aamir Liaquat Husain (@AamirLiaquat) December 15, 2015
Later, as if to say, "Don't worry guys, I am still cray-cray", he tweeted about how India was responsible for the APS attacks.
Does wearing these uniform means that no news from India ( responsible for the massacre) would be broadcasted? #APSMartyrs

— Aamir Liaquat Husain (@AamirLiaquat) December 15, 2015
Of course, other channels were determined not to be left behind with the emotion porn. Business Plus featured an interview with a group of APS survivors, who were nudged into singing songs.
92 News found it perfectly acceptable to have a kitschy poem read from the point of view of a dead APS schoolboy.
Abb Tak happily displayed confidential security documents.
Then, there was Neo TV, snatching the lowest hanging fruit hungrily with both teeth. An interview of a mother who lost her child in the terrorist act was overproduced to a nauseating degree. Every time the woman would share heartbreak, the video would pause for a few seconds, allowing the camera to zoom in to her nose, followed by a ridiculous song sung in a shrill voice by a boy crying for his 'mamma' and 'baba'. This continued throughout the interview. It was almost as if Neo TV was telling us that a childlike ghost was crying as his mother spoke and it was nothing short of disgusting. I am sure the family that had granted Neo TV the interview must have been horrified watching what the producers had done to capitalise on their loss.
Here is a hint to Neo TV, Geo and the other Pakistani channels that ran ridiculous programming. As any good documentarian will tell you, on camera, a painful tragedy is powerful enough on its own, and doesn't need to be manipulated. Did Sharmeen Obaid Chinoy present the survivors of acid attacks in Saving Face with depressing music from Titanic or special effects out of saas bahu dramas?
Of course she did not.
So why can't you move beyond cheap exploitation?