I was at APS on December 16, 2014 and now I know what hell will look like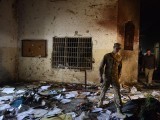 On December 15, 2015, I received a text from my daughter's school stating that, in order to commemorate the APS Peshawar tragedy, December 16, 2015 would be a holiday. It was then that that harrowing Tuesday morning came back to hit me in the face. Hard. And then it began. I started reliving every moment of it again.
That fateful Tuesday morning, at 10:52am my phone buzzed. The briefing was short and to the point. I didn't have the time to think about the magnitude of what was being said to me. All I knew was that I was on duty.
Whilst studying journalism, we had been taught how to give in news beats, churn out stories and also report live instances of violence in war torn zones. Never in my wildest imagination did I fathom that one day, I would be put in a spot where I would have to give news beats and churn out articles, all while standing smack in the middle of the most tragic terrorist attack to have plagued our country. All while being surrounded by gun shots, sirens, screams, Rangers, armed personnel, police and the common man run, chaos and panic.
This was not a scene from a movie nor was I hallucinating. It was real. The sounds were real. I was inhaling the haunting stench of blood, confusion, terror and complete anarchy. And yet I had to report everything I saw. I had to keep my senses alert and keep typing.
If I close my eyes today, I can still see it all. Vividly. I can still hear it all. Clearly.
A year has gone by, but I can still feel the cold that made my fingers numb as I typed down the horror unfolding before my eyes. I can still smell the fear and panic in the air. I still wake up to the sound of gun shots from afar. As I relive last year and type this, my heart pounds just as hard as it did that day.
One young man asked me,
"Madam, Pukhto na poi geh?"

(Madam, do you not speak Pashto?)
I shook my head indicating that I do not and so he began talking in Urdu. He told me about all that he had seen; from men barging into the school from the backyard, etc. to the children being massacred. I knew I couldn't take his word because I didn't know him and couldn't confirm anything, but I saw panic in his eyes. As he talked, I carried on typing whatever my eyes could perceive logical enough to be put into words. People were running around like flees from one end to another. Crowds gathering up as the police and Rangers tried to hold them off to close off the vicinity. And then, the piercing sounds of the gun shots followed.
"Ya Allah reham," (Lord have mercy), shouted someone.
I froze. I don't recall how long I stood there, but I stood completely stunned. It wasn't until my phone buzzed that I began to type again. There were intervals in the gun shots. Confusion arose amid all around. Who was shooting? The terrorists or the armed personnel that had somehow managed to enter the premises of the school.
By 1:30pm, we were told that the operation had ended. As I heard wails, screams, loved ones kneeling to the ground weeping all the while praying for the safety of their children, I had a strange inkling that it was not over just yet.
Half an hour later, there was a thunderous sound that though seemed like an explosion, produced no fire.
By 3:30pm, the last of the two terrorists had been shot. I have no count of the number of ambulances that kept pouring in from mid-afternoon till that time. When the last of the armed personnel finally came out and informed us that the school was clear, I knew it was time for me to end my news beats and work on my article.
Taught to be apathetic in instances where emotions could take the better of reporters, I felt numb. But a part of me had already died from the moment I had heard the first gun shot.
Leaving the commotion behind me, I opened my laptop to write the article on the incident that would creep into my every waking moment for months to come. As I began typing, it was then that after nearly eight hours of witnessing the death of humanity that my eyes welled up. For the first time, I typed every word ferociously. I poured in my pain not as a writer, but as a mother and a human who felt sick to her stomach.
As the evening came to an end, fear of all that I had seen crept in. My children had become martyrs. I was empty. Thoughts of the morning and the plight of the families of more than the given number of victims pierced through my soul. I hovered around my home like a ghost. I knew that the wound I was carrying was one that would never heal – the scars of which burn as I type this.
It wasn't Peshawar that died last year. It wasn't Pakistan that lost children that day. It was humanity that perished away before my eyes and in that moment, I truly felt what hell might seem like – a place where innocence would be shredded by evil.
It has been a year and today I say it again: For all those who think it is okay to support the Taliban ideology or are apologists, God damn you to the deepest pits of hell.
I pray that mercy and God's mighty benevolence is showered upon the families of the victims. I salute our forces and armed personnel for their bravery, resilience and timely actions. Never forget is no more a slogan or a mere hastag. It is a version of reality that we'll live through forever.
To my children, until we meet again.