I am very glad that Shireen Mazari's daughter voted for PML-N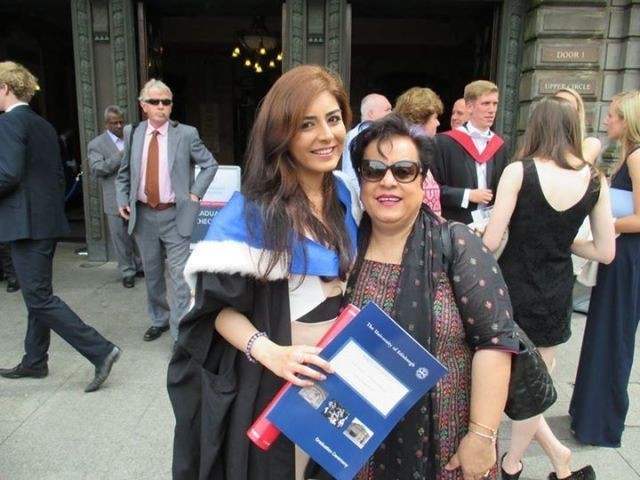 Recently, news emerged that the Central Information Secretary for Pakistan Tehreek-e-Insaf (PTI), Shireen Mazari, and her daughter voted differently in the local body elections. Her daughter, Imaan Hazir, created quite a stir by voting for Pakistan Muslim League-Nawaz (PML-N).
Democracy, by its very definition, proposes that the freedom to vote is a wholly individual choice. It is not something that a person can be coerced into doing otherwise there would be scant difference between democracy and dictatorship. But what happens when a prominent member of a famous political party faces mutiny amongst her domestic ranks?
Just an FYI: I voted for minorities & PMLN.

— Imaan Z Hazir (@ImaanZHazir) November 30, 2015
This unleashed a barrage of abuse against Mrs Mazari who replied in an innocuous tweet that 'democracy means free choice'.
Abusing me bec my daughter cast her vote on her choice is fascistic. I am PTI but it does not obligate my family.Democracy means free choice

— Shireen Mazari (@ShireenMazari1) November 30, 2015
Ms Hazir was quite vocal about the internet trolls who lambasted her mother for her choice of vote.
@ShireenMazari1 in assembly u bashing Pmln so what ur daughter saw there which is not in Pti on which basis she vote Pmln ?? @fouzi_s

— ✴REBEL✴ (@saif_PTI) November 30, 2015
@ShireenMazari1 If you are not able to stop your Daughter who will stop supporters sentiments.U better ignore criticism or stop her Nonsense

— Asif aziz (@AsifktkAziz) November 30, 2015
She proceeded to post a picture of her inked thumb stating that her and her father's votes were very different. Skies did not fall. Mountains didn't turn to dust.
My dad & i went to vote together. Our votes, however, were very different. #DemocracyBeginsAtHome pic.twitter.com/5Q075840z7

— Imaan Z Hazir (@ImaanZHazir) November 30, 2015
It is lamentable that PTI supporters had to resort to bullying tactics when it is really a completely benign issue.
Aap PTI waalay pagal tou nahee ho?U converted Isb in2 a public toilet 4 'democracy' & ur abusing my mother bec i exercised my RIGHT 2 vote?

— Imaan Z Hazir (@ImaanZHazir) November 30, 2015
Thank u @ShireenMazari1 for nvr imposing & always encouraging me to develop my own opinions. Had i been silenced, i wouldn't be ur daughter.

— Imaan Z Hazir (@ImaanZHazir) December 1, 2015
It is understandable that such a prominent member of PTI would expect her family to vote for PTI as well, but it would be unfortunate if this was forced upon her children. The fact that she respects her daughter's decision to vote as she pleases is extremely commendable. It encourages debate and reform which are not things to be afraid of. A PTI supporter should not treat a PML-N supporter as a deplorable person who should be ostracised. There may be certain points that Ms Hazir liked about PML-N that appealed more to her than PTI.
How sad r those ppl picking up tweets where i have criticized PMLN to make some kind of a point. I have some very serious issues w/ PMLN 1/2

— Imaan Z Hazir (@ImaanZHazir) November 30, 2015
2/2 & bec im not affiliated w/ any party, i am vocal ag anything i find unjust. How are those larger policy issues relevant to LG elecs?

— Imaan Z Hazir (@ImaanZHazir) November 30, 2015
It really is nonsensical to harangue her mother for her 'rebellious' daughter when she is perfectly entitled to vote as she pleases. Why create a 'them and us' attitude?
Why is conformity so important in our society? Why is the exertion of personal choice considered a rebellious act?
What would be extremely encouraging is if the children of the members of PML-N did the same.
Could Maryam Nawaz ever vote for PTI?
Probably not, but it would definitely be a fresh move away from the typical dynastic politics that have plagued Pakistani politics for generations. It would encourage true political choice and the freedom of reasoned decision.
I, for one, am very glad that Mrs Mazari reacted so positively to the news. Instead of expecting submission, she let her daughter make her own political decisions.
When PTI supporters were against PML-N's thug-like tactics, they shouted and screamed from the rooftops, held rallies, protests and sit-ins. So why behave in the same manner if someone offends them? What difference is there between PTI bullies and PML-N ones?
Forces that are intent on keeping our views strictly polarised must abandon their efforts if we are to make any positive reform in our political discourse. The whole point of a democracy is to encourage uninhibited choice, and clearly, Shireen Mazari understands this. If her supporters can comprehend this notion, we might just see a new Pakistan.