Salahuddin Chowdhury and Ali Ahsan Mujahid hangings: A case of 'judicial murder'?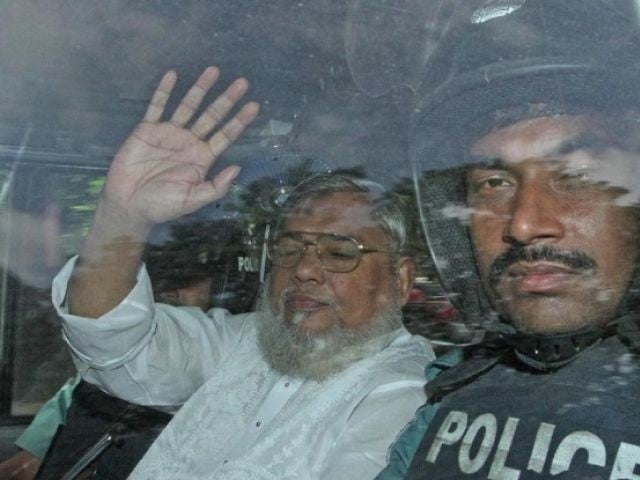 Salahuddin Quader Chowdhury, a senior opposition leader and former minister in Khaleda Zia's government, and Ali Ahsan Mohammad Mujahid of the Jamaat-e-Islami party were sent to the gallows last Sunday. The state of Bangladesh held them accountable for war crimes committed during the 1971 war of independence.
The state's actions have received widespread criticism from opposition parties and international human rights groups – not for their alleged war crimes, but in the way the entire trial was conducted. The defendants were not given a fair opportunity to produce their witnesses for their defence.
The International Crimes Tribunal had awarded capital punishment to Chowdhury and Mujahid in October 2013. The Supreme Court of Bangladesh, on an appeal filed by the accused, upheld the death sentence. Chowdhury was held responsible for aiding the brutal slaughter of 200 civilians in Chittagong the 1971 war.
It is estimated that nearly three million people lost their lives in what is considered the biggest genocide in the Bangladesh Liberation War.
The verdicts of both the courts have been heavily criticised – people are saying that the whole trial was politically motivated. Pakistan Muslim League-Q (PML-Q) Senator Mushahid Hussain Sayed has said that the government of Bangladesh is resorting to politics of "vengeance, vendetta and victimisation" in order to stay in power.
We could squabble over the true intentions of the Bangladeshi government for eternity but it would get us nowhere. Examining the facts would be much more productive, and the fact is that only four defence witnesses (out of 1,500 names submitted) were allowed to be cross-examined, against the 41 witnesses for prosecution.
Because of this, I believe that these judicial proceedings were grossly unjust.
Brad Adams, the Asian Director of the Human Rights Watch, an international non-governmental organisation, based in New York, which conducts research and advocacy on human rights, commented on the flawed trial in Bangladesh:
"Justice and accountability for the terrible crimes committed during Bangladesh's 1971 war of independence are crucial, but trials need to meet international fair trial standards. Unfair trials can't provide real justice, especially when the death penalty is imposed."
The execution may lead to a backlash from the opposition parties which will worsen the already parlous security situation in Bangladesh.
To make matters worse, the foreign office of Pakistan issued a statement expressing deep concern and anguish over the unfortunate executions.
Earlier, the noted cricketer and Chairman of Pakistan Tehreek-e-Insaf (PTI), Imran Khan, had sent a letter to Bangladeshi Prime Minister Sheikh Hasina, requesting her to stop the execution or commute the sentences.
The crimes committed during 1971 war were absolutely horrendous and the perpetrators should be punished, however, the integrity of the justice system should not be compromised. It needs to be emphasised that the death penalty imposed as a result of an unfair trial would amount to a gross violation of human rights.
The executions in Bangladesh raise a moral question we've been battling with for quite some time. Since 1976, 140 countries have abolished the practice of capital punishment. However, around 60 countries, including the US, India, Bangladesh and Pakistan have retained it. According to Amnesty International, sentencing someone to death denies them the right to life as enshrined in the Universal Declaration of Human Rights.
India, Pakistan and Bangladesh have once again fallen behind the rest of the world in the long marathon towards ensuring that every human being's rights are protected.
There is a growing debate in India regarding whether capital punishment has served any usefulness. There is no evidence to show that the executions of criminals and terrorists leads to any reduction in crimes committed against the humanity. The death penalty is viewed more as a form of retributive justice where no opportunity is given to a criminal to reform himself. Earlier this year, in a speech given to the US congressmen, Pope Francis stressed on the need for rehabilitation of those convicted of crimes and spoke about the need to abolish capital punishment.
There are several cases that show that innocent persons being wrongly convicted and being sentenced to death. The evidence collected, after their deaths, shows that they were charged of crimes that they had not committed. Even in countries like the US, where the courts are known to conduct fair and just trials, many grievous errors have been made. According to the US National Registry of Exonerations, over a period of 25 years, around 150 prisoners, who were wrongly accused, were subsequently exonerated when it was found that the charges against them were based on false evidence.
Imagine if they had been executed. The state would have been involved in the judicial massacre of 150 people. The courts would have carried out grave, irreversible injustice.
It is true that all those who indulge in crimes against humanity, like the two leaders in Bangladesh, should not go unpunished. However, countering violence with violence is not the answer. Our efforts should be focused in reforming individuals, instead of snuffing out their existence.
I understand that my ideas have a distinct Utopian hue. I might not be able to convince many of you in this era plagued by global terrorism, where blood-for-blood is the only kind of justice that makes sense to us. But we have to realise that capital punishment has outlived its usefulness in deterring crimes. There is an urgent need to develop an alternative form of punishment.