Musa ka Musalla: Pakistan's playground where fairies come to play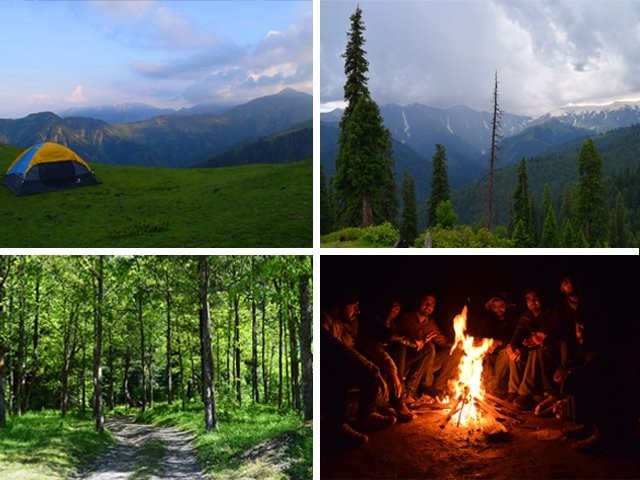 Not a single thought flitted through my mind, I was completely at peace. My feet were touching the cold green grass and my mind could feel the chill permeating through them. The cosiness of the sunshine was withering away as the grey clouds shielded the ferocious sun rays.
The picturesque valley of Dorh was about to pull my soul in when the motel owner called out for lunch.
Before I proceed any further, let me tell you how we ended up in Dorh.
My friends and I had just returned from Chitral and someone decided to show us pictures of their journey to Musa ka Musalla. We were awestruck when we viewed the pictures, so much so, that we immediately decided to plan a trip to the Himalayas where it is located. Legends say the mountain got its name because of a herdsman named Musa who used to pray at the top.
After an extensive research, we came up with three routes leading to it:
1. Shinkiari to Munda Gucha route
2. Balakot to Nadi Bangla and Kund Bangla route
3. Paras to Sharran forest route
We opted for the Nadi Bangla route because it is more scenic and has denser forests as compared to the other two routes. A three-day visit was planned and we were off to Balakot from Lahore.
At 6:00am on Saturday morning, we arrived in Balakot. We asked a few people about the route to Musa ka Musalla from Balakot and they pointed towards the mountain saying,
"That snow clad peak is Musa ka Musalla, but we don't know about the route you are talking about. You may ask someone else when the bazaar opens."
Since we were famished, we decided to eat first and then wait for the bazaar to open, hoping to meet someone who had knowledge of the route. At around 7:00am, when the hustle bustle increased, we were guided to one of the wisest individual in town who knew the Balakot-Nadi Bangla route. When we met him, he recommended that we take the Paras-Sharran route for two reasons:
1. It was short
2. Ponies and donkeys were easily available for carrying luggage
We had heard about the Sharran forest, its wild life and its flora and fauna before, but we had never visited the place. We happily accepted the advice and we took a van to Paras and a jeep from Paras to Sharran.
The thick pine forest of Sharran excited us and the happiness of trekking through those enormous trees was evident on our faces.
Our luggage was loaded off and we began chatting with a few locals. The conversation proved to damper our spirits as the locals warned us that the trek to the mountain from Sharran had steep slopes and no one from Sharran had ascended the top that season, hence there was no trek to follow.
As if that was not enough, they also quoted incidents of lightening striking people following that route. At first, we didn't pay any heed to what they had to say, especially to the legends associated with lightening, and were adamant on following the route. Then again they warned us by further inflating the severity of icy slopes and lightening. At that moment, we looked towards the mountain and it was surrounded by dark grunting clouds – an ominous sign.
The situation forced us to yield to whatever the locals were saying. Now we were only left with one option – to follow the usual Munda Gucha route as recommended by the locals of Sharran.
Fortunately, the change of plan didn't go in vain and God compensated us for the loss we suffered by providing us with the opportunity to trek to the Maanshe plains. The Maanshe plains allowed us to view the beautiful views of Shogran, Siri and Paye on the other side of river Kunhaar.
Maanshe is a four to five-hour round trip from Sharran. The trek moves through a dense forest at the start and it almost feels like a pack of green hounds measuring you from all sides. But slowly, with the ascent, trees become scarce and a huge green carpet extends across to welcome you.
Words cannot do justice to the beauty of Maanshe. Each of us fell short of words as well. Our feet were tired but our eyes were not.
From Sharran, a jeep took us to Paras. Once we reached Paras, we loaded our luggage at around 7:00pm and headed to Mansehra. Another van from Mansehra took us to Shinkiari. An acquaintance had arranged for our stay at the Junior Leadership Academy.
The next morning, we travelled in a van for one and a half hours to reach Munda Gucha. Another half an hour jeep trek from Munda Gucha took us to the starting point of the trek. Yes, it sounds long and tiresome, but believe me, every bit of it is worth it.
When we started the trek, the clouds and the sun kept battling between who will make an appearance in the sky. Luckily for us, the sun won. After an hour, we reached the magical valley of Dorh.
From there, we continued our journey towards Jabbar while it was drizzling. Soon the drizzle turned into heavy downpour. After every 30 to 40-feet of ascending, we would look back at the valley and see huge mountains sinking into an ocean of green.
We finally reached Jabbar, had some tea and then started towards the Musa ka Musalla base camp called Gali. Moving towards Gali, we noticed that human settlements were scarce.
At around 7:00pm on Sunday, we reached Gali. There, we had the first complete look of the mountain. One of our friends called it the playground of fairies, Musa ka Musalla.
The sunset at Gali was picturesque. We climbed a nearby hill to take some photographs. After that, we prepared our supper and got ready to get into bed and enjoy a deep slumber.
In the morning, the weather was clear and sunny. The mountain seemed to be in a good mood and seemed ready to welcome us, so we started the hike at 8:00am on Monday.
As we ascended the mountain, we sensed a change in the weather. At first, strong winds tried to uproot us, followed by a light drizzle to accompany the strong winds. While we were waiting for the weather to settle down, I asked a friend as to why the mountains were behaving in this manner. He replied,
"The top of Musa ka Musalla has a big plain, almost like a playground, and this is a characteristic peculiar to the mountain. When the fairies of the valley play there, the mountains create such conditions as to prevent the intruders from reaching the top during their playtime."
Although it was just a fantasy created to kill time, the story remained with me. Meanwhile, the weather cleared and we thought that the fairies had left and it was our turn to ascend to the top.
When we were nearing the top, a heavy storm hit us and visibility was decreased to a few meters. But we forced ourselves to move forward. And then, magically, our feet suddenly came to life as we noticed the big flat playground right in front of us.
We were finally here!
The mountains didn't allow us to enjoy the panoramic view as dark clouds kept hovering above us for as long as we remained there. Throughout our stay at the top, the tale about fairies captivated my mind. But I felt a presence there, and I thought 'it can't be the fairies'. But the presence was too strong to deny.
Could it be Musa or is it an angel, the same angel who showered the blessing of God when Musa prayed at the top?
After our stay on the top and relishing in our victory of having ascended Musa ka Musalla, we decided to head back towards Gali. From there, we would leave for Dorh and then make our way back to Lahore, which would mark the end of our unforgettable trip.
The Musa ka Musalla trek offers beautiful panoramic views and it is a great get away from the tiring city life. This journey will transport you through heavenly meadows, the daunting silence of jungle and the gushing water streams.
All I can is that every Pakistani should take this trek at least once in their lifetime.
All photos: Rehan Iqbal