Today, we take solace in the hope that #PorteOuverte has offered us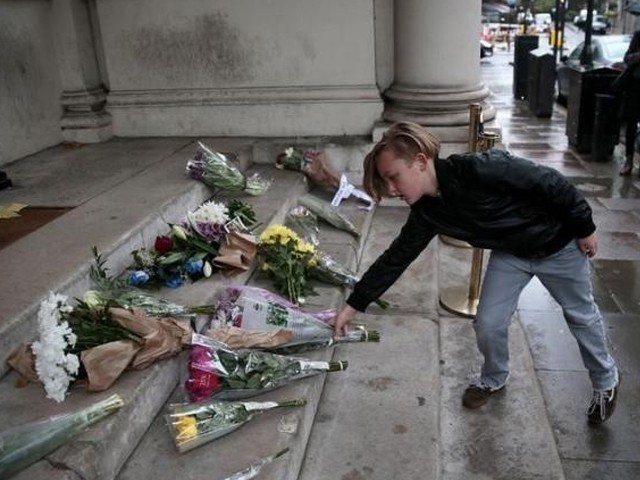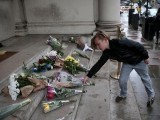 When a calamity strikes, be it an earthquake, a flood, or a terrorist attack, headlines are made all over the world, a certain meta-narrative grips us all. We are told that a certain number of people died, a certain amount of damage was done, a certain type of people was responsible. We become transfixed with questions like 'what happened?', 'why did it happen?' and 'who did it?'
We become consumed with the pathology of violence.
They answers we seek are what we call 'primary' pellets of empirical information that are intertwined to form a story that conforms to the framework of constructed news stories. We build pyramids not only under headlines, but in our heads as well.
That's how journalism works. That's how stories of catastrophe are told. And that's how they are absorbed by the people.
What happened in Paris last night, or the bombings in Beirut the day before, has shattered that dominant framework of storytelling.
There was a strong attempt to narrate the tragedy within shackles of popular, mainstream terrorism narratives.
Some people shook their fists furiously at the Syrian refugees.
How's that Syrian refugee resettlement look now? How about that mass migration into Europe? Terrorism is alive & well in the world. #No

— Rep. Jeff Duncan (@RepJeffDuncan) November 14, 2015
Some blamed the global Muslim community in general.
Why does NO ONE say the obvious thing on TV?! It's insane. Don't want terrorism in US? Stop importing Muslims!

— Ann Coulter (@AnnCoulter) November 14, 2015
However, this time, under the weight of this calamity, the structural schema of the world collapsed and the catalysts of dominant, thematic narratives fizzled out. People are speaking up, attacking the metanarrative, problematising stereotypes, generalities and overarching perceptions.
And while Twitter blames all the Muslims, right now in Paris, cops that happen to be Muslim are risking their lives to save innocent people.

— John (@linnyitssn) November 14, 2015
Worldviews that have been force fed for decades are being regurgitated. But people are arming themselves with kindness, instead of bitter accusations.
In the mesh of panic and fear, a strong hand of comfort has emerged, which will change our understanding of terrorism and how it affects us forever:
#PorteOuverte (#OpenDoors)
Frederic Nowak, who was attending the concert with his son, exited the hall through a door near the stage. He and a group of fellow concert-goers emerged into a stairwell, but found each of the doors off the stairs to be locked.
"We were stuck there for about ten minutes," Nowak told the Telegraph. "There were thirty or forty people there. Then we went further up the stairs and arrived at the roof. We got out through a window and we saw a man whose apartment was in the building next door waving to us. We made our way over the rooftop and he let us in through his attic window."
Hey tourists in #Paris if you need help or some place to sleep around Jussieu 5th arrondissement, my door is open. #PorteOuverte #OpenDoor

— Thomas Nigro (@ThomasNigro) November 13, 2015
Anybody who's stranded in Paris and needs shelter and somewhere safe, any Sikh Gurdwara (temple) will be happy to accommodate #PorteOuverte

— Rohan (@RohanSinghKalsi) November 13, 2015
Any Parisians stuck in the UK, we have room at our home not too far from Heathrow airport #PorteOuverte

— Judi McIndoe (@jpm1108) November 14, 2015
If any Parisians are stuck in the Netherlands, I offer shelter. #PorteOuverte

— vi (@spacebeams) November 14, 2015
My Friends are safe, in a random woman's home. She's making them dinner, & preparing beds. Blessed. #PorteOuverte

— TK Westfield (@TWestfield) November 13, 2015
I have room for stranded people near chatelet. Tell me if you're in need, #PorteOuverte.

— Arnaud Dupuis (@ArnaudDupuis) November 14, 2015
People are flinging open their doors, sharing their food and becoming agents of compassion. NGOs aren't in the limelight for their relief work, it is the common people.
Muslims all over the world, waited with bated breaths as images of death flashed across their televisions and computer screens, afraid that they would be blamed, chastised and abused once again. Even when Muslims aggressively reject any association with or appropriation of ISIS, just the fact that the words 'Muslims' and 'Islam' are used in conjunction with death and destruction makes their hearts sink and their throats close up.
French President Francois Hollande has ardently said that the 'act of war' was,
"…committed by a terrorist army, the Islamic State group, a jihadist army, against France, against the values that we defend everywhere in the world, against what we are: A free country that means something to the whole planet."
He went on to say,
"(France) will be merciless toward the barbarians of Islamic State group."

"(France) will act by all means anywhere, inside or outside the country."
Although ISIS is being staunchly blamed for the attacks, people have raised their voices in abject rejection of Muslim stereotypes. #Muslimsarenotterrorist is trending on twitter.
And while Twitter blames all the Muslims, right now in Paris, cops that happen to be Muslim are risking their lives to save innocent people.

— John (@linnyitssn) November 14, 2015
1. Muslims aren't terrorist 2. ISIS did it 3. TERRORISM HAS NO RELIGION 4. Stop Blaming Muslims 5. We Stand With Paris

— kyle (@hysteriadolan) November 14, 2015
Please pray for the thousands of innocent Muslims in Europe who will be stigmatized for attacks they did not commit.

— Lee Weissman (@JihadiJew) November 13, 2015
The president's statements don't just make the Muslims wary, they make the whole world shudder.
More war.
More weapons.
More deaths.
The loss of human life, in numerical form, will continue to plague our consciousness.
Today, however, we can take solace in the hope that #PorteOuverte has offered us. Such compassion was seen in the advent of the refugee crisis, when people welcomed Syrians into their homes, and now, when the entire world is fiercely sheltering Parisians. We can swallow that wad of discomfort in our throats knowing that in times of extreme adversity, the global community with throw open their doors, lay out their welcome mats and give people their homes.
There was a lot of vitriol on twitter tonight, but it seems like #PorteOuverte had an actual impact in the real world.

— Tyler Koshakow (@TylerKoshakow) November 14, 2015
Parisians tweeting "#PorteOuverte" to show they will give others shelter is so touching, it's amazing how the world has come together today

#PorteOuverte is proof the terrorists didn't win. Even among all that evil, people willingly opened their homes to strangers.

— not a football club (@chelsea_elisa) November 14, 2015

While we mourn the loss of lives everywhere in the world, Paris, Beirut, Japan, Syria, let us take comfort in the fact that we are keeping each other warm and that the narrative of loss shall be governed by none other than us.

We are not alone. We have each other.

Above all else, humanity has prevailed.