Today, I wish Pakistan and India could be more like Canada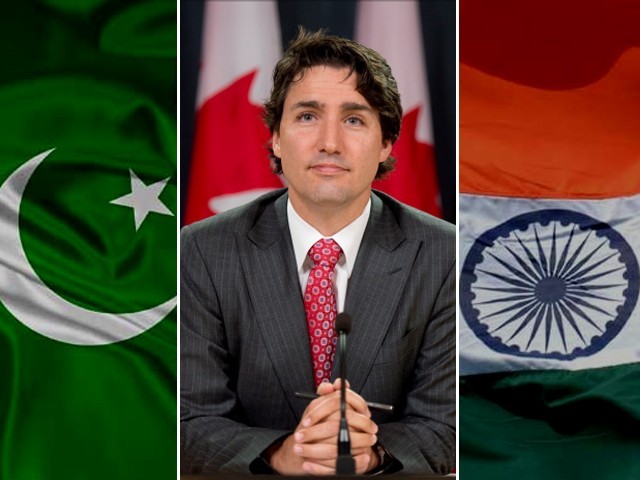 Dear Pakistan and India,
Today was a beautiful day in Canada. The sun was shining bright, and it was a warm day in the cold month of November. The temperature in my city was 20 degrees centigrade. Warmer still were the temperatures of hearts in Ottawa where our new handsome Prime Minister, Justin Trudeau, whom you loved when he relished biryani in a mosque or performed bhangra with the desi community, was taking the oath of office along with 30 other ministers. Half of these ministers are women.
A 12-year-old boy from the indigenous aboriginal community led Trudeau to the ceremonial hall. The ceremony began by paying tribute to the Algonquin community on whose territory they were standing. Two indigenous ministers were sworn in. Acknowledging the centuries old injustices to the indigenous people, one of them was named minister of justice.
Today was the first time in Canada that a Muslim minister was sworn in, and that too a woman, who came here as a refugee with her widowed mother and sisters after fleeing war-torn Afghanistan.
There are three South Asians taken in as ministers. One of them holds the coveted position of minister of defence. Another was a bus driver before he came into politics. Two individuals with disabilities, one with impaired vision and another on wheel chair also became ministers. Yet another one of the minister's parents worked as immigrant factory workers all their lives. A doctor became the health minister, and a university scientist became the minister of science. A new portfolio of immigration, citizenship and refugees was created.
An incredible step has been taken towards celebrating diversity today. The world has been watching Justin Trudeau with awe.
And yes, our premier (chief minister) of Ontario is a gay woman who is a grandmother and says family comes first.
But why am I writing this all down for you?
I was 24-years-old when, as an Indian, I married a Pakistani, and embraced my Pakistani-Indian status. I know some people would frown and wonder how that could work, but I have loved every minute of my marriage. It has been 25 years since then. But that's another conversation.
In contrast to that, I have been a Canadian for only five years, yet I feel safer here than back home.
Sitting here, witnessing diversity unfold its virtues in Canada, my heart weeps for the havoc that has been created by 'otherising' and demonising diversity in India and Pakistan.
From the persecution of Ahmadis, to the killings of Shia youth, to burning Christians, to forced conversions of Hindus, to the recurrent Hindu-Muslim communal riots, to the lynching of Muslims for eating beef, to the burning of low caste children, with every new tragedy a little of Pakistani-Indian dies within me.
The unending arguments of how different Indians and Pakistanis are, despite sharing the same history, same geography, same ethnicity and even the same genetic pool, looks more ridiculous when you watch different skin colours and different ethnicities stand together in peace at the swearing in ceremony in Ottawa.
Of course, I am not in denial and painting a completely rosy picture of Canada. The new government has to honour its promise to pull out of the war in the Middle East, and rehabilitate 25,000 Syrian refugees in the next two months. We also have to work hard to make sure that this diverse government is more than just an amalgamation of 'difference'; it has to function as a 'collective'.
The niqab has already been made a non-issue, and but we still have to work to undo the clauses from the oppressive bill which made Canadian immigrants second class citizens with the stroke of a pen. We also have to make our prime minister speak up for justice for the Palestinians just as he speaks for Israel's right to existence and safety. It is, indeed, hard work in progress.
I can stand here and say all this, in the strongest of words, without being worried of being termed a traitor or being doused in ink.
Canada is not a utopia. It has numerous challenges, like unemployment, economic hardships, systemic racism etcetera. But today was a good day. It brought hope for real change.
Being a Pakistani-Indian, I also dream to see the same change happen in my other two homes too. I want the minorities there to feel safe; I want the majority communities to show tolerance. I want prosperity and dignity of life for the one billion youth that reside in South Asia. I want the women there to feel safe and empowered as equal citizens.
I want all the communities, big or small, to shun bigotry and extremism. I want the young generation to stand up and challenge the dogmas from within their own communities. I do not want any one Canadian to even think or say,
"See we provide safety and security to you here, which is why you do not go back home."
I want my compatriots in Indian and Pakistan to know that diversity and secularism are not fiction.  If a peaceful coexistence with diverse communities is possible in Canada, it is possible in India and Pakistan too.
I also want to tell the sceptics in India and Pakistan that no foreign agenda can make a mess, if the people within are not ready to let that happen.
I also want to beg the youth of India and Pakistan to rise against extremism, hate and intolerance, as you are the only hope for a peaceful South Asia.
I want to tell the hate-mongers that only peace and cooperation between India and Pakistan, and in South Asia at large, is the path to prosperity.
I also want to tell my folks in India and Pakistan, that despite the safety I enjoy in Canada, I miss you and love you both.
And I am not alone. Most South Asian Canadians I know feel the same.
Best wishes,
An Pakistani-Indian