10 things that didn't go according to plan for Imran Khan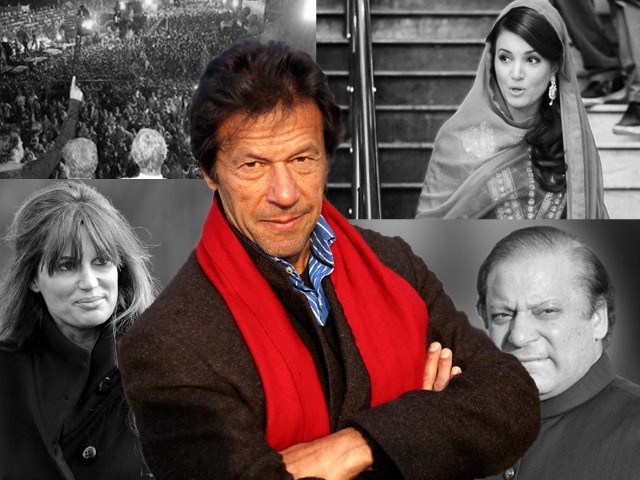 In case you live on a different planet, or because your Wi-Fi hasn't been working, the famous cricketer turned politician turned youth's so-called choice just filed for his second divorce with Pakistan's now former First Lady, Reham Khan. The reason stated is due to 'differences' and that they did 'not get along' anymore. It is said that the divorce is being filed with mutual consent.
Imran confirmed the news of his divorce on Twitter saying,
This is a painful time for me & Reham & our families. I would request everyone to respect our privacy.

— Imran Khan (@ImranKhanPTI) October 30, 2015
I remember watching a live show on a local channel where the so-in-love couple was giving a show host a tour of their house in Bani Gala. Imran could not help but sing praises for the woman who had stolen his heart from the get-go, and Reham, former bhabhi, could not help but blush and praise Imran for the wonderful man that he is.
I have the greatest respect for Reham's moral character & her passion to work for & help the underprivileged.

— Imran Khan (@ImranKhanPTI) October 30, 2015
Understanding the fact that this is a personal matter and their privacy should be respected, one cannot help but feel bad for the guy. Things just haven't been working out in his favour. Life sort of sucks and it makes you want to give him a hug.
Here are 10 things that didn't go according to plan for Imran Khan:
1. Shattered dreams of becoming prime minister
The outcome of the 2013 general elections wasn't exactly what Imran had predicted. Imran and his party lost by a huge margin to arch rivals, Pakistan Muslim League-Nawaz (PML-N) and Nawaz Sharif was appointed Prime Minister of Pakistan.
2. Asif Zardari resignation but that never happened
Imran demanded Zardari's resignation in order for free and fair elections to be held in the country.
"Free and fair elections cannot take place till Zardari is here. He is the reason for Pakistan's destruction," said Imran, adding that the president appointed three prime ministers in his tenure and all three were corrupt.
Well, that clearly didn't happen!
3. Go Nawaz go, except he's still here
One of Imran's demands during his 126-day dharna was Nawaz Sharif's resignation.
Well, that clearly didn't happen either!
4. Marriage to Jemima Goldsmith and the unfortunate divorce
After being married to Imran for nine years, the couple announced their divorce on June 22, 2004. According to a statement issued by Imran,
"While Jemima tried her best to settle here, my political life made it difficult for her to adapt to life in Pakistan."
5. Negotiating with the Taliban
Knowingly, or unknowingly, Imran suggested that the Tehreek-e-Taliban Pakistan (TTP) should open their office in Pakistan so that peace talks could progress.
This wasn't received well with at home and abroad as well, hence the title 'Taliban Khan'.
According to Imran,
"People voted for PTI because they want peace."
Well in case you aren't aware dear Imran, I think peace with the Taliban is a lost cause.
6. Thou shall not pay any bills
During the dharna, Imran called for mass civil disobedience and appealed to the people to stop paying utility bills and taxes to the current government, accusing Prime Minister Nawaz Sharif of plundering the national wealth to enrich his business empire.
But Imran was left looking increasingly isolated as mass support failed to materialise.
7. Aftermath of 2013 General Elections
From the re-election and by-elections to rigging allegations and Judicial Commission formation, the long and unsuccessful dharna, all of it just did not seem to work out as Imran thought they would.
He was, once again, left proved wrong and perhaps even a liar!
8. Ruling his own land
Khyber-Pakhtunkhwa (K-P) is to PTI what Sindh is, or was, to MQM. It is PTI's only child. While the first year of governance by the newly elected party shows progress, the failed dharna and lack of attention made it clear that change and progress in K-P was no longer a priority for PTI and its leaders.
This child is now grown up and will not believe the 'tooth fairy' lies it has been fed all this time.
9. 'Go Imran Go'
After the barbaric APS attack that shook the very foundation of this nation, when Imran arrived at the Army Public School in Peshawar to visit the survivors and the families of the deceased, he was forced to turnaround as mournful parents, overcome by grief and anger, refused to let him inside the premises of the school.
Adding on to his woes, the parents weren't as thrilled as Imran at the idea of him getting married 24 days after the forever scarring massacre of their children.
"You were busy getting married without doing anything about my child who died less than a month ago," said a weeping mother, outside the school, while another parent said the PTI chief had deserted them when they needed him the most.
The cherry on top, however, was Imran welcoming a dialogue process with the Afghan Taliban (TTP being a sister branch) after meeting members of the APS Shuhada Forum.
I guess he didn't see the irony in that and didn't get the welcome he expected.
10. A broken heart at 62
We have decided to part ways and file for divorce.

— Reham Khan (@RehamKhan1) October 30, 2015
It was the wedding of the season and some even called them the "greatest couple if not the royal couple of Pakistan".
#RehamKhan & IK were greatest couple if not royal couple of Pakistan. What now royal divorce couple?

— Mubasher Lucman (@Mubashirlucman) October 30, 2015
Even though speculations of their marriage being on the rocks has been making rounds since a month, the couple decided to part ways.
I say, good for them. They realised sooner than later that their marriage just wasn't working out, and instead of staying together for the sake of the people, their fans and their political/professional career, they decided to part ways amicably. Neither of them has to explain anything to anyone and don't need to pay heed to other people's opinion on their lives.
On a separate note, I would advise Imran to tighten his security since it won't be long before Meera hears that he is back on the market and on the list of Pakistan's most eligible bachelors. She already has the whole wedding planned out, including his attire. The only (crucial) requirement remaining is Imran's agreement. God help him.