Oreo, cream cheese and Nutella, what's not to love about this irresistible Nutella cheesecake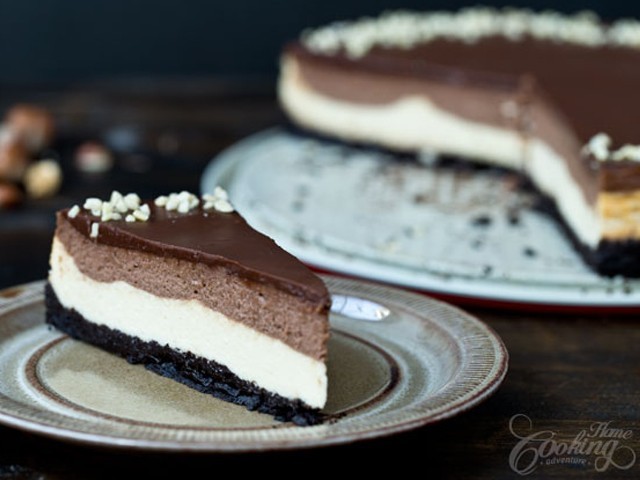 When my daughter turned three, her wish was to have a Nutella cake with coloured bonbons on top. As her wish was the most important thing for me, I started thinking and searching for the best way I can make her a Nutella cake which looks good and doesn't take too much time to put together either. As much as I like layered cakes, and decorating them, it's pretty hard to get everything ready in time for a party. With food and decorations, the cake itself takes half of the day.
That is why this Nutella Cheesecake was the perfect choice for this anniversary. I made it in the morning, the day before the party, to allow it to cool down and in the evening, after all the appetisers and home decorations were done, I made the Nutella topping. After refrigerating the cheesecake overnight, it was ready to be served.
All these layers may seem a lot of work, but it's actually pretty quick and easy, and when it's done, it looks and tastes absolutely wonderful. A really dark chocolaty crust from the oreo cookies, a white cream cheese layer and a Nutella layer followed, along with the intense Nutella topping makes it completely irresistible.
I was really pleased with the way it turned out, so I decided to make it again and share it with my readers.
I have more recipes of cheesecakes on my website, some use sour cream or Mascarpone along with cream cheese. For this recipe, it is important to use heavy cream because when it's mixed with cream cheese, it gets a bit whipped, making it possible to create two different layers of cheese mixture.
If you like Nutella, and who doesn't, give this cheesecake a try; you will be as pleased as we were.
Enjoy!!
Ingredients: Makes about 12 to 16 servings
Crust:
Oreo cookies – 30 (cream removed)
Unsalted butter – 6 tbsp (melted)
Cream Cheese Filling:
Cream cheese – 35 oz (1 kilogram) room temperature
Heavy cream – ¾ cup + 2 tbsp
Nutella – ⅔ cup
Sugar – 1 cup
Cornstarch – 1 tbsp
Vanilla extract – 2 tsp
Eggs – 4 (room temperature)
Nutella Topping:
Nutella – ⅔ cup
Heavy cream – ⅓ cup
Method:
Crust:
1. Preheat oven to 350 F (180C).  Remove the cream between the Oreo cookies and crush them using a food processor. Melt the butter and pour it over the crushed cookies. Process until evenly moisturised. Press cookie mixture with the back of the spoon into the bottom of a 10-inch (26 cm) springform pan (with a removable base). Bake for 13 to 15 minutes. Set aside to cool completely.
2. Reduce the oven temperature to 300 F (150C).
Cream cheese filling:
1. In a bowl, combine the sugar with cornstarch.
2. In a large bowl, beat the cream cheese with ¾ cup of heavy cream until well combined and the mixture seems fluffy, as the heavy cream has whipped a bit. (This is very important because this is what creates the two layers effect.) Gradually add the sugar mixture and mix until it's creamy and smooth. Add vanilla extract and mix again until it's well combined. Add eggs, one at a time, until each egg is incorporated.
3. Reserve around ⅓ of the cream cheese mixture in a separate bowl. Add Nutella and two tablespoons of heavy cream in the reserved cream cheese mixture and mix well until incorporated.
4. Pour the white cream cheese mixture over the prepared crust. Carefully add the Nutella mixture on top and use a rubber spatula to spread evenly.
5. Bake for 45 to 55 minutes on 300F (150C). Turn off the heat and leave it for another hour in the oven.
6. Remove and run a sharp knife completely around the inside edge of the pan. Let it cool at room temperature.
Nutella topping:
1. Bring cream to a boil and pour in the Nutella. Mix well and spread evenly over the cheesecake once the cake has cooled down. Cover and refrigerate overnight.
2. Decorate with some chopped hazelnuts before serving if desired.
All photos: Home Cooking Adventure
This post originally appeared here.