6 ways Jawani Phir Nahi Aani proves what's past is prologue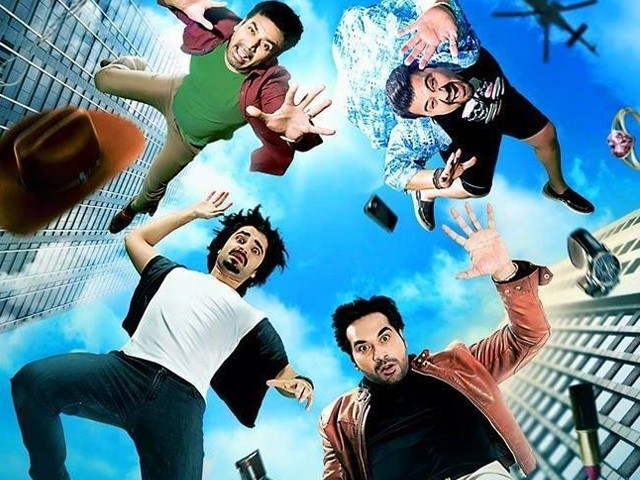 This year witnessed Pakistani cinema step out of a murky and Bolly obsessed past into a well-choreographed, seductive, witty, and innuendo-filled cinematic future.
For a country, now in its 69th year of independence, that once teemed with 1500 movie houses – it's about time.
The 2015 blockbuster, Jawani Phir Nahi Ani (JPNA), was the perfect culmination to a year of decent Lollywood films. Below are the venerable author's six astute observations on the three hour Nadeem Baig comedy on the burdened life of three bachelors under the tyranny of their wives.
1. "What happens in Bangkok stays in Bangkok"
…is every Pakistani bachelor's motto because getting a visa to Thailand is way easier, than trying to make it to the actual Sin City (Las Vegas).
2. 'Bwoooyz' trip
JPNA's male characters are appealingly recognisable – the slick, sweet talker (Humayun Saeed), the slightly overweight class quipster (Ahmed Butt), the self-conscious dork (Vasay Chaudry), and the perennially skirt-chasing Don Juan (Hamza Ali Abbasi).
Our band of lotharios head to Bangkok to fulfil their ultimate stereotypical male fantasies; Thai 'massages', beers on the beach (Adios amigos to the orange juice ke glasses at Port Grand Karachi), and night-time car rides with the top down.
And, of course, no Pakistani 'bwoyz' trip is complete without the unabashedly obvious ogling of bikini-laden jiggly décor aka white female tourists.
The JPNA male cast pulls off the sleazypan in a classically lascivious manner that only our desi and Arab male counterparts seem to be capable of. (To all those slamming Hamza Ali Abbasi as a hypocrite for his comments post-production, please note, it seems that the bechara had mistaken the bikini-walis to be CIA operatives. It happens to the best of us, okay?)
After too many hours of too many hijinks, the movie predictably diffuses into an 'all is well that ends well' dream sequence as the misbehaving boys get what they are supposed to, also known as the love of their wives, as well as everything else they want, without even really having to try.
In JPNA's covertly misogynistic world, the lying and cheating husbands' estranged wives take a journey from Karachi to Lahore to tell them they miss them and ask them to come home.
3. Piece bara tait aey
Despite the film's grossly frequent misogynistic overtures (please refer to all scenes from Thailand and the final courtroom scene), the female characters still manage to take charge of JPNA and steal the spotlight.
The heady combination of a hormonally charged up, very pregnant (both in reel and real life), gun-toting Pakhtun wife (Sarwat Gilani), the uptight, let-me-ignore-shady husband's-misgivings wife (Ayesha Khan), the overworked, overbooked mother (Uzma Khan), the selfie obsessed drama queen fiancée (Sohai Ali), and the ballsy, tequila chugging girlfriend (Mehwish Hayat) dominate the screen in a way that is brave and impossible not to care about.
Wannabe mullahs everywhere will tell you this is not the real Pakistan and this is not the archetypal Pakistani woman. While that's not entirely inaccurate it's also not entirely true. These women do represent at least some types of the average Pakistani woman. And they do it skilfully and beautifully.
You don't have to be comfortable with or even like a drunken-with-daddy-issues Mehwish Hayat, an overworked, too busy for lovemaking Uzma Khan, or the insanely annoying daddy's girl Sohai Ali who lives for Instagram. But you still have to doff your hat to the way in which some of our industry's most talented actresses execute these characters.
4. All is 'Fair and Lovely' when it comes to product placement
Everything is a product in JPNA, so much so that even the cast has trouble separating out what they think is marketable to the Pakistani masses from what they actually want.
Does Hamza Ali Abbasi really want to wear that much Levis? There is such a thing as too much crucifixes, plaid and denim on a grown man.
And does Sohai Ali really want to openly reveal her beauty as a result of skin bleaching Fair and Lovely at her own mehndi party?
No one really wants to admit ye hai Fair and Lovely ka jalwa.
These random brand plugs leave the viewers unnecessarily distracted, and no more or less likely to use a Habib Bank credit card machine. But, okay. Films funders are funders.
5. A comedy of (fairly) epic proportions
JPNA made me laugh till my kidney hurt. But that doesn't change the fact that that the film is essentially a three hour Humayun Saeed self-congratulatory fantasy. For the sake of Allah, please tell me why the man insists on dressing like a dulha (groom) with Shahrukh Khan-esque sultry gazes and highlighted hair rivalling on-screen love interest Mehwish Hayat's hair?
With maybe 30 minutes of a plot that has been unbearably diluted to a feature length film – albeit with a great cast and attractive celebrity cameos (ahem, hey, Fahad Mustafa!) – my fellow moviegoers and I gasped in mild horror and looked at our watches when the intermission sign flashed on the screen because, no lie, at hour one I was satisfied and ready to go home.
6. In Lollywood, past is the past
 JPNA is Lollywood's conciliatory move telling you the past is prologue.
The soundtrack hits the spot by sneakily following the current Bolly inspired formula for acoustic success; Yo Yo Honey Singh wali beat, scantily clad women, film's leading men mock rapping in a dark room with sunglasses on for non-visual reasons, and approximately thirty random shout outs to five different alcohol brands.
Bacardi may or may not have been a film sponsor.
Either way, the soundtrack fills the bill and this author guarantees that Fair and Lovely and Nach Ke Dekha will be playing in all shaadi (wedding) halls this winter.
The wedding sets and choreography rival a Karan Johar flick. The ridiculously over-the-top and maddening fiasco that has become Pakistani wedding preparation is emulated perfectly in a brief sequence with Sohai Ali and Bushra Ansari's interactions with unknown, run of the mill designer XYZ charging a couple of crores for medicority ("But it's my first wedding, mummy").
Humayun Saeed's sherwani game is so on point it's like looking at a visually similar sketch of Shahrukh Khan (SRK) circa Kabhi Khushi Kabhi Gham, Kal Ho Naa Ho, etc. In fact, throughout the full three hours the man does not let us forget he's the self-proclaimed SRK of Lollywood.
Finally, the entire cast expertly capitalises on the mantra 'sex sells'.
The sexual innuendo is on point. From Javaid Sheikh suggestively gyrating on a motorbike, to Humayun Saeed instructing Mehwish Hayat to get down on her knees (to dodge a bullet, but of course), the comedy is evocative and as subtle as a blow to the head.
So leave your morals, religious convictions, and fatwas at home.
This is the Naya Pakistan.