She tasted his voice in her coffee – Artificial sweeteners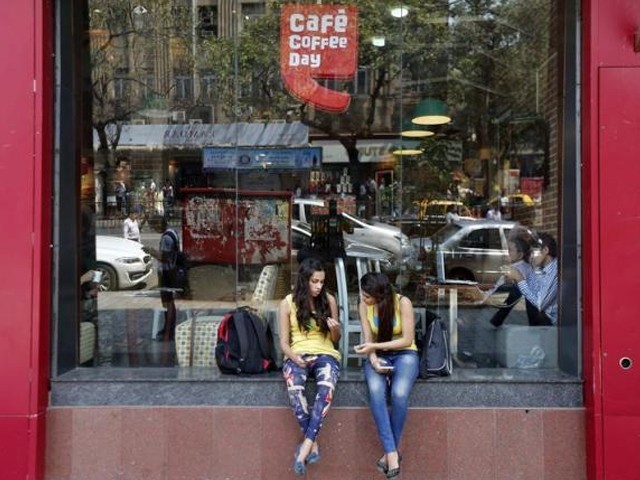 It was a Tweety colouring book, as thin as her finger nail. Tweety's yellow was being swallowed by the bright red background. On the corners, a shy baby blue hovered as if it was scared to be noticed. Tweety's hands were on his hips. His face was contorted into a cheeky wink. The boy waved it at her from his place at the footpath.
She sipped on her coffee and stared straight ahead. He took a few steps closer and waved the book again. Tweety's giant yellow head blurred. The red and yellow spilled into one another. The baby blue slipped from the corners and flowed towards her in a singular stream, through the cavities in the footpath, up the stairs, onto the glossy tiles of the cafe. It made its way under her table. She leaned back in her chair and scrunched her toes, afraid of catching the baby blue dye.
"Excuse me!" She motioned to one of the waiters. "Andar jaga khali hui hai?"

(Is there space inside now?)
The waiter walked towards her with his hands clasped and leaned in her direction. She repeated the question.
"Andar jaga khali hui hai?"

(Is there space inside now?)

"No, Ma'am. Jaisay he khali hoti hai main aap ka table karwa deta hoon."

(No, Ma'am. As soon as a table is free, I'll move you inside.)
She tasted his voice in her coffee. Artificial sweeteners. She frowned and sipped again.
"Okay. Thank you."
The waiter, with his hands still clasped, straightened up and started to back away. That's when he noticed the boy standing at the foot of the steps of the cafe.
"Jao yahan se! Tang nahin karo."

(Go away from here! Don't bug them.)
His voice had become acidic.
The boy gathered the colours of his book and moved away. Her toes eased and she unlocked her phone.
Her thumb caressed the screen of her phone and her Instagram feed rolled out in front of her. Images of women in pretentious hats, ice cream in a nut encrusted waffle cone, red soled shoes and pretty girls on the beach.
She looked up when she heard a car honk. The thick iron structures holding the electric wires afloat jumped out at her. She hadn't noticed the cage like structures before. They were anchored on the footpath at the contours of the cafes. The wires hung low like they were enclosing the cafes along the street from the rest of the street. They were ugly metallic growths which had blended in with the concrete and tar surroundings. But now, they made her think of thick black stray eyebrow hair that needs to be plucked out.
Her phone buzzed. Somebody was her pin twin on Pinterest. The remnants of her coffee dried up at the edges of her cup as she sifted through her phone. Pictures of a hotel in Greece, a bright yellow sundress with red lips, braided hair that looks like a rose, cookies in the shape of the Eiffel tower.
The waiter asked her if she needs something else.
"Cupakes hain aapkay paas? Red velvet?"

(Do you have any cupcakes? Red velvet?)
He nodded aggressively and went to fetch it. She looked out at the street. There was a green belt in the middle which divided the block into two roads. The green belt was barely visible because of the myriad of parked cars. After every two or three corollas, there was an Audi, or a BMW, a Land Cruiser and sometimes even a Ferrari. Groups of young men with slicked back hair and fitted polo shirts hovered near their cars, playing music, talking, smoking, looking. Women and young girls in shalwar kameezes, tights pants, burkas and tucked-in tops hurried from their cars to the safety of shops and cafes. Every now and then, a few high heels clacked against the pavement. No dupattas wandered on the streets and no floral kameez strayed. The eyes of the young men with their hair slicked back followed them, always.
Her phone buzzed again. Someone had uploaded a picture of her. She waited anxiously for the page to open. She tapped her phone in frustration. Buffering was a terrible thing.
"Excuse me?"
Her gaze snapped from her phone in anticipation of her cupcake. She looked for red velvet but Tweety's yellow jumped out at her.
"Can you please help me? I'm a student and I haven't been able to pay my fees. I could really use your help."
He waved the Tweety book in her face. The boundaries holding the red were fading and it was flowing into the yellow, consuming it.
"Um… How much is it for?"

"150 rupees."

"Okay…"
She started rummaging through her wallet.
"Oye! Tum phir yahan aagaye ho? Niklo yahan se!"

(You're back again? Go from here!)
The waiter stood with red velvet in his fists.
"I'm sorry, I just need to have a word with madam. She is helping me with my school fees. Just give me two minutes."
She looked at the waiter, and then looked at the boy.
The baby blue from the colouring book had disappeared. It was on her toes.