Chronicling Safia Manto's support for a man who courted controversy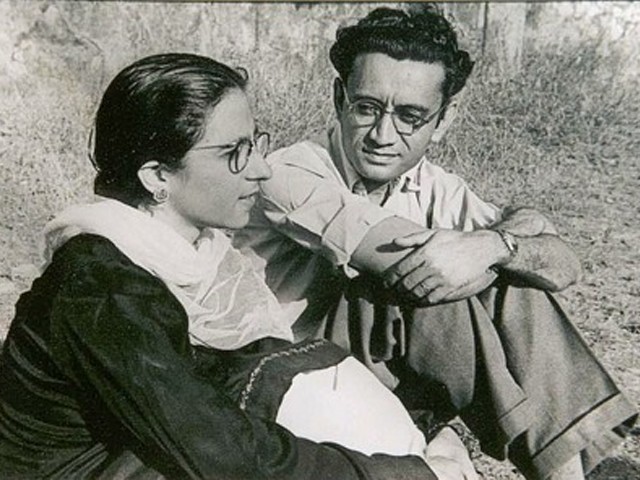 Chronicling Safia Manto, my grandmother, would be no mean feat. A woman who lived in the shadow of her beloved husband and renowned short-story writer, Saadat Hassan Manto, her story went largely untold till the recent release of Manto, the film. She has only lived in the folklore of my dreams; I being born 6 years after her untimely demise in November 1977.
As much I have heard from familial sources about her magnanimity, humility as a human being besotted with a kindred heart and soul, I cannot even fathom what I missed out on. Sometimes fate and destiny are so closely intertwined, that we seem powerless to change the impact it can leave. Perhaps I was destined to miss out on her life,  but her absence was filled in by her youngest sister, Zakia Hamid Jalal, who has been equally affectionate, loving and caring towards all her grandchildren till date.
Safia Manto had an impact on the lives of many, ranging from her husband and daughters to all the family members that have nothing but fond memories of a lady who showered them with love and affection.
Chartering through the life of Safia Manto is like a woven fabric broken from one end but repaired from the other. Her struggles, compassion and challenges she faced throughout her life were immense. Immersed in a period of happiness to downright abject pain, she lived through life smiling and spread only love all around her peers. Her personality didn't have many facets since it was interwoven with simplicity, innocence and forbearance to the core. All throughout her life, she bore a hallmark of patience and sustenance, and her compassion and large heartedness was particularly striking. Even her high-spiritedness in light of abject financial stress didn't hamper her hospitality in any manner.
Safia's relationship with Manto was an emotional bond that transcended everything else. In the immediate aftermath after their marriage, Manto documented the commonalities that they shared which included Kashmiri origins, both wore spectacles, the first letter in their names started from S, and their birthdays fell on May 11th. Manto's vicissitudes must have been a tough proposition for Safia to handle. The ingenuity at play with Manto, coupled with streaks of intellectual arrogance and his tenuous relationships with his co-workers must have made things difficult for her.
Although his alcoholism wasn't limited to social circles during his days in Bombay and Delhi, that period also corresponded to some of his best days in financial terms. As her daughter Nuzhat shared, she rarely talked about the first 16 years spent in Kenya, but her fond remembrance of Bombay remained etched within her memories for ever.
The period Manto spent working after his marriage to Safia in Delhi and Bombay had its share of highs and lows. In 1940, they both were blessed with a son they named Arif. The couple was elated, especially Manto who showered all his love on his new born and tenderly took care of all his needs. But that happiness proved to be short-lived as Arif died prematurely within a year, a few days shy of his first birthday. The shock of his death left Manto devastated.
The worsening alcoholism, tempered with bouts of depression during those dark days, must have tested Safia's resolve deeply. Her threshold for pain must have been alarmingly high, and her patience was a testimony to the nerves she possessed. Safia's loss as a mother must have been unbearable and unimaginable. Her daughter Nuzhat recently disclosed that she never mentioned the loss of her first born, Arif. It was probably too painful to talk about. Manto's depression must have forced her to act as a calming and strengthening force during that period.
Safia's influence and significance in Manto's life cannot be underestimated in any regard. She was the love of Manto's life in absolute terms of the word. The dedication and loyalty he owed to his beloved life was beyond any description. The extent to Safia's influence on him can be gauged from the fact that he published short stories like Hameed aur Hameeda which were penned in her name.
Manto's pinnacle as a writer financially reached its zenith in Bombay while he was working in the film industry in the mid 40's. Manto's literary circle evolved and expanded in those days, giving Safia a glimpse of the present and future stars in the Indian film industry of those days. For example, as mentioned in Ayesha Jalal's book, Pity of Partition, Safia became good friends with Ashok Kumar's wife and went shopping with her on a few occasions where the shopkeepers went out of the way to favour them both. Safia also shared a very close relationship with Nargis, the renowned film actress who was making her way up the ladder in the film industry during those days.
After migrating to Pakistan in the aftermath of the Partition, Manto's financial woes only increased; persecution and lack of work opportunities took their toll on him. He became a chronic alcoholic, which affected his relationship with Safia, who was upset with him for not being able to provide financial support for her and their three daughters, two of whom were born after the Partition. There came a time when Safia contemplated leaving Manto due to a variety of issues at play, unimaginable even for a serene woman like her. The duress associated with Manto's dwindling earning power turning nil must have also influenced Safia to take this gigantic step. Her beloved elder brother, Bashir Deen, responded to a letter she sent and advised her to not leave Manto who was quite sick at the time. Safia took her brother's advice, reconsidered her options and decided against leaving him.
Safia used to accompany Manto to all the mushairas and public readings of his stories. This shows her immeasurable support for a man who courted controversy and persecution within his wake wherever he went. She had the tenacity and courage to face the wrath or the applause of the public at large in context of the controversies he usually generated. This also highlights the immense love and affection that accompanied their relationship that had its fair share of acrimonious moments but never stalled in any given manner. The support and resilience of Safia is worth commending, considering the frailties of her husband which she embraced with great courage.
In Bombay, Safia's simplicity augured Manto to act as her stylist and he took it upon himself to ensure that his wife would indulge in the latest of fashions. He would get the most precious of saris made, used to iron them himself and then enjoyed photographing her.  The close proximity and intimacy in their relationship was a culmination of the understanding between the two. They complemented each other.
Manto's delusions in the last few years of his life and his fading health must have taken an emotional toll on Safia, who couldn't see the misery of her beloved husband.
After Manto's death, the financial situation obviously didn't improve in any regard. Her mother, Mama Jee, a towering personality in her own right, and Hamid Jalal, who helped her raise their daughters, provided their unending support.
Shahid Jalal, my maternal uncle, shared with me that Safia, due to financial distress, used to buy fruit at night. She would take the backdoor exit from her home and go to Beadon road to procure it. At her home in Lakshmi Mansion, at any given moment of time, 10 to 15 people would dine at her place, inspite of all the financial hardships.
As her daughters recall, she was a doting but protective mother, a disciplinarian yet a bastion of truth and encouragement. She hardly ever received any financial aid from the government after the death of Manto. She brought up her daughters by herself. Royalty payments were scant to say the least. People kept commoditising Manto, knowing well that Safia was alive, and kept publishing his works without paying any heed to the copyright laws. Financial compensation was hard to come by and a lack of adequate resources, guidance hardly ever came to her mind
Safia was a content woman, by bearing all the adversities she may have come across, her iron resolve helped weed out all her problems till her dying breath. She had no materialistic aspirations. She did not re-marry after the death of Manto, even though she was just 39 years old when she became a widow. Safia's lifestyle was simplistic, a reflection of the persona and practices she cherished the most. She hardly ever complained about her problems, she bore them all silently on her own.
Safia Manto breathed her last in Karachi after suffering a cardiac arrest on November 23, 1977. Like Manto, she will never be forgotten.
Image credits: Ayesha Jalal is the legal copyright holder of all these photographs and they must not be used in any way without her express permission. 
This post originally appeared here.