Who is responsible for the crane that fell in Makkah?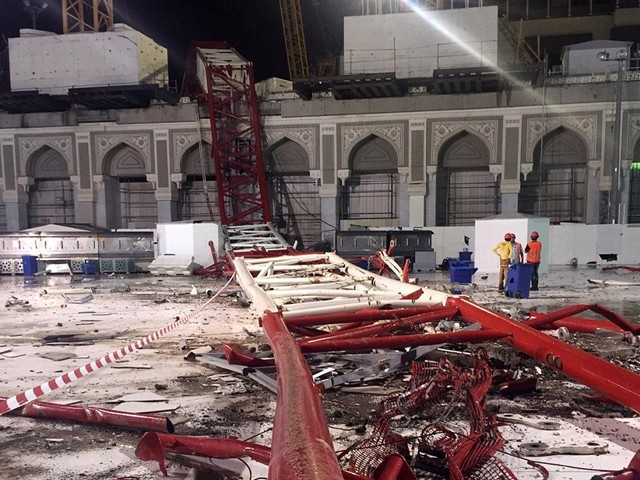 On Friday, a huge construction crane crashed into Makkah's Grand Mosque due to the stormy weather. Unfortunately, 107 people lost their lives in this catastrophe and numerous are still injured, thus fighting for their lives. 47 among them were Pakistani pilgrims.
The civil defence authority claimed that the emergency teams were sent to the scene, after the crane fell at the Grand Mosque. An hour before this incident, pictures of heavy rain in Makkah were circulating on social media; the authorities blamed the storm for this tragedy.
Meanwhile in #Mecca pic.twitter.com/5x57yPkz7U

— Malice (@malicemagic) September 10, 2015
Heavy rain with strong wind in #Mecca.

— asadh shaheed (@asadhshaheed) September 11, 2015
So, it makes me wonder, what were they doing during this hour?
Did it not occur to anyone that such a thing could happen? Or were they too arrogant to think that? Why did the authorities not take security precautions prior to this incident? Specifically, when heavy rains were forecasted in Makkah?
They say it's better to be safe than sorry. So clearly, it was in the best interest of the state and those worshipping for safety measures to have been taken beforehand. But was this negligence?
As the pilgrimage has suffered several disasters in the past, which includes the worst stampede in 1990, that left 1,400 pilgrims dead. To make sure an event like that was never to be repeated, the Saudi authorities spent billions of pounds to expand the area of the mosque by 400,000 square metres. This is apparently why the construction cranes have been placed there in the first place.
A colleague of mine, who went to perform Umrah over three years ago saw the cranes there. It has been three years since she saw them there – so we can be sure that they have been there for a minimum of three years. And yet, the security risks were not taken into account? In all this time, no one thought, oh hey, shouldn't we remove the cranes – those things can hurt people?
Did the authorities not deem it appropriate to close off that particular area to those praying nearby? Or was it financially unviable to do so?
While leaders from all over the world are offering condolences,
Saddened to learn of the death of pilgrims as a result of the crane accident in Haram Sharif.Condolences & prayers go to families of victims

— Imran Khan (@ImranKhanPTI) September 11, 2015
My thoughts & prayers are with the families of those who lost their lives in the crane crash in Mecca. I wish the injured a quick recovery.

— Narendra Modi (@narendramodi) September 12, 2015
PM: My thoughts and prayers are with those who have lost loved ones at #mecca today.

— UK Prime Minister (@Number10gov) September 11, 2015
Prince Khaled al-Faisal has ordered an investigation into this incident; the authorities are looking in to why the crane wasn't secured against high winds. But this is not rocket science. This calamity took place because there was a crane, in use or idle, placed in a crowded area. The inevitable was going to happen – havoc was going to be caused – one day or another. Did the concerned people not think of that at all?
الآن…برئاسة د.هشام الفالح مستشار #أمير_مكة اجتماع لجنة تحقيق حادثة #سقوط_رافعة_الحرم المشكلة بتوجيه أمير المنطقة pic.twitter.com/kYQFUeQW3t

— إمارة منطقة مكة (@makkahregion) September 11, 2015
Why did the governor of the Makkah not have the presence of mind to foresee such a calamity? Do you need to be an engineer to understand the risks?
Saudi Arabia rarely discloses its official inquiries; they tend to keep things private. But how long will they be able to keep such things behind thick curtains? The families of the deceased individuals are all over the world – they deserve answers. But will we get any answers? Will they?
Perhaps not.
This too, will be taken just as God's will and be forgotten. The people who died in Makkah have been deemed as martyrs. Their families may be placated with words like "S/he is in a much better place", but their wounds will not heal.
My heart goes out to the individuals who have lost their lives in this negligent catastrophe. But I refuse to tell them that this calamity took place as just the will of God, or due to the rains. This also took place due to the negligence of the authorities responsible. Those people died because of negligence on the part of engineers who thought it would be smart to have cranes placed within the framework of the Grand Mosque. They died when a gigantic crane fell upon them in a place we all hold close to our hearts. They died because someone there didn't care to do his/her job.
I would like to pass on my deepest condolences to families of the victims. May their souls rest forever in peace and may God give the families enough patience and strength to bear the loss of this unfortunate tragedy.