Without Akshay Kumar, can Welcome Back follow Welcome's legacy?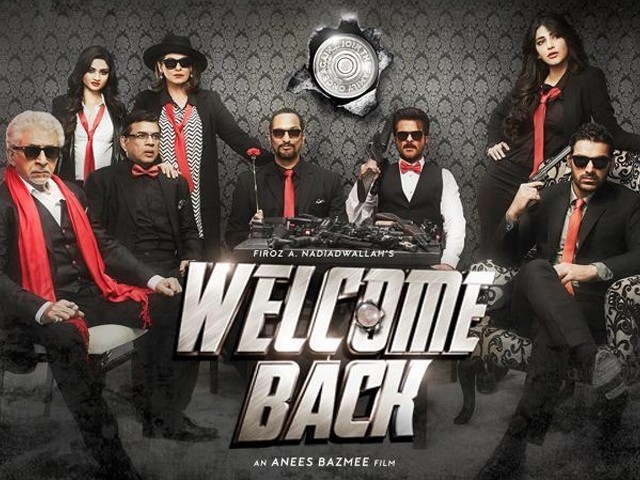 Directed by Anees Bazmee, Welcome (2007), starring Akshay Kumar, Nana Patekar, Anil Kapoor, and Katrina Kaif, became an instant hit because of its ensemble cast and masala-filled story. Welcome Back, the sequel, is set to create the same hilarious chaos that it did in Welcome.
Replacing Akshay Kumar in the sequel is John Abraham as Ajju Bhai/Ajay Barsi, while Shruti Hassan plays the female protagonist opposite Abraham. Patekar and Kapoor depict underworld dons, Uday Shetty and Majnu Pandey respectively. The cast also includes Paresh Rawal (Dr Ghungroo), Dimple Kapadia (Maha Rani), and Naseeruddin Shah aka 'wanted bhai'.
Also directed by Bazmee, and written by the successful trio of Bazmee, Rajiv Kaul, and Raj Shandaliya, Welcome Back has the same wittiness and slapstick humour as its prequel. However, viewers will miss Kumar and Kaif's on-screen chemistry, or people might just prefer Abraham in the lead, being a fresh face with Kumar's comic timing and expressions.
In Welcome, Uday and Majnu were underworld dons, whereas in Welcome Back, they are former underworld dons as they bid farewell to their criminal actions and start their own business. They are magnetically attracted to two ladies, Chandni (Ankita Srivastava) and Maha Rani (Dimple Kapadia).
The viewers will be confused between Chandni and Maha Rani in the first half of the movie, while trying to decipher who is Uday and Majnus mutual love interest. Moreover, both Chandni and Maha Rani pretend to be someone else. The way Uday and Majnu react when the ladies' true identity is revealed is definitely worth a watch.
The story becomes more intense as a twist brews up when Uday's father, Appa, intends to find a suitable groom for his sister, Ranjhana. The search for a suitable bachelor for Ranjhana begins, one who fulfils the demands of Uday, Majnu and their entire family, which is definitely not an easy feat. The stipulation states that neither Uday nor Majnu can get married until Ranjhana does not get married.
With Uday and Majnu eagerly seeking a groom for their sister, Ajay's (Abraham) entrance in the plot changes the entire course of the movie. The way Uday and Majnu meet Ajay is also a secret, better not unravelled here. However, Ajay falls in love with Ranjhana and the movie takes a U-turn yet again as Majnu does not want Ajay to wed Ranjhana, but he soon realises that because of this, his own marriage is at stake.
The reason why Uday and Majnu do not want Ranjhana to wed Ajay is another surprise twist in the movie. In a desperate move to distance Ajay from Ranjhana, Uday and Majnu contact yet another underworld don, 'wanted bhai'. The trio then set themselves on the path of not letting Ajay and Ranjhana end up together; the scenes depicting this situation are simply hilarious!
The viewers will definitely not get what they were expecting. The comic element in the film is refreshing. The characters will have you guffaw no matter how hard you try to smother your laughter.
The backdrop of the film adds another layer of zest to the plot. The movie is shot in the Emirates Palace in Abu Dhabi and the Meydan in Dubai. Amidst the extravagance and the luxury, the buffoonery of the actors will surely catch you unprepared and make you clutch your sides. Let's not forget the cars. Oh, the cars! The production team has peppered the film with appearances from Rolls Royce Phantom, Aston Martin One-77, Ferrari Spider and the Mansory Carbonado Apertos Lamborghini. If the girls don't make you swoon, the cars definitely will.
Comedy will leap at you in every scene. Uday, Majnu and Ajay will become your squad envy. It'd be best if you don't leave 'wanted bhai' out of your squad goals. His swagger is undeniably infectious.
It's refreshing to see the Abraham manoeuvre his way around Uday and Majnu. It's a deviation from the first movie and is a 'welcomed' change. Although Welcome Back is better than its prequel in many ways, including the cast, story, dialogues, and songs, the absence of Akshay Kumar reverberates throughout the movie. The fact is that he simply cannot be replaced by any other actor. His acting skills, action sequences, stunts, and comic timing is leagues ahead of other Bollywood actors. Even though Abraham's efforts in the movie are commendable, he was unable to fill in Kumar's shoes. Though that's no fault of his, since those are some big shoes to fill.
It is unfortunate that Welcome Back lacks originality. The plot of Welcome revolved around finding a suitable groom for Sanjana Shankar Shetty (Katrina Kaif) and Welcome Back also centres around the same idea. It is up to you to decide whether Welcome Back lived up to the legacy of Welcome.
Grab your tickets today, take a few friends and reach your verdict. The twists and turns in the movie will keep you on the edge of your seat while the comedy will keep you and your friends in fits.