Rajinder Singh Bedi: Film-making is not child's play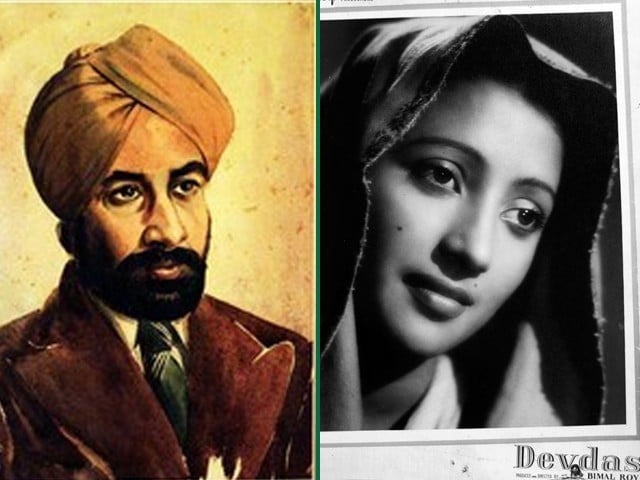 September 1st marks the birth centenary of Rajinder Singh Bedi, one of the most gifted and greatest fiction writers of the 20th century, completing the quartet whose membership also extends to Saadat Hasan Manto, Krishan Chander, and Ismat Chughtai.
Bedi was a son of Punjab, born in Lahore. While his output was not as prodigious as his three aforementioned contemporaries, his stories are memorable, chastising ancient beliefs and superstitions which keep the ordinary person ignorant and the women oppressed. He was not a doctrinaire blinded by ideology as many of his contemporaries were, but rather than giving us the heady slogans of revolution, he preferred to lay bare the oppression and its symptoms, and how they affect men and women psychologically, drawing out their hopes and fears and making them a part of himself as well as those of his readers, as they move from one feeling to another.
Some of the most memorable characters from Bedi's stories are women – Indu from 'Apnay Dukh Mujhay Day Do' (Give Me Your Sorrows), Munni from 'Lambi Larki' (Tall Girl), the eponymous Lajwanti and Jogia, and Rano from Bedi's only novel, Aik Chadar Maili Si (A Sheet So Dirty).
Bedi was also successful in the film world; his interventions in that department were more long-lasting than those of Manto, Chander and Chugtai. When he shifted to Bombay, he flourished in the film industry and in his 35 years spent there, he wrote screenplays, scenes, and dialogues of around 17 movies, including directing some of them. Almost all of these films proved to be high-quality, quaint, and memorable, however, never proving to be box-office hits.
I was reminded of the essay below, which I have translated from the Urdu original for the first time, while ruminating over the recent spate of Pakistani films released in the last few months – Jalaibee, Wrong No., Bin Roye, Karachi se Lahore, Moor, Shah and the most anticipated one to be released next week, Sarmad Khoosat's biopic on Manto.
Despite being written a few decades ago from Bedi's long experience as the 'father of Indian parallel cinema', many of the challenges it describes still exist in Bollywood and Lollywood, though more acute in the latter. Whether Pakistan's recent wave of film-making is a new wave (a start to a truly revolutionary way of film-making like in Iran) or a tidal wave (wrecking everything in its wake) will be determined by how successfully our new film-makers negotiate these challenges.
This piece is presented in the hope that it will not only rehabilitate Bedi's reputation on the occasion of his birth centenary, as not just writer of bitter, often hopeless realities of life in his fiction, but also sublime humour, especially to those new to Bedi's prose, and also give both film-makers and their audiences in Pakistan some points to ponder.
Although film is child's play but to make one is not. From the intent to the blueprint up until the film-making, there are hurdles that even a man with a big heart and kidneys will not be able to manage and most probably give out under pressure.

A social film is not different from other films, but it is more difficult because it entails greater responsibility. Our society is a bit different with its several religions, races, provinces, languages, dialects, etc. The democratic system has given basic rights to everyone on an individual basis and equal rights on a collective basis. This is not to say that I am against these rights, but the important thing is that my brothers still do not know how to use these rights on an individual and collective basis.

I remember when I wrote the film Mirza Ghalib, our first and last motive was that Ghalib's poetry should be heard in every corner of the land and people should be introduced to his thoughts and the greatness of his poetry. The story is just a ruse with the help of which you write down the reflections of the society of that age.

Therefore, Bahadur Shah Zafar says,

"Neither a voice rose nor a tear shed. The rule of the Emperor of India was reduced to the bank of the Jamuna."

The Mughal period was ending and British imperialism was gradually spreading its claws. How saddening that when Mirza Sahib arrives at his beloved's place after his release from prison and knocks at the door, there is no response. At that moment, in a plain but painful sentence, he sums up the whole map of the period,

"Hey where are you, dilliwalo (people of Delhi)? Have you taken to sleeping during the day now?"

But even then, some people wondered why was Mirza Sahib's love life was presented as if he was not human and he had no heart. What a heart he had, one finds out by reading his letters.

The mention of historical films is a mere obligation, because in reality they do have more than one social angle. But what does one do about the fact that with it there is also the indication of some purpose. For example, it is not easy to make a film about Maharaja Ranjit Singh. The opinion of two historians regarding the reality will not concur, then that purpose will not let the individual angle of his life onto the film screen. You will have to obtain clearance from many institutions and when you obtain clearance, the form of the script will have changed completely, so much so that you will be unable to recognise even your own face. A conversation will also take place, one which resembles the following dialogues –you are very nice, I am also very nice, health is wealth, etc. and if you go against their suspicions, entrenchments will be made, your life would be in danger and you will not be able to go out of the house.

It is better if you do not make a film about Zebunissa, because she was Emperor Aurangzeb's daughter and therefore like Julius Caesar's wife, above all suspicion and doubt. Her love for Akil Khan, the Governor of Multan will not only be treated suspiciously, but its health, I mean, the health of the tale will be deemed absurd.

Why go far? Recently, Satyajit Ray, whom the world acknowledges as a great director, made a film which showed a nurse who took to prostitution at night, forced by her domestic circumstances. Now that was an individual matter which had nothing to do with professional nurses as a whole. But chaos ensued upon this. The nurses started a movement and Mr Ray had to apologise to them. I ask, isn't it a strange thing that on one hand people demonstrate against films like Mirza Ghalib and Sanskar and on the other hand, the Indian government declares them the best films of the year. The president himself presents the makers with the swarn padak (gold medal) and the Maan Patra.

The conditions in the country present extremely difficult hurdles in making a social film at home. Leaving aside different groups, nations, and purpose, the government itself is not innocent of this sin. For example, the official government policy is ahinsa (non-injury and non-violence). But what should be done about the fact that we have accepted the numerous who used hinsa (injury and harm) as our leaders, bowed our heads before them and sung wedding songs praising it.

I present you with the example of Shaheed Bhagat Singh, who was the first and last revolutionary. He was a socialist at heart and his ideology was that it was impossible to overthrow British imperialism without the use of force. Now if you make a film about him, then on one hand, you will have to indicate hidden sexual relations by having his comrade Bhagwati Charan Vohra's wife being repeatedly called bhabhi, and on the other hand, either leave out the incident of them throwing a bomb in the assembly or narrate it in such a way that they merely wanted to startle the imperialists.

At that moment, an internal contradiction will be born. Did they also kill superintendent of police Saunders in Lahore in order to startle the British? If you show these events as they actually happened, you will be the target of all sorts of attacks, because there are various groups in the country which believe in the gun and the bullet and the government's policy is that it cannot tolerate even an explosion, otherwise what will happen to the hundreds of thousands of young men who create an uproar in the university campus day and night?

It will be like teasing history if we say that India got independence due to ahinsa. The sailors of the Royal Navy also had a hand in it, they fought the battle for Indian independence under the pretext of provision of substandard food and maltreatment, opposed the British and were martyred by the latter's bullets in the streets of Bombay. After the 20th year of the Jallianwala Bagh incident, Udham Singh reached London and shot Michael O'Dwyer and avenged our national humiliation. But you cannot show this social and historical truth without facing any trouble. This is because we have Commonwealth relations with Britain, which we cannot spoil, keeping in mind the present international conditions. We cannot stare truth in the eye.

We are faced with a myriad of problems at every step while making a social film. If you are making a film on national unity, you will not have the courage to present the events at Ranchi, Bhiwandi and Maligaon in their true form, because they involved savage cruelty perpetrated by people of one faith or nation.

When you show Hindu-Muslim riots, it is important for you to show the killing of two Muslims where two Hindus have been killed. But neither the Hindus nor the Muslims will be satisfied with this. Both will be unhappy with you and as a result, you will have trouble in obtaining a censor certificate. You also cannot tap the present agitation of the students. You cannot try to tap into their squabbles and opposition.

Whatever that is happening on university campuses today, what exactly is it? Is it that the youth of today has lost its head, have they become sanyasis (Hindu religious mendicant) by renouncing their real purpose or are they the victims of the shenanigans of different political parties? What is the reason for this beating and bruising? They too acknowledge Gandhi ji. Then why do these people suddenly turn to fight so willingly?

To go into the depth of these matters and make a film about them is not only difficult but impossible. If you do this, then the feet of thousands of people will land on your own feet and these are the people who have powerful connections.

Therefore, you should only talk about the well-rounded daal (lentils). Include five or six songs, two to four dances, have the mother, father, sons and daughters separated from each other since childhood, so that the elder brother can become a police inspector when he grows up, present his younger brother as a criminal in court out of ignorance and later it becomes known that the judge was the father of these two brothers and the mother who was giving evidence against the son, was his wife. Then it will become difficult for the father and a headache for the mother.

If you make a film about the youth, just focus on love between the elders as being real love and the love of the youth being equally shameful and an evil deed. Don't write it as the proper various pursuits between Shri Madhba Gawat, his wife, and other males. It is enough that they already faced some difficulties. The elders have no time. They don't consider them political or accept them as leaders, and if they do, they try to change it around with their own opposite meanings.

Now come to that notorious word 'sex'. Our society can bear that a boy and girl, while dancing around a tree or in a car, commit cheap and immoral acts, but cannot tolerate it in the garden, which is the first gift given by a lover to his beloved. We take three to four reels in our films just to prove that Raju loved Radha, but the psychological point which could be proved in a few seconds, it seems the whole society is against it, our society does not give permission for it.

The inheritors of Khajuraho and Konark say this repeatedly. The real purpose was to present this act in a discrete manner and film, which is also art to a certain extent, should let go of commercial and professionals hands. But what generally happens is that big film-makers do not have equal permission to film a few scenes. This way, the censor board has given some space for every film and the events happening in it to be seen through the eyes of the filmmaker and the true nature of the event. But this doesn't happen in reality. If we accept for a moment that the custodians of censorship are people with hearts, what is to be done about those who first see the film themselves in order to pass the film at the public level, and whose literary taste requires reflection and who repeatedly claim 'I neither write films, nor watch them'.

For example, I make a film whose central idea is that a child should be given sex education as soon as he becomes an adult and he should be apprised of all those dangers which can take place later on in life. If my point is clear and I do not blunder in presenting the case of a boy and girl, of course there will be no drama, but if I somehow commit a blunder, then I will have to present a solution which is popular and not one which is psychological.

Recently, I was making a film which was psychological. What happens is that a woman's husband runs away, abandoning his house because of another girl. After his departure, a girl is born to that woman. She marries upon growing up, but the mother attaches herself to her daughter in such a way as to make breathing for the son-in-law difficult. A day comes when she sees her daughter and son-in-law in each other's arms and for a moment, projects herself in place of her daughter.

Man often thinks about things which are unacceptable from a social and moral ideology, but the truth is that he does understand, no matter how much he may consider himself to be a sinner afterwards. That is why it happens like this. The mother-in-law does stop for a moment, but moves back, startled and overflowing with feelings of guilt, goes to the temple and begins chanting the bhajan (prayer),

"Mine is only Girdhar Gopal (Lord Krishna/God) and no one else."

I had just filmed this scene and my heroine objected to it,

"How can this happen?"

I said,

"It happens Madame."

And then, when I proved my point, she leaves the set, embarrassed by the passion of being a sinner. She did end up doing that scene, but kept thinking she will be flogged by the public over it. I told her to send over the shoes flung at her to me since my own shoes are rather worn out.

The maker of social films is like a woman who attended a party in a gharara and upon her return, it begins to rain heavily and consequently water is accumulated right in front of her house. Her man puts bricks and slabs on the way just like Sir Walter Raleigh, and she walks carefully while handling her gharara. But how could she know that one particular brick had been placed in a bent position. She falls down into the water, while handling the gharara. Caution sank her.

Oh no.

There are great obstacles in making a social film. You are naked from all four corners. That's not all, to top it off, there is no skin on your body and you have to pass through a salt mine.

One can't imagine under what circumstances social films are made. We are fully free in name only, but the stages one encounters afterwards, the situation reminds me of a couplet by Majaz,

"Such are the boundaries the guardians of the harem have drawn

That I cannot send my message without being a prisoner born."