Dear India, Pakistan will not play cricket on your terms anymore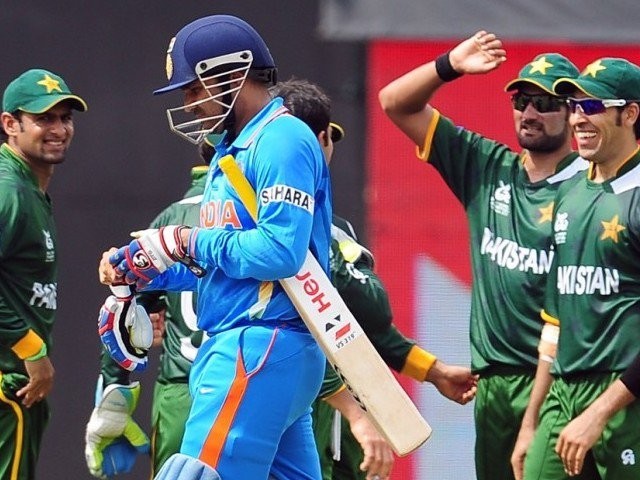 We have been taught since childhood, or at least I have been taught regularly, that two wrongs do not make a right. I believe the real message behind that age-old adage is to make a child understand that each problem needs to be dealt with separately. One cannot pile one 'wrong' over 'another' in the hopes of concocting a 'right'. As a grown up and someone who is in their mid-20s, I understand that, but unfortunately, our 68-year-old noisy neighbour cannot.
Firstly, I do not categorise myself as an anti-Indian. I am merely critical of the Indian government policies which are unfair on the most part. Once again, after recent tensions at the border, and an attack on a village near the Indian border on Indian soil, the Indian government presented another lame excuse on the premise that terrorism and cricket together cannot exist together.
This particular argument is weird, not only because of the manner in which it is presented but also because of the entity which is presenting it. For a country that takes pride in calling itself the biggest democracy in the world, such actions where you ignore your present and avoid your past are more than just disappointing.
For a sports lover, nothing is better than watching a clash between two arch rivals going head to head in a home-and-away clash. However, the Indian government made sure that they would find a way to interlink politics and sports, which is highly disappointing. If that is to be the case, where a government is going turn a sport into a matter of war, then I believe that Pakistan's government should step in, instead of Pakistan Cricket Board (PCB) and say that cricket and terrorism cannot go forward together, as Pakistan has a far more genuine reason to use that statement.
Unless and until India stops its activism on the Line of Control (Loc), there won't be any cricket. I believe that it's about time that we as a nation should say it once for all and that we won't play the game on your terms.
As far as I can understand, one thing that allowed the situation to deteriorate to this level is our apologetic posture, which never gave us the same power as the diplomats. We, as a nation, have always displayed an apologetic posture in terms of diplomacy and that has never really paid any dividend. India has always played on their front foot and has never allowed Pakistan any leverage, which we shouldn't expect them to do anyway.
I find it funny that our accomplished and experienced Chairman of PCB, Shahryar Khan, had been very hopeful of the series materialising, even after repeated refusals from the other side. I find it even funnier that an experienced and well-informed Najam Sethi was even more adamant about the series taking place as per the plan. The other side was clear about the series not taking place. Where was his famous 'chirya' then? Since the two aforementioned gentlemen have exhibited loyalty to the state, I will not bash them and will only assume that naivety led them to believe in the commitments of their counterpart across the border.
I am convinced that all of this overhyped optimism is driven by the theory that playing against India is a way to attain economic success. Such an assumption may be correct, but the truth is that an arrangement with India keeps us on our guard at all times and that is problematic. Exhibiting enthusiasm in the field of cricket is great, but it should not come at the cost of our national integrity. I wish to ask our diplomats, government, and PCB officials why we cannot stand up and speak for what is right, especially when our hands are far cleaner than the ones on the other side of the border?
This question needs to be asked within our borders as well. When the Indian media can bash Pakistan and hold it responsible for any unfortunate event that happens to take place, then why does our media lack the necessary teeth to counter India's offensive, despite being called Pakistan's 'teesri quwat' (third force)?
Hearing allegation after allegation and seeing nearly every cricket series between the two neighbours undergo a war of sorts, one wonders why our sports ministry, the PCB, and government officials are so slow to react on the diplomatic and media front? Why are there are no counter allegations from our side?
Even if for the sake of argument, we accept that Pakistan is the cause of terrorism in India, that we support non-state actors and hence no cricket is possible, our diplomats, PCB officials and sports ministry should be able to put forth the assurance that we definitely are not the cause of terrorism.
Be it the admission of India's current National Security Advisor (NSA) Mr Ajit Daval in a seminar where he confessed how India is involved in a proxy war in Pakistan which left thousands of Pakistanis dead, or be it the current tension on the LoC, Pakistani officials have an extremely strong argument, which is, if we ever had to play cricket against each other based on political matters, Pakistan would never want to play against India.
One thing that we need to learn from this is that we should not be tempted by the amount of money we can generate with a cricket series against India. Nothing comes at the cost of national integrity. It's about time we inform them that we are not playing against them until they sort themselves out.
Enough is enough.
As for the PCB and the Pakistan cricket team, we should all sit around the table for the World T20 which is going to be held in India and chalk up a master winning plan for our team. That will be our chance to shine on the global stage. Winning against India on Indian soil will send the right message to everyone, regardless of the games being played; Pakistan will come out on top.
Let's go there boys and win it all, win it for the men in green. Let's win it for the brave men who protect us on our borders.
If you try to bring us down, we will rise,
If you try to break us down, we will shine,
Because we turn the tides around and do the impossible,
Because we are Pakistan.