Should Afghanistan, India and Iran always blame Pakistan for their own mistakes?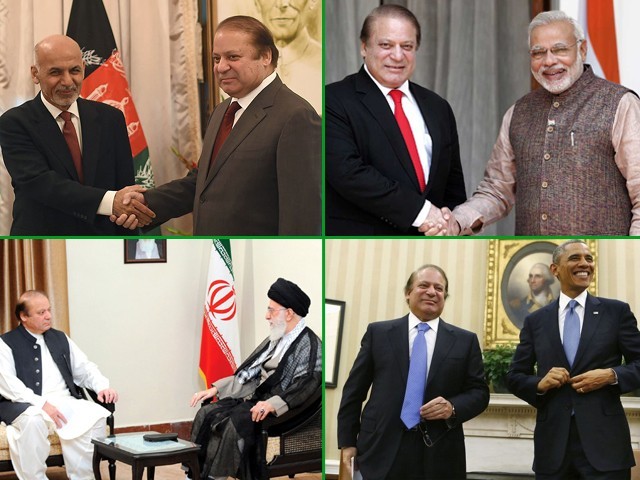 It's nothing but ironical that I'm writing this blog on the latest (if not the greatest), all intensive, simmering hot issue of yet another AfPak entanglement right around the time when one of the chief architects of Pakistan's Afghan's policy of the 80s-90s, General Hamid Gul, bade farewell to the world. The general, a villain to some and a hero to others, was by all means a controversial figure, one who left a deep impact on the regional politics for years to come.
So when I hear the current crop of Afghan leadership screaming their lungs out with ferociously unsavoury, emotion-laden statements pointing fingers at the Pakistanis for meddling in their affairs, it undoubtedly brings back ominous memories of the years when the already strained and stressed relations of the two countries had further nose-dived.
Unfortunately, the bitter realities associated with the years gone by are persistently nagging and raising their ugly head on a frequent basis. Remember the time when the Afghans descended from the hills, thanks to the erstwhile Soviet Union rolling its tanks into Kabul? Remember when Pakistan had to play host to thousands of refugees who were driven out of their country by the relentless onslaught of invaders? That's when Pakistan's endless downslide started. That's when drugs, weapons and extremism made their entry into the ecosystem. That was the beginning of a long siege that essentially changed the country's personality and paralysed its functionality, bringing devastation to millions and eventually ending up in killing more than 60,000 citizens in a long-drawn religion-instigated violence.
Today, as the Pakistanis grapple with correcting the course of their own history, they've been condemned by the Afghans for being recklessly unscrupulous to shelter every Tom, Dick and Harry associated with terrorism. Obviously these contentions are not totally fallacious. Pakistan's presence in the region has caused quite a few flutters and conflicts and its policies have only resulted in instigating conspiracies, chaos and violence.
In the historical context, characters like Gul, Aslam Beg, and Dr Abdul Qadeer Khan have benefitted from the power structure and relentlessly gratified their own lust to influence the course of regional events. Islamabad has been, and rightly so, criticised for giving refuge to the Osama bin Laden (OBLs) and the Mullah Omars of the world. Additionally, they've made the strangest of alliances to gain power and control the religious drifts and trends.
Besides being the regional 'Chief Menace Officer', Pakistan's role is time and again questioned by its western neighbour in terms of aiding and abetting micro-mutinies and insurgencies and for not being responsive enough when peace initiatives are rolled out. While President Ashraf Ghani and Chief Executive Abdullah Abdullah sizzle and burn, without aggravating and exasperating the situation, Islamabad should take the lead to alleviate tensions in the area. For starters it can:
– Make a sincere effort to de-intensify its intelligence agency-centric activities across the border. The military establishment and the Inter-Services Intelligence (ISI) boys should hold their horses and be effective inside rather than outside the country.
– Invest in securing the porous border. Because of how the border is, the Afghans are able to hide their incompetence and always wag an accusing finger towards Islamabad for anything terrible that happens on their soil. The two countries can work on spending resources to build a strong wall or impactful check posts so the cross-border infiltration is stopped. If Donald Trump can float the idea of making Mexico pay for constructing a wall along the US-Mexico border, why can Pakistan not prevail upon Ghani and company to start a dialogue on such lines? Wouldn't that be counted as a decisive peace initiative?
– Give up the idea of negotiating with the Taliban. There are no good Taliban. Halt all efforts to talk.
– Not act as the brother's keeper. Due to the lack of trust in the environment, conditions are not suitable for the honest broker role play. In an atmosphere that is infested with moral turpitude and political spite, why can Pakistan not stay away from hobnobbing, especially if it brings a bad name to the country? Such incessant desire forces me to draw parallels with the US foreign policy whereby Washington, despite being no one's favourite and censured all over the world, just doesn't give up meddling in countries that have little or no impact on its general population.
As far as not responding appropriately to peace initiatives is concerned, nowadays the world is all about presentation and optics. Ever wondered why Apple Corporation is more successful than all other tech companies despite the fact that it uses many of the Samsung-made parts in its so-called state-of-the-art products? The answer is simple – it's all about presentation, the look and feel of the dandy iPads and the iPhones that have left an astoundingly mesmerising impact on enthusiasts all over the world. Conversely, Pakistan has shown lack of diplomatic spirit, the urge, and the drive to propagate an image that is reconciliatory in tone and texture. The battle to be the 'Chief Peacemaker' must begin no later than now. Be a true inseparable twin brother that Hamid Karzai spoke of not too long ago.
Gul's toxic framework of intelligence and extremism may linger on forever if appropriate measures are not taken in due course of time. Pakistan must embark upon a damage control mission and instead of making its neighbours livid, left, right and centre, it must introduce perestroika and glasnost in its policies and let its population live a full life instead of a life of fear. Due to its non-transparent policies, the Afghans, the Indians and the Iranians love to lambast Pakistan and never fail to accuse Islamabad even for issues that they themselves are responsible for.
By the same token, let us remind our Afghan friends that the Pakistanis made ginormous sacrifices for them back in the 80s. It was due to Pakistan's generosity that their nation was saved from going almost extinct. So when they accuse Pakistan for all their ills, they must go easy and be grateful for the humane treatment they received in their time of need.
For Pakistan, it is, without any speck of doubt, time to go back to the drawing board and redraft the country's destiny. What can potentially help are new ideas, the youth's wisdom, and a desire for a new beginning. Let the Afghans deal with their problems and show in no certain terms that Pakistan means business and wants stability in and around it. Let the demons of yore leave the system and let peace celebrate a great victory.