Can 'Shah' box its way to the top?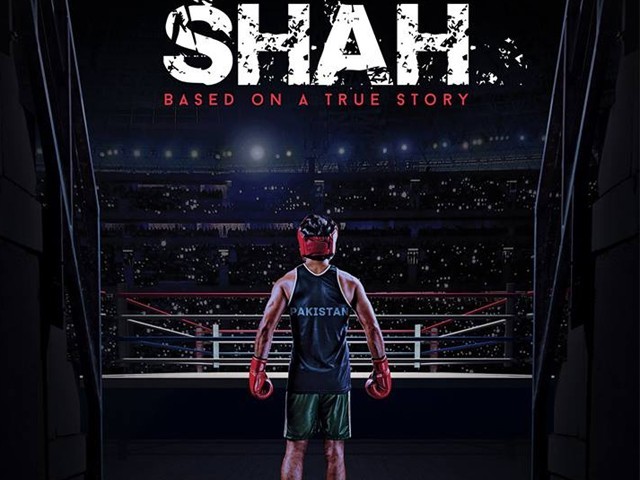 Pakistan is a land of talented and gifted people. We have people who have made something out of nothing. With barely any resources available, various Pakistanis have outdone themselves in recent times and have brought pride and prosperity to their motherland through their hard work and sheer determination. Shah is a movie which is based on one such individual, who rose from the cluttered streets of Lyari in Karachi.
He rose from nothing and became the pride of Pakistan, but eventually, he was reduced to a mere memory in the minds of Pakistanis. Shah is a story based on true events about the journey of Pakistan's famous national hero, Syed Hussain Shah. He became the only Pakistani to win a bronze medal during the Olympics in Seoul in 1988. The movie was released this Independence Day to pay tribute to Pakistan's forgotten national pride. It is a sports biopic and the ideology and concept behind the film is brilliant and worth applauding.
The movie starts with a journalist named Noor (Kiran Chaudhry) who inquires about Hussain Shah, the famous Olympian Pakistani boxer who won numerous gold and bronze medals for his country by participating in international boxing matches. She finally manages to find Shah who narrates his life story and the hurdles he faced on his journey to dominating Asian boxing for nearly a decade.
Performance wise, I feel the movie solely rests on one man's shoulders, Adnan Sarwar, who is not only the director and writer but also the music composer. His accent and dialect throughout the film are quite impressive. Some scenes are worthy of applause; for instance, when he wins his first fight in Calcutta and the Indians tease him saying,
"Jootay do Shah ko."
(Give him shoes)
That particular scene with Pakistan's national anthem playing in the background gives the audience goose bumps. Similarly, another superb scene is when Shah wins his fight in London.
Other than Sarwar, the other actor who manages to leave a mark on the audience is veteran Gulab Chandio. He portrays his character with complete gusto and is an absolute delight to watch. Most of the actors in the movie are locals from Lyari, which I feel may have been somewhat of a challenge for Sarwar, but it all seemed to work out perfectly. Apart from Sarwar and Chandio, the rest of the actors have limited screen presence.
Shah sends the right message of pride, patriotism and aptly pays tribute to the great Shah. Unfortunately, the film does have its flaws and lacks quality and aesthetics in other departments.
For instance, the editing by Tahir Ali seems to be the weakest part of the movie. Similarly, cinematography by Omar Daraz and Hassan Zaidi is nothing to write home about. This could be due to the fact that the team had an extremely limited budget to work with as compared to the other recent Pakistani productions. Other than that, Urdu dialogues should have been supported with English subtitles as some of the dialogues were a bit difficult to comprehend.
However, it's great to see that Pakistani directors have taken the initiative to delve into the lives of famous yet forgotten heroes. If you want to educate yourself about the famous Olympian and support the revival of Pakistani cinema, then I suggest everyone to go watch Shah. 
Overall, even though the message of the movie was very strong, it lacked the finishing touches required to make a film go all the way.
I would rate Shah a 2.5 out of five.