The good old days of 'Subuh Bakhair' and today's deteriorating morning shows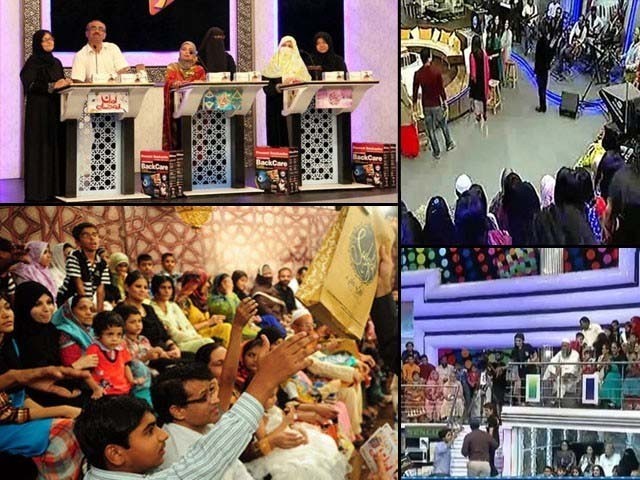 The history of morning shows in Pakistan dates back to January 1988, when the nation witnessed its first morning show, Subuh Bakhair, live on Pakistan Television Corporation (PTV). The show was hosted by the famed author and travel writer, Mustansar Hussain Tarar – the Chacha Jee of our era – for nearly seven years. He is considered as the pioneer of live morning transmissions in Pakistan.
"Assalam-o-Alaikum saray Pakistan aur pyare Pakistan!"

(Good morning to all of Pakistan and beloved Pakistan!)
These words still echo in the hearts and minds of millions. This was Tarar's trademark with which he used to open his show in his famous idiosyncratic style. His prime audience majorly consisted of children, with whom he interacted with intense affection which was reciprocated with equal love and affection, since this was the man who would run their most awaited cartoons at 7:10am, before they headed to schools. Owing to his compassion for children, he declared himself as the Chacha Jee of Pakistani children and was eventually widely recognised by this title.
Subuh Bakhair is an immensely endearing memory of our childhood. The show was a rich source of information and knowledge for all the sections of our society, ranging from children, elders, women, art lovers, music lovers, and literature lovers
Recently, a little break from work gave me a chance to watch the modern day morning shows, for three consecutive days on three different channels. These morning shows enjoy intense abhorrence among those in my social circle. Out of sheer curiosity, I decided to entertain myself with these shows for three days, and my experience goes somewhat like this:
Day 1/Show 1:
The show was celebrating the pregnancy of Dua Malick (Humaima Malick's sister).
Given the outreach of electronic media to even small villages now, it is imperative for morning shows to take up the topics related to pregnancy and mother and child health care. This medium can be used to educate the masses, especially women, who don't have access to better health facilities.
However, I failed to comprehend the point of doing a show on Humaima's pregnant sister where a group of ladies on the show laughed out senselessly with implausible joy over her pregnancy as if she was the first lady ever to produce a child. What was more sickening was that her husband was giggling on how he strayed all night to different medical stores in search of a pregnancy test as his wife couldn't wait till dawn to confirm the good news.
Whether you are a celebrity, a prominent figure or just another guest on the show, why would one share such personal experiences and memories on a live morning show? There are some things that should stay between couples.
Day 2/Show 2:
The show was about Sadia Imam's Valima. Since it was the wedding of such a renowned actress, a full morning show dedicated to her auspicious occasion was mandatory. This was preceded by a mehndi and reception function.
It was a fun-packed show with all the beefed up ingredients such as dance performances by our inglorious film stars on Indian songs. Half of the guests were ordained as 'larkay walay' (groom's side of the family) while the other half were the 'larki walay' (bride's side of the family). Unfortunately, I could only watch the Valima and was deprived from viewing the rest of the festivities surrounding this great betrothal.
Day 3/Show 3:
The show was based on a topic that sells every time – Saas-Bahu (mother- in –law/daughter- in- law) domestic issues. The rival families were ostensibly low-profile actors masquerading as real family members who were well trained for the nail-biting squabble. They acted brilliantly and adeptly, except for a few moments where their nervousness and pretence couldn't go by unnoticed. The dialogues were so well-written and the quarrel was so natural that people could easily be fooled, as if they were witnessing a quarrel between women in some neighbourhood.
It had all the elements needed for a gripping drama – accusations, pejoratives, grumbles, tantrums, and verbal onslaught. It was pure melodrama. Every now and then, the expert on marital affairs was also asked to intervene to appease both the parties. The show ended with an 'expert opinion' on the sanctity of the institution of marriage, family relations, and social values.
The chapter of perennial wars between saas-bahus was closed once and for all, and they lived happily ever after, or perhaps until the next show.
This three-day experience left me dismayed and made me deplore the regression of our morning shows, which once were the hallmark of our media industry.
Media is a two-way traffic. It is a reflection of our society, whereas society validates it by exhibiting acceptance. Sadly, however, the knowledge and 'entertainment' being sold by our media is purely regressive, bereft of any orientation for vision or intellect building.
When media houses object to the quality of shows being run, the claim one gets to hear is that,
"It is due to public demand."
However, sanity argues a simple rule otherwise; the demand can only be multiplied by the consumer, the creation of demand always lies with the producer.
Let me elucidate it further with an example. The recent craze of game shows (now being run on almost all TV channels) was an 'idea' first launched by only one TV channel. Audiences, tired of monotonous dramas, grew insanely addicted to it in no time and the ratings – the life line of TV channels – soared. Subsequently, the demand was multiplied and every channel forcibly fell victim to this insanity.
Now here comes the dilemma. Every channel, instead of investing their own brain and inventing their own ideas, prefer to choose the convenient way and sell their products i.e. bring up the 'original copy'. The poor quality content is not contested with better, improved, and alternate content, but by churning out the same material. This ultimately results in fewer choices for the viewers to extract something healthy from the box our lives are enclosed within.
The trade secret for the survival of today's media is hunger creation, hunger proliferation, and feeding the drooling mouths with substandard fodder. Media is creating the demand and society is playing the role of a multiplier. Hence, the higher the demand, the higher the supply.
TV shows are like pills, no matter how harmful they may be, people refuse to quit taking them, since it gives them great solace. Since the producers have intoxicated the consumers with these pills, the burden of the blame lies largely on them, and accusing consumers for not cutting down on the dosage while at the same time providing them a huge supply, is a complete travesty.
A considerable introspection is needed from the media houses when it comes to the quality of the products they are milking their ratings from and how drastically they are leading the whole society to intellectual decadence. Because unless these pills are replaced with healthy supplements, the vicious cycle of demand and supply will continue forever.