Mahela Jayawardene and Kumar Sangakkara, a duet like none other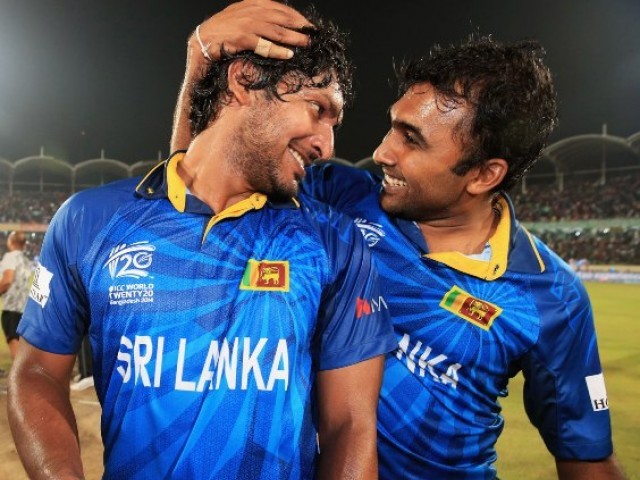 Kumar Sangakkara and Mahela Jayawardene were the two stalwarts of Lankan cricket for more than a decade. The contribution they have made to Sri Lankan cricket is extremely significant and which separates them from the rest in terms of stature and amount of runs scored. I had the pleasure of watching them throughout their respective careers and during that span of time, and every now and then, they surprised me with something absolutely spectacular.
Elegant and graceful shorts were perhaps the only shorts in their books. From Jayawardene's sublime inside out shot over cover, to perfect square cuts of Sangakkara, every shot they played was usually well-timed and you hardly ever saw them getting out playing a rash stroke. Even their get out of jail shots were proper cricketing shots, which found the fence every once in a while.
Although they scored plenty of runs against Pakistan and single-handedly won matches against us, but that did not stop me from writing about them, as after a while I realised that what I was witnessing is something exceptional.
Perhaps their greatest ability was to bat exceedingly well under pressure and at a time when the team needed them the most. On numerous occasions, they got their team out of trouble with scintillating knocks such as Sangakkara 192 versus the Aussies at Hobart, and not to forget Jayawardene's 180 against England at Galle in 2012. Once they got settled and were able to get a feel for the pitch, the misery for the opposition started and it appeared as if the two can never be unshackled.
Career figures
Jayawardene and Sangakkara played their debut matches for Sri Lanka in 1997 and 2000 respectively and scored many runs in every format of the game they played. Just look at their individual stats which are astonishing and are better than most cricketers going around. They are the top run getters for Sri Lanka in both Tests and ODIs.
Runs, runs and more runs! I am sure you are just as amazed as I am!
Let's dig deeper and take a look at the amount of torment they inflicted on the opposition when batting together. The duo accumulated 5,992 runs in 151 innings when batting as partners, starting way back in 2000. Similarly, in Tests, they were a formidable pair and scored several runs and complemented each other extremely well. They scored 6,554 runs in 120 innings at a brilliant average of 56.50 including 19 hundred run partnerships. They are second on the overall best batting pair list in both ODIs and Tests which is such a remarkable achievement.
Highest partnership for any wicket
There is one special record that belongs to both of them and that is of the highest partnership for any wicket in Test matches; the mammoth 624 runs versus the Proteas at the historic Colombo (SSC) ground. Sangakkara and Jayawardene scored 287 and 374 respectively during that innings. Now that is one record that will take some batting effort to be broken, but right now it's unlikely that something like that will happen, yet you never know what's in store for you.
Big match players
The duos have also played some exquisite innings to lead Sri Lanka into two ODI World Cup finals, but unfortunately they were not able to get over the line. Jayawardene made a fantastic 100 in the final of the 2011 World Cup, which was a treat to watch. They also made name and represented Lanka in the shortest format of the game, which is T20 cricket.
During their presence, the Lankan side featured in three finals and thank fully their last campaign in 2014 was a fruitful one, as they led the islanders to a deserved victory over India in the final. Sangakkara played a match-winning knock, as he registered a half century in the final and hence was declared man of the final. Players of the modern age do tend to mould their style of play inT20s to cater for the requirements of the game, but as far as Sangakkara and Jayawardene were concerned, it was always proper cricketing strokes and absolutely scintillating stroke play, which were hardly accompanied by slogging.
Leading the pack
They also had the honour of captaining the islanders for a lengthy period of time and successfully, which is tremendous feat as well. Jayawardene captained Lanka in 38 test matches and Sangakkara in 15, both had a match-winning percentage in excess of 35 per cent. As far as ODIs are concerned, Jayawardene lead the side in 130 ODIs, while Sangakkara did in 45 matches and here as well their win percentage was above 55 per cent.
Tigers away from home
Very few subcontinental players have been successful outside Asia, but these two were equally good outside the subcontinent as they were at home. This is a rare feat as many of the world's greatest batsmen have struggled to score in difficult Trans-Tasman and English conditions. Sangakkara has an average of 54 away from home in Tests, while in ODIs, it's even better than his average playing under home conditions. On the other hand¸ Jayawardene also had an average close to 40 outside his native land in Test, while in ODIs it stands at 32 runs per innings, which is not bad at all.
In conclusion, it is safe to say that these two have been great servants of Lankan cricket and can be called legends of the game. Believe me, there are not many cricketers who could have earned this sort of respect. They will be remembered by the Sri Lankans, and the global cricket fraternity for a long period of time, as there will not be another Sangakkara or Jayawardene to grace the game again.