Anwar Ali and Shoaib Malik, the unsung heroes of Pakistan's ODI revival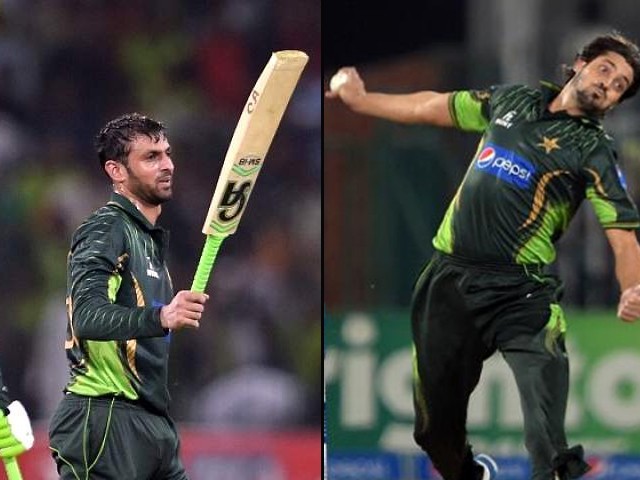 Not long ago, Pakistan, a sport loving nation who looked towards cricket as a uniting force, was down and dejected when they were thrashed by none other than Bangladesh, the team for whom we always took pride in playing an instrumental part in allowing them to become a Test-playing nation.
It was heartbreaking really. I never thought such a day would come, but it did. During that time, many thought that a touring Zimbabwe would also be a difficult side to beat, and that the chances of Pakistan playing in the Champion's Trophy would definitely slip out of our hands, because the only way we would qualify for the league would be by beating Zimbabwe and Sri Lanka, and that even on their home ground.
But you can't just write Pakistan off, not yet. We came out from nowhere during the Sri Lankan tour, and apart from the last five-match ODI series in Sri Lanka, Pakistan dominated each and every single aspect of the ODI series.
Even in the second ODI, where Pakistan was beaten narrowly by two wickets, it was the individual brilliance of Kusal Perera that snatched the game completely away from us by scoring 60 odd runs on 20 odd deliveries. Even then, we fought back, and at one stage, we even had a slight advantage when Sri Lanka was down to 156 for five. But we could not stop them since Perera came in and delivered his blitzing innings.
Our victory may cover up all the problems our team has, but the question remains, what has transformed Pakistan from a demotivated and disgruntled unit into a unit that is unwilling to accept defeat?
For me, apart from the fielding and better batting performance, the real answer is the balance in the team.
Pakistan under Misbahul Haq's captaincy always looked like a team short of a batsman or two, and with Shahid Afridi coming in at number seven, we were constantly playing with six batsmen, which put extra pressure on the bowling unit, resulting in total chaos in the ODI format.
After the 2011 World Cup, for the first time as far as I can recall, we have six bowlers and a pretty decent batting line -up until number eight and that is due to the fact that the selectors finally turned their attention to young Anwar Ali and, as Ramiz Raja said, a "veteran" Shoaib Malik. I feel they are the two unsung heroes important for the revival of the Pakistani cricket team in the ODI format.
Anwar, the man from Karachi, along with Mohammad Rizwan, is a breath of fresh air in the Pakistan team's fielding department and it's probably the best since a long time. Anwar probably took two of the best catches in the series and was also a part of the brilliant solo run-out effort in the follow up. He also bowled deathly overs in the fourth ODI and has been instrumental in saving crucial runs for the Pakistani team.
As a bowler, Anwar's role was a difficult one, which he completed with utmost honesty and hard work, producing some great results. For a bowler new at international cricket and for someone who does not possess an extremely great set of skills, finishing the series as the joint second highest wicket-taker along with Mohammad Hafeez with an economy rate of under six runs while bowling at the start is a great achievement.
His batting in the second ODI with Rizwan once again assured the management, as well as the player's sitting in the dressing room, that we finally don't have to worry about our batting order thinning out towards the end as he is more than a decent batsmen coming in at number eight.
For the veteran Malik, it's been a more than happy comeback. For once, he is being reinstated into a team where his batting order is what it should have been all these years. Under Misbah's captaincy, Malik played 22 innings, out of which 15 he batted at number six and number seven.
Malik was never the big hitter you needed at the end of an innings, instead he was the player who can provide you with the platform to finish big. Fortunately, under Azhar Ali's captaincy, Malik was given a settled role, a role that he seems to like. Batting at number five, Malik is seen flourishing as the man who links the upper order to the lower order in order provide that bit of stability in the batting department.
His calmness on the pitch was instrumental for Pakistan in the first ODI victory chase, where he guided the team, first with Hafeez and then with Rizwan. Another reason for his success is the amount of confidence young Azhar showed in his bowling, which eases the pressure on his batting as well.
Under Misbah, Malik hardly ever got the chance to bowl, which meant that he had to play as a batsman only, and that too at a position that never synchronised with the kind of player he is. To understand how a batting position can affect a player's utility, one would have to understand that Virat Kohli won't have the same kind of effect while batting at number seven as compared to what he produces batting at number three. Similarly, MS Dhoni might not be the same Dhoni batting at number three, as compared to batting on number seven.
As far as his bowling is concerned in the series, even though Malik did not pick up a wicket, he was one of the most economical bowlers for Pakistan in the series, where he bowled five overs a match and was not easy to get away with in terms of scoring runs. His fielding has always been a plus point and that too helped Pakistan in their fielding department.
All in all, Pakistan finally has a balance in their ODI team, a balance they've desperately been looking for. The Champions Trophy qualification is not over and done with yet, but it is up for grabs as Pakistan now holds the initiative, come the September 30th deadline.
Waqar Younis and Mushtaq Ahmed have gone back to their basic ODI format that Pakistan always had, where we never depended on a specialist to take us forward. It was always two or three all-rounders that set us apart from the rest of cricketing world, the one's that remain unnoticed, yet contribute to the teams' success.
Even though Hafeez cannot bowl for a year due to the ban, but in Anwar and Malik, Pakistan now has two all-rounders who can bat, bowl and are brilliant fielders, which sets Pakistan off on their rightful journey towards a glorious future in ODI cricket.