Dear PTV Sports, how about teaching some manners to Dr Nauman?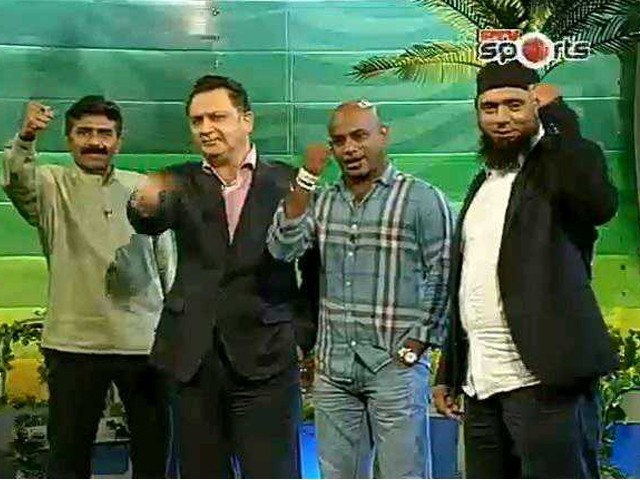 The Pakistan cricket team has been absolutely phenomenal on the field in the series against Sri Lanka. Unfortunately, the same cannot be said about the coverage by PTV Sports.
I had become accustomed to Starbucks misspelling my name on the cup every time. I cannot reasonably expect an American to accurately spell 'Shehzad'. One day, a barista asked me if she called out my name right, I told her it was close enough but she insisted on me teaching her how to say it right.
"It is about me respecting you as a person, I want to say it right when the next Shehzad comes in, it is my job."
Unfortunately, Dr Nauman Niaz, Saqlain Mushtaq and Javed Miandad do not seem to have met that particular barista.
PTV Sports has covered three Test matches and four ODIs so far, and they still seem to get most of the Sri Lankan cricket team players names wrong, despite Sanath Jayasuriya correcting them every time.
As the host of a popular cricket show, one would assume that Dr Niaz would have learnt by now how to say Kusal Perera. I have personally seen Jayasuriya correct him multiple times.
The Sri Lankan names are not easy for Pakistanis to say but how hard it is for them to sit with Sanath a few minutes before each show and learn how to correctly pronounce the names?
If mispronouncing somebody's name is disrespectful, talking in front of somebody in a language that they don't understand is disgracefully rude. It might be great for the prestige of the show to include international guests but watching Jayasuriya just staring at everyone while they exchange inside jokes with each other paints us in a poor light as a country in front of the world.
Even if there is a language barrier, there should be a way to incorporate the guest into the discussion. Many a times Saqlain, Miandad and Doc are talking amongst themselves while Jayasuriya is sitting there texting on his phone.
Can you ever imagine any expert sitting as an analyst on a show texting? Even if Jayasuriya has to text, the director of the show should simply ensure that Jauasuriya is not in any shot that goes on air.
Even the audio levels of the guests don't match; Miandad's mic usually being the problem.
Simply speaking, the show is not professionally run. It has a very 'drawing room' discussion with a friends feel to it. You simply have to switch to Star Sports to see the Ashes coverage with former cricketers in tailored three-piece suits using the latest technology to precisely explain every detail to see how far behind we are.
There is no use of technology. There is no questioning the vast amount of knowledge and expertise of the guests but to watch them on air passing around a paper with the day's scoreboard is excruciating to watch.
If you are paid to analyse a match, the least you can do before you go on air is to have watched the entire match and known exactly what happened. Instead you get a tea party with everyone casually relaxing and sipping tea on live TV talking about their glory days and elephants.
Jughaats have become a part of our culture. It is no surprise to see them engage in verbal tomfoolery but the constant interruptions, talking over each other, and laughing at somebody else talking makes for a vastly inferior experience for the audience.
It is even worse when an unwilling participant is dragged into it. Mushtaq, Miandad and Dr Niaz all have their own agendas and bones to pick with certain former players and the Pakistan Cricket Board (PCB). They use the platform of the show to play politics but it is sad to see them trying and dragging Jayasuriya into it as well.
When Jayasuriya suggested that a cricket administrator does not necessarily have had to play first-class cricket, they ganged up on him asking him if he has been spending time with PCB officials. The suggestion being that he has been paid off. The statements were made in complete jest but it ridiculed the opinion of a legend of the game. The unbiased opinion of a respected member of the cricketing fraternity should be heard, not shot down with aplomb.
PTV Sports is a national television channel going out all over the world, not just Pakistan. You can get former players sheepishly saying Game on hai (Game is on) but the reality is that the show creates a highly unwelcoming environment for both the international guests and the viewers. And for this particular viewer, Game off hai (Game is off)!