Far from the Madding Crowd: Aesthetically romantic with calculated rhythms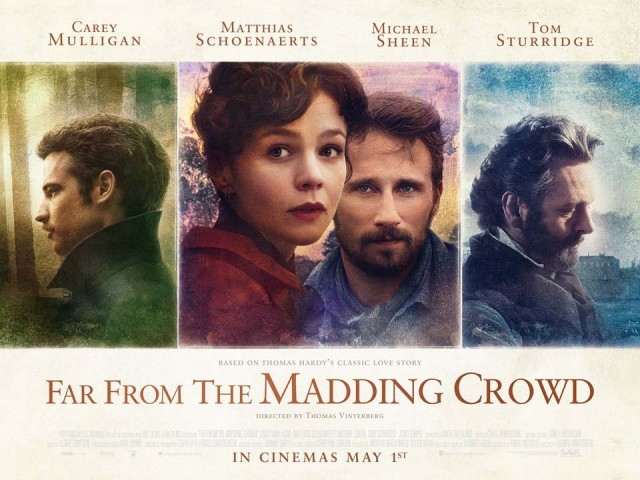 "They spoke very little of their mutual feeling; pretty phrases and warm expressions being probably unnecessary between such tried friends." (Thomas Hardy, Far from the Madding Crowd)
Based on a Victorian novelist of naturalist movement and poet Thomas Hardy's 1874 literary masterpiece of the same name, Far From The Madding Crowd is an aesthetically created alluring romantic yet heady melodrama with the calculated rhythms and opulent aspects of rural life – all expressed with poignancy and the unforgettable character of a determined and eccentric female protagonist, Bathsheba Everdene.
Danish director and co-founder of the Dogme 95 avant-garde film movement, Thomas Vinterberg's drama adaptation shines with emotion, sorrow and strength. Set in Victorian England, it is a fast-paced dreamy plot which revolves around unreciprocated love, misfortune, feminism, and societal issues. The basic theme is about finding love, as George Gordon Byron puts it,
"Love will find a way through paths where wolves fear to prey."
Hardy's enduring novel and its adaptation also depict the significance of friendship and love for a contented marriage. It answered a convincing reason for years' old question – what creates an enchanting worthy match? It poetically explains that love may be blind, but it can certainly find its way around in the dark.
As the movie opens, the orphaned yet cultured Bathsheba, played by Carey Mulligan, is a full of joie de vivre dazzling woman who is an heir to a huge farm from her uncle during the late 1800s Victorian England. For her, marriage is not the main concern in life.
However, her glowing beauty and high-spirited nature attracts a diligent, handsome, and self-made sheep farmer Gabriel Oak, played by Matthias Schoenaerts. Being a straight-forward man, Gabriel directly asked her to marry him, but she decisively refused the proposal by saying,
"I have no need of a husband….I'd hate to be some man's property."
As a savvy entrepreneur, Bathsheba decides to run the inherited 100-acre farm just like a man, she arrogantly but ardently reveals to the farm workers,
"From now on, you have a mistress, not a master. It is my intention to astonish you all…"
During this time, she catches the attention of three different suitors, all of whom have dissimilar advantages and disadvantages. Therefore, she becomes puzzled, contended as well as obsessed. The faithful and honest Gabriel was the first suitor who intended to marry her. He eventually becomes her most trusted and precious acquaintance.
The second time, she attracts the sentimental interest of William Boldwood, played by Micheal Sheen, a lonely, wealthy middle-aged neighbour, who at once becomes infatuated with her personality and offers to give her financial sanctuary in the name of marriage, but utterly fails in his attempt.
The third time, she entices the stylish, eloquent and highly charismatic sergeant Francis Troy, played by Tom Sturridge, who has an ex-lover and has some bad habits.
Although Everdene knows the fact that accepting the proposal of narcissistic Troy is not a wise decision, but she becomes pretty powerless in front of her own inner feelings for Troy and at last, she makes one of the most dreadful mistakes of her life.
The movie portrays the vigour of female characters, particularly the leading lady Everdene, who is illustrated as a woman of substance with an abundance of pliability, intelligence, and great luck to overcome her blunders. On the contrary, she cannot be flattered, persuaded, bargained or in any case, hard-pressed into a judgement against her headstrong temperament. Nothing can impede her from speaking her mind,
"It is difficult for a woman to define her feelings in a language chiefly made by men to express theirs."
Famous for his Oscar-nominated movie The Hunt, the sober Vinterberg along with his screenwriter, David Nicholls, who has Great Expectations (2012) to his credit, managed to lessen the flaws by staying dedicated to the original theme of the novel. Their joint venture works satisfactorily with the impressive visuals and the finest transcription of the book.
As far as the performances are concerned, the fine acting skills of Mulligan are outstanding. Her pleasant and imposing on-screen charisma fantastically merges in with Bathsheba and the shade of formality and the hard-bitten ruthlessness of womanly egocentricity. She proved herself as the best choice for the role of an intricate and intractable character of Hardy's slightly gloomy work of fiction. She looks comfortable against the responsive Sheen – the only performer who actually complements her class.
If there's some criticism about the movie, it's the slow development of emotional and psychological interaction between Bathsheba and Gabriel that does not glow thoroughly till the end. The intensity of their beautiful rapport is definitely missing.
On the other hand, except for a handful of flaws, Far From the Madding Crowd is a delightful treat for admirers of the passionate period drama. The cinematography, costumes, and music are the charming accessories that will keep you engrossed till the end.
All in all, the literary adaptation of a 140-year-old treasured novel is robust and radiant in many areas. It is a 119-minute engaging anecdote filled with emotional depth. The movie is well-worth seeing, particularly for those lovers who adore film adaptations of classic literature such as Jane Eyre, Pride and Prejudice, War and Peace, Sense and Sensibility and Great Expectations.
I would rate it 3.5 out of 5.