Keep calm and leave it to Younus Khan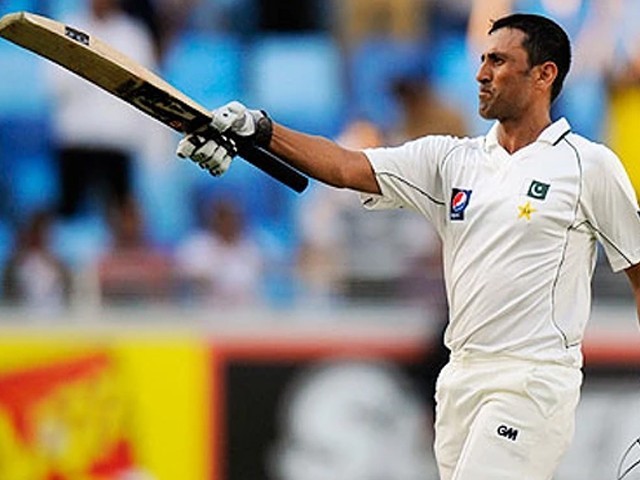 As Younus Khan (171*) and Shan Masood (125) nonchalantly battled their way to an unexpected 242 run partnership during Pakistan's record chase, two thoughts kept floating into my head, 'nothing compares to the compelling nature of good test match cricket', and 'no team is as predictably unpredictable as Pakistan'.
After being set a target of 377 in the deciding Test match by Sri Lanka, few would have expected Pakistan to chase the mammoth score down, least of all because our batsmen had collapsed to 215 in the first innings. Yet, the great Pakistani Test match batsmen, Younus, had other ideas.
After being relatively quiet throughout the series, he played a masterful innings. It was vintage Khan. Composed and cool, he took on the challenge in an exemplary fashion, supported well by Masood, who after an uneven start to the innings showed steely determination. As a result, Pakistan had a record-breaking win, and has now jumped to third in the ICC rankings.
From Younus' statements later, it seems the plan was for him and Misbahul Haq to absorb the pressure so that the youngsters didn't have to,
"This is a very good bunch of players. Misbah and I keep them calm, they play well under pressure."
Misbah had similar comments,
"The key factor in the game was to keep calm. We have lost a couple of Tests in Sri Lanka last time when he panicked. We just wanted to bat calmly this time."
The change was remarkable. It was rare to watch Pakistan play with such serenity. After they won, the celebrations were surprisingly subdued. Either the players were yet to come to terms with their own victory, or the positive calming energy from Younus had left the rest of the team in a state of nirvana. I half expected the Pakistani batsmen to stroll down to the ceremony with a shaved head and donning a red robe.
Pakistan has won facing nearly impossible odds before, but such feats have usually come at the hands of our bowlers, defending desperately low totals. A miraculous win thanks to a magnificent batting performance is a pleasant addition to our list of incredible victories.
There is no doubt that Yasir Shah was the star of the tour. Rightfully selected as man of the series, the leggie took 24 wickets, and twice ran through the Sri Lankan batting order. To Pakistan's relief, the team has developed an able replacement for Saeed Ajmal. Yes, Shah's performances has been so remarkable, it's no wonder he played in every match of the World Cup. Oh right!
I have always agreed with ICC's controversial crackdown on bowling actions for the sake of leg-spinners. Traditionally, due to their simpler actions, finger spinners, aka off spin-bowlers, have always had more control with the ball; though they have lacked variations due to the very same reason. On the other hand, due to more complex bowling actions, wrist spinners, aka leg-spinners, offer greater variation, but at the cost of control. Shane Warne, of course, was the exception, as he maintained great precision in spite of being a leggie.
With off-spinners bending the rules, their breed suddenly had the best of both worlds. Not only did they have the control of a finger-spinner, but variety as dangerous as that of a wrist-spinner. So why on earth would you play a leggie, who is likely to deliver a single long hop or a full toss an over, when you can play an off-spinner who also turns it the other way?
Hopefully ICC's tougher stance will see a revival of good attacking leg spinners in Pakistan.
I hate to sound like a broken record, but Fawad Alam's exclusion from the Test match team continues to boggle my mind. For some inexplicable reason, Fawad has only played three Test matches at the age of 29. All of these Tests were played back in 2009, where on his debut the batsmen scored a fantastic 168 against Sri Lanka.
What's more, his recent form has been good. Leading Pakistan for a three-Test tour to Sri Lanka in May, Fawad produced some very solid scores. The only visible fault with Fawad is how he seems to be quite anxious at the crease, even when scoring. Perhaps this is why the senior players don't want him in the team, because he is disturbing their chakras.
The series will also be remembered for the last time the legendary Sri Lankan batsmen, Kumar Sangakkara played against Pakistan. Having scored over 12,000 runs at an average of 58.04, there is no doubt the former law student is a modern great.
Sangakkara has always struck me as intelligent, and a man with high integrity. With his fitness and form, he could continue playing for many years in all forms of cricket, but his decision to make way for younger cricketers is honourable, and an example for some of our own.