Traditional Pakistani pakoras with a Chinese twist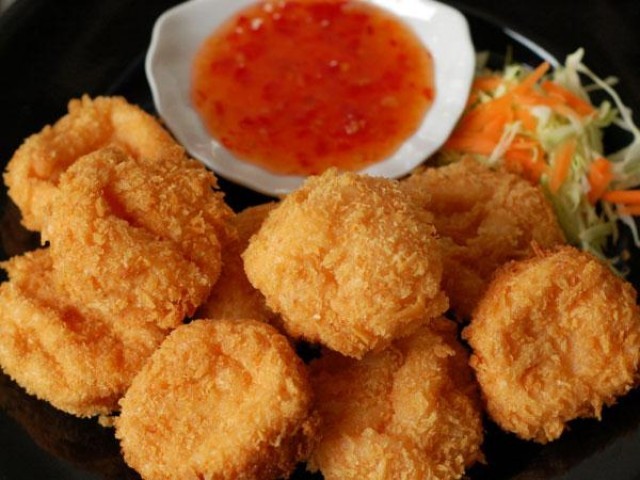 Pakistanis' love for pakoras cannot be described in words. Be it Ramazan, monsoon season, a lunch or a casual tea meeting, one just can't get enough of them. The blend of different spices and aromas truly depict the taste of Pakistan.
Indeed, it is because of our love for pakoras that we have come up with varieties of it. Hardly any household is complete without the aroma of pakoras in the month of Ramazan. No matter how much popularity burgers, pizzas and other fast foods have gained in our generation, the love for pakoras will continue till the end of time.
I have been eating gram flour (besan) pakoras since I can remember. Therefore, I felt it was time to add a little twist to our traditional pakora recipe. Moments after I shared this idea with my sister, she ended up making the all new 'Chinese pakoras', which I thought sounded a bit weird. But when she prepared them, I must say that it might have been one of the best decisions of her life.
They were delicious, bursting with flavour, and indeed a treat to devour. The aroma was completely different from the regular pakoras. I could tell from the ingredients that their nutrition value is even better than the desi pakoras.
Maybe Chinese pakoras should be the new thing in town, since the majority of us love Chinese food already.
So here is my sister's recipe for Chinese pakoras.
Ingredients:
Capsicum – 1 (chopped)
Carrot – 1 (chopped)
Boiled chicken – ½ cup (shredded)
Onion – Quarter  (chopped)
Corn flour – 1 ½ cup
Milk – as per requirement
Soya Sauce – 4 to 5 tsp
Chilli sauce – 3 tsp
Salt – to taste
Chicken powder – ½ tsp
Black pepper – ½ tsp
Egg – 1
Method:
1. Chop the carrot, capsicum and onion and sauté them in oil for two minutes.
2. Take out the vegetables in a bowl and add the corn flour and milk in such a way that it turns into batter. Add milk according to how thick you want the batter to be.
3. Add shredded chicken.
4. Add soya sauce, chilli sauce, salt, pepper, and the chicken powder in the batter.
5. Blend the egg and add it into the batter.
6. Stir for a minute.
7. The batter is now ready. It can be frozen for up to 10 days and can be used whenever needed. If the batter is frozen, take it out half an hour before to bring it to room temperature and then use it for frying.
8. Heat the pan and drop the batter into the pan using a tablespoon. Fry for seven to eight minutes until they turn golden.
9. Voila! Serve them while they're hot with some chutney, ketchup or a dip or your choice.
Since we're in the middle of Ramazan, it's the perfect time to give these scrumptious, flavourful and healthy (slightly) pakoras a try for Iftar!
All photos: Madiha Shamim