Move over Pakistan vs India, there's a new rivalry in town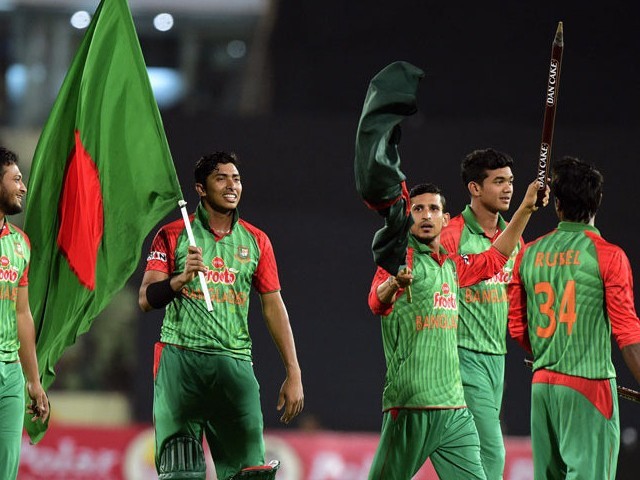 With back-to-back victories on their home ground against Zimbabwe, Pakistan, and India, Bangladeshi cricket fans have witnessed some of the best days watching their team play. The fans would say that beating Zimbabwe was predictable, but victories against two big teams, Pakistan and India, are what matters most.
Asia will not always solely be about India, Pakistan, and Sri Lanka. A Champions Trophy spot is confirmed for Bangladesh and now the battle is between one of the big teams to fight it out against West Indies for the last spot.
Only a year and half ago, Bangladesh had failed to impress many during the Asia Cup on their home ground; female spectators cried when the chance of Shahid Afridi being caught out was lost and Shakib Al Hasan told Bangladeshi spectators not to have too many expectations from them.
This was the least bit encouraging, especially after Bangladesh had knocked India and Sri Lanka out in the previous Asia Cup and had lost the series by only two runs against Pakistan in the final. The final loss had resulted in some tears in the Bangladeshi camp and people were heard saying that while other teams win games, Bangladesh wins hearts only.
Shakib, who is always in the charts as a number one all-rounder, threatened to quit international T20 cricket in July 2014. Earlier that year, he had been banned from a few games because of a crude gesture towards a cameraman.
Eventually, things started turning around for the good. A new coach was hired, Shakib and Tamim Iqbal were rightfully reprimanded by the board to fix their game and attitude, rather than being thrown out of the team for their inconsistent performances. The extent to which the cricket board supported them is marvelous; they even gave them the huge responsibility of vice captaincy.
Captaincy was handed over to the experienced Mashrafe Mortaza and this gave Mushfiqur Rahim enough space to concentrate on his wicket-keeping and batting, and finally, their unfortunate winless streak ended in November 2014 in a match against Zimbabwe.
More than anything, this highlighted that a team needs their best cricketers playing for them, rather than throwing them out. This is what good management is about. Shakib, Iqbal and Rahim are not only experienced players now, but they are also at par with the modern-day requirements of the game.
Along came the World Cup 2015, where Bangladesh left us with countless amazing memories, from the controversy surrounding Rubel Hossain to knocking out England from the World Cup, which resulted in a makeover for the England cricket team.
However, what really spiced things up was the quarter-final between India and Bangladesh. Although India managed to win, there were all sorts of allegations made by the Bangladeshi cricket fans and politicians. Mustafa Kamal even resigned as the International Cricket Council (ICC) president. Some intense moments during the match added fuel to the entire story when there was what seemed to be a heated eye contact between Virat Kohli and Hossain.
However, playing a quarter-final in Australian conditions is not an easy feat and it was an achievement for the tigers.
After the World Cup, they comfortably beat Pakistan in the Bangladesh and Pakistan series. Pakistan was completely whitewashed in the ODI and the T20 series. Shakib was already flying high and now they could rightfully boast about their wins against a well-established team, such as Pakistan. He is even reported as saying that this is our best chance to beat Pakistan.
However, the recent series win against India is what's most important. Not because this was a way of redemption after the quarter-final episode, but also because India was playing at full-strength. A new player, Mustafizur Rehman, who also happens to idolise Mohammad Amir as a bowler, troubled the mighty Indian batting order and Kohli failed yet again during the entire tour. This win against India is a major plus point for Bangladesh.
Some moments that highlighted the intensity and drama of the matches were MS Dhoni shoving Rahman during the first ODI, a send-off from Mashrafe to Kohli, showing him the way to the pavilion, the beating of an Indian fan, an argument between Shakib and the umpires, and the Bangladeshi crowd singing "Mauka Mauka" . Not surprisingly, that video went viral.
Bangladesh versus India might just become the next big Asian rivalry in cricket.
Beating Pakistan in 1999, Australia in 2005, knocking out India from the 2007 World Cup, knocking out West Indies from the 2007 World Cup T20 and then beating England in 2011 and 2015, in addition to some wins in a bilateral series, especially those against New Zealand, were some of the special moments during which Bangladesh ruined the chances for some big teams and established themselves as a strong team.
Critics will argue that Bangladesh is in dire need to win Test matches and they need to win a series away from home in order to be recognised as a real force.However, many will agree that they either break the hearts of their own fans or hearts of others' fans every time they play.
Bangladesh is slowly emerging as a force to reckon with.