#HeatWave: Sindh can take lessons from Ahmedabad's Heat Action Plan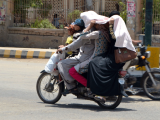 The scorching heat last month in most of the central and southern India resulted in the death of 2,500 people. And it seems like it is Pakistan's turn now. Yesterday, around 180 people lost their lives in Karachi due to an intense heat wave.
India recorded its highest maximum temperature of 47 degrees Celsius / 117 degrees Fahrenheit, in Angul in the state of Odisha. Similarly Pakistan, in recent weeks, has suffered from one of the most severe heat waves in decades, with temperatures reaching as high as 45 degrees Celsius / 117 degrees Fahrenheit. This was the highest temperature recorded for the month since 2005.
It's high time that we begin viewing heat waves as a natural disaster and make structural and lifestyle changes to mitigate and minimise their effects. Good planning at national and sub-national levels with preventive actions can reduce mortalities and reduce the damage significantly caused by these heat waves. For instance, in the Indian city of Ahmedabad, South Asia's first Heat Health Plan has been developed and implemented.
The successful implementation of the heat health management plan, developed by LEAD Pakistan and Climate and Development Knowledge Network, restricted the loss of life in the city to seven, as compared to 1,300 in a similar heat wave event in 2010.
Ahmedabad's Heat Health Project has been recognised globally for its success and was named as one of the top 20 projects at the Sendai Conference on Disaster Risk Reduction in early 2015. This project was also greatly appreciated in South Asian Cities Summit in New Delhi in May 2015, attended by officials from local governments and other stakeholders from different South Asian countries.
The most important thing, however, is that this has started a conversation between different government officials and stakeholders to chalk out similar action plans for other cities in India which are witnessing high mortality rates due to the recent heat waves.
The project has also kindled an interest to take up national policies and frameworks to address heat wave issues in other regional cities. A replication of this project is being planned for the Indian city of Nagpur, where heat waves have intensified over the recent years. Donors have shown interest in these projects because of their massive potential success and impact.
The project provides steps to mitigate the impacts on health by identifying high risk cities and localities and briskly implementing a low cost-high return plan. These include increasing access to drinking water and providing shade to outdoor workers, developing building codes that are more heat-resilient, and provision of transport systems that enable people to avoid the impact of heat during frequent power outages, which only multiply the heat effect.
The adaptation plan includes small and simple steps to ensure that heat waves have little effect on the population exposed to it. In Ahmedabad, these small steps included launching awareness campaigns through billboards, hand outs and other forms of communication with basic information of heat preparedness; installation of over 1,100 drinking water stations; keeping all gardens and parks open; capacity building of medical staff with respect to heat-affected conditions and their solutions; and installation of an early warning system which would help the people and the government departments to be prepared in advance.
The key thing to learn from the Ahmedabad project is that urban design and development projects across the region can help cope with the constant heat waves. The mercury rises up to 53 degree Celsius in some cities and the number of such hot days is on the increase because of climate change and global warming.
The knowledge and experience of the Ahmedabad initiative can be used by our government, non-government organisations, and development communities in Pakistan to plan and design similar initiatives for heat vulnerable cities in order to avoid the loss of human lives.
Loading ...