Badshah Pehalwan Khan, bringing honour and dignity to Pakistan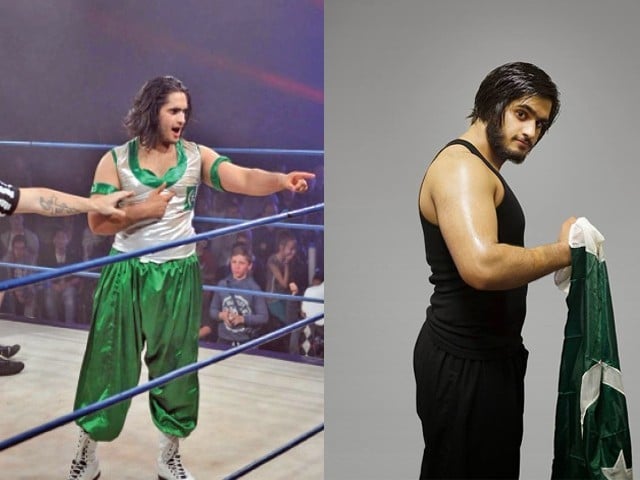 One's understanding should be clear when it comes to wrestling; it's not an easy sport. In order to reach to the top tier, one has to struggle vehemently. They must fight for their success; they must fight to achieve fame; and moreover, they must essentially fight to entertain their fans.
WWE wrestlers are very famous in Pakistan and there is a huge fan-following of old and young alike who have seen different wrestlers come and go and make their mark for their fans. However, this time it's not about the usual wrestling superstars like Brock Lesnar, John Cena, Undertaker or Randy Orton.
This time, it is about one of our own to-be superstar. It is about a wrestler from our very own Sohni Dharti Allah Rakhay (God bless this beautiful land), one who went through the toughest fights in the initial stages of his career. He knows how to fight in a ring without taking precautionary measures; he was born in a village in Pakistan, grew up in France and furthermore, he embraces and wears the flag of his country with pride.
Yes, he is none other than Badshah Pehalwan Khan.
1st #pakistani #wrestler Badshah khan is all ready to set pak-flag at the stage of #WWE world wrestling entertainment pic.twitter.com/n0AdIuqHzc

— paras jahanzeb (@paras_jahanzeb) June 8, 2015
Big things often have small beginnings.. @KhanBP

— kashif khan (@iamkashi10) June 6, 2015
I've always been a fan of wrestling and have never missed even a single show of Raw or SmackDown, but due to my busy schedule I no longer get the time to follow this sport. Nevertheless, I suggest that we should all make that extra effort to watch the show again because Khan will soon be featured in WWE.
http://www.dailymotion.com/video/x2qgzv2_baadshah-pehalwan-khan-first-pakistani-wrestler-to-become-a-wwe-superstar-wrestling-video_sport?start=1
Khan was born in a small village called Dolian. He wears a shiny green and white uniform and he made his debut as a professional wrestler in 2012. After that, he got signed by Catch WS in France, which is a European wrestling company. Since then, Khan has been working to achieve his goal of taking part in WWE.
Now this proud Pakistani wrestler is all set to face renowned champions in the world's biggest ring, on the world's biggest stage for wrestling – the WWE.
http://www.dailymotion.com/video/x2qg66w_baadshah-pehalwan-khan-first-pakistani-wrestler-to-become-a-wwe-superstar_sport?start=1
Wrestling in an arena, while the bells ring, the referees blow their whistles and the fans cheer on, can be hard. Professionals need to make sure that while they play this sport with all the tactics and strategies involved, they also put up a grand show for their fans and make sure that their act unfolds flawlessly for the world to watch and admire. And I hope Khan gives us the same show.
I am sceptical about his performance. How he will wrestle against legendary names who are continuously ruling the minds of the fans WWE? How would he fare against the likes of John Cena, Randy Orton and Undertaker? Would they take him under their feathers or will they trench Khan by kneeing him in the ring? The match would not be easy for him.
However, I am still very excited to see a Pakistani pehalwan in action at WWE.
@KhanBP i am too excited to see you in the @WWE ring..!!

@TripleH give a chnce to @KhanBP to show some skills in @WWE . Please #pakwillrise

— kashif khan (@iamkashi10) June 5, 2015

When Khan enters the world's biggest wrestling stage, it will bring Pakistan honour, dignity and respect.

Yes! Khan, we are very enthusiastic to see you in WWE.