Wawrinka won the French Open but will he win the Wimbledon as well?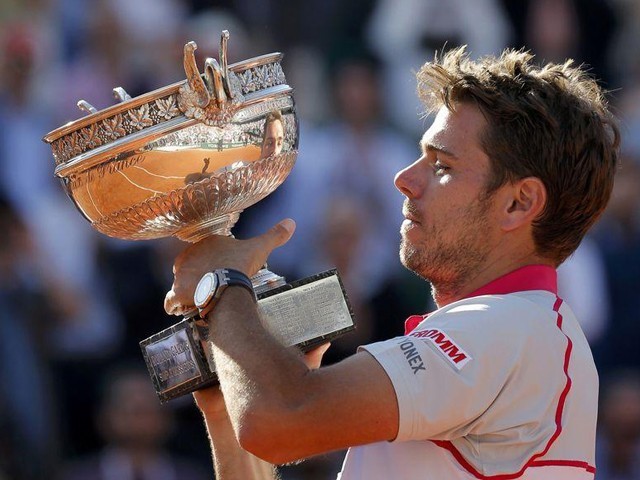 On a windy afternoon at the Roland Garros, when large shadows loomed over Court Philippe Chatrier, the world's number one Novak Djokovic stared in the distant horizon with pursed lips, perhaps still reflecting on what had hit him so hard.
A few hours earlier, it was all about him claiming the coveted career slam as only the eighth player in history. After all, he had emerged rightfully as the heir to the throne, having brutally put to sword in previous rounds, The King of Clay. Few doubted the outcome to be otherwise, considering his only remaining hurdle was a Swiss not called Roger Federer.
The first casualty of a war is usually the plan itself. It sounded more like providence when Stanislas Wawrinka made the Serb look almost ordinary at his very preferred baseline with several thunderbolts that defied logic. Djokovic's seemingly impenetrable defence was breached no less than 60 times, the winners-count his opponent had put on board once, the match had ended.
A surprise champion for many, Wawrinka aka Stanimal produced the best tennis of his life for three hours and 12 minutes to claim one of the sport's most coveted prizes. Djokovic's dreams may have been shattered for now, but the world's number one will now be determined more than ever to bring home the elusive silverware. The standing ovation he received at the trophy ceremony will echo across his ears come next June.
While the battle on Parisian dirt has come to an end, the perennial tussle for glory would resume at the Wimbledon lawn in a few weeks' time. Despite his bruising loss to Wawrinka, Djokovic remains a hot favourite and he has to defend his hard earned title. One must not forget that this is his first defeat in a major competition since last October. Up till now, amongst his biggest potential rivals, only Federer has been able to beat him once in Dubai since the turn of this year.
Showcasing his best in the semi-finals in Paris and riding high in his most successful clay season ever, former champion Andy Murray will certainly fancy the chances of lifting Wimbledon trophy once again. By stretching Djokovic to five sets on clay, he will be confident enough to do well on the faster Wimbledon courts. Besides, the added advantage of home crowd and possibility of usurping Roger Federer from number two ranking will certainly add fuel to his urge and motivation.
Rafael Nadal may have been dethroned at Roland Garros but he can never be counted out from any competition by virtue of his resilience and fiercely competitive nature. True that his rankings plummeted to a new low tenth in the world after nearly a decade but, unlike many others, failure only motivates him to do even better. However, considering his tendency of early exits in past few years, chances do not seem bright for a quick revival in London.
The newly crowned French Open Champion, Stan Wawrinka, has emerged as a force to be reckoned with on the bigger stage. With a second Grand Slam title, he has joined the 'Big Four Club' as multiple slams winner. He lost to none other than Federer in the quarter-finals last year, but with his current form and renewed confidence, he remains a genuine contender to pull off something extraordinary.
But no matter what happens, with his smart tactical approach, Federer remains one of the favourites to win 'the championship' for a record breaking eighth time. Wimbledon is where he will relish his chances the most. This current season, he is second only to serve giants like Ivo Karlović, John Isner and Milos Raonic in first serve points and service games-won percentages. His serve and volleying is second to none. So there is no reason he will not flourish on the quicker lawns of a place he virtually owns.
Sergiy Stakhovsky, his conqueror in 2013 said,
"In Wimbledon centre court, you play against both Federer and his ego".
Beating one is difficult, but prevailing against both will certainly demand an extraordinary effort. He came up against an exceptional Djokovic last year in the midst of an evolving game; he might finish off the job this year with everything firmly in place.
Off the other notable players, Jo-Wilfried Tsonga, Gaël Monfils, Grigor Dimitrov and Tomáš Berdych all have the potential to cause an upset. However, going by the past record, something really miraculous will be needed to upstage the big guns of the game from their favourite playing zone.
The French chapter for 2015 may have been closed with Wawrinka winning the battle but the war is still on albeit with a change in frontiers. However, 'The Stanimal' can savour one of the glorious moments of his career for now.
Let the time come and he will be ready for even more.