What if she didn't want to be a 'chaand si bahu'?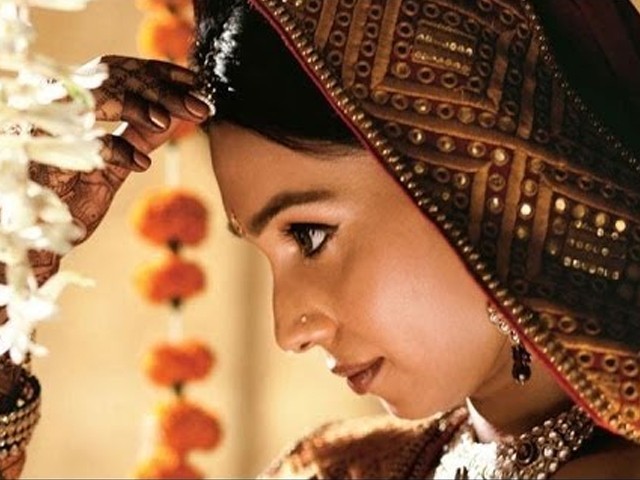 Her parents have told her to get ready. A family is about to visit their home to 'see' their daughter. The parents are all set to welcome the guests; the prospective in-laws of the girl. The guests leave on a positive note, telling the host family that they 'liked' the girl and will be visiting again along with other family members.
This is exactly the sort of comments any daughter's parents would want to hear from those special guests. However, the happiness remains for a short term only as the parents are later informed that they were looking for a girl with an extremely fair complexion to suit their 'pathan' son.
The girl was not dark but now she feels that her complexion is unacceptable.
After some time, the same girl is sitting with some new guests at her home, presenting herself in the best possible way. She answers all the questions that she's asked but remains quiet otherwise. Later, the guests inform her parents that the girl was so quiet that she seemed uninterested in the proposal altogether. It all appeared to be fishy to them. Thus, she is 'rejected'.
She's confused and doesn't know what to do. She's only trying to conform to the apparent standards; trying to meet the expectations of her parents and the society. But apparently, it's not working. Hence, here comes another family who also desires to see if the girl fits the criteria of being a worthy daughter-in-law as per their standards.
Due to her past experience, this time she tries to be more vocal rather than just answer the questions that she's asked during this 'tough interview'. Making it a more congenial chit-chat, she dares to ask a few generic questions from the females, of her age group, sitting across only after the mandatory interview is over. The response she receives is:
"Humara haq hai poochne ka!"

(It's our right to ask questions!)
As expected, her boldness backfires this time too. The parents are told that their daughter is too blunt, contrary to how a typical eastern girl is supposed to be and hence, she is not the right kind of 'bahu' at all.
There are several other similar aspects that are not-so-acceptable in a female for the prospect of marriage. Some families would not approve of her merely because she has a career and according to them, girls who work possess doubtful characters. But on the other hand, if she decides not to work and take a break for a while, she is still curiously asked,
"Why are you sitting home? Why aren't you working if you are so qualified? Don't you have any ambitions?

"By the way, we are inquiring only out of curiosity even though in our own family, we do not approve of girls going out and working along with men."
Such hypocrisy I must say!
This entire procedure of 'bahu hunting' is so influencing that the parents continue their attempt in mending their daughters as per the society's will so that their dream of having their daughters married on time can be fulfilled. She is told to appear in her best form before the guests and is constantly reminded to look after her appearance. If she fails to abide by the standard, she is taunted as to,
"Kaun pasand karega iss tara?"

(Who will like you like this?)
The girl transforms into an entity whose main purpose becomes to groom herself into a pleasing personality – pleasing enough to secure the best proposal around. Furthermore, if all the efforts are not working, then she definitely needs to target the unacceptable aspect about her which doesn't seem to appeal to the 'special guests'. Perhaps she needs to change her hair style – maybe shorter, maybe longer – or perhaps her dress sense requires improvement. It could be the matter of using the right kind of make up or visiting the best salon in town. The entire struggle would be commended if she ultimately becomes acceptable for the 'bahu seekers'.
One after another, these awful experiences contribute towards deteriorating her self-esteem. She is made to believe that she is so full of flaws that she gradually starts losing confidence in herself and her abilities. However, this provides the ground on which some girls question the behaviour of the society.
They start thinking that if this is how the society treats us or if this is the way we can 'allow' the society to treat us, then what was all that education, qualification and empowerment meant for? What is the difference then between choosing a life partner and choosing a sacrificial animal?
Today's educated girl challenges the society's approach. She is empowered and refuses to be treated as a commodity. Nevertheless, the society's mind-set is yet to be changed, whether it is the parents who make their girls comply with the society's shallow standards or those 'special guests' who are always in search of 'chand si bahu' cum 'robotic doll' who can easily be tamed as per their aspirations.
Becoming a progressive society – as today we all aim for – demands that every individual makes an effort to abandon this absurd stigma and becomes more practical, sensible and down to earth. That definitely calls for a change in mind-sets on a wider scale because it's the people who make up the society and set the relevant norms and therefore, can make a difference. Honest determination is the key to achieving it.