From Imran Khan to Azhar Ali – Pakistan's 'leaders' over the years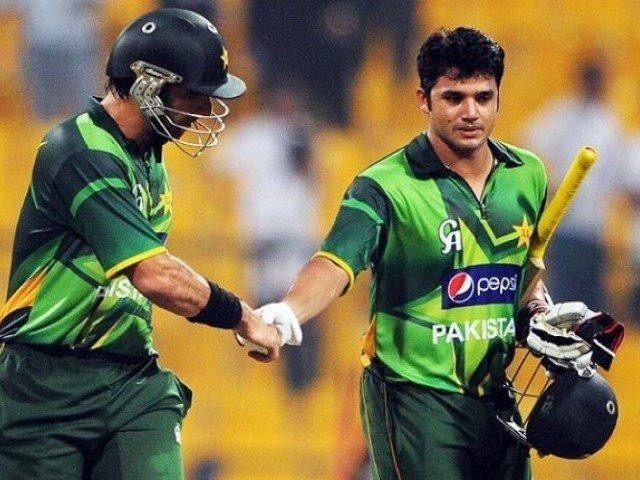 "It is better to lead from behind and to put others in front, especially when you celebrate victory when nice things occur. You take the front line when there is danger. Then people will appreciate your leadership."
Nelson Mandela defines it so simply; a leader is one who comes on the forefront when his subjects are in danger. If I go about comparing this example with our cricket team's captains, I'm afraid very few come to mind that can fit the criteria of a 'leader'.
Leadership comes with huge responsibilities that not everyone can fulfill. But we do have some names that have done justice to their titles.
For example, Imran Khan; he was a true leader of Pakistan cricket, not just because the players who played under him called him so but also because his innings were always timely and responsible and he would always help his team whenever required to produce results.
Though Imran batted mostly on the fifth or sixth position, he would set an example of leading from the front and batting at number three whenever his team needed him the most. The best example was his 72-runs against England in World Cup 1992 final when Pakistan's two wickets had fallen on 24-runs. It was a baffling situation, the game seemed to be in England's favour and players had no idea what to do. In such a time, Imran stepped forward and went in number three; not only did he save the match, he also showed what a fearless leader looks like.
Moving on, not all Pakistani captains have been as successful as Imran. Inzamamul Haq, for example, though a notable leader of his time, had his own flaws. He was a good captain, I won't deny; even today, when I go through his statistics, I realise that was he actually a fearless leader of our team, who knew when to man-up and when to let others take the limelight. But he had his misses as well.
Inzamam batted up the order in the late 90s and his average was the best – 54.88. He scored two centuries and three half centuries in nine matches and Pakistan won five out of those nine games. But what he did after he became captain surprised me greatly. I still wonder why Inzamam didn't maintain the same slot when he was made a captain. He promoted himself on fourth and fifth position during captaincy and even it was the time when Pakistan had Kamran Akmal, Imran Nazir, Imran Farhat and Salman Butt as openers, but none of the opening pairs were settled or consistent enough to be tried in continuation.
Therefore a puzzling question comes to mind: Was Inzamam the sort of player who needed a push or was he an actual leader? His records seem to favour the former. For instance, in the World Cup semi-finals, it was Imran who pushed him to play the match, despite his stomach issues; it was in this match that he made a name for himself and ended up scoring 60 odd runs which contributed in Pakistan's victory.
So I am not so sure if Inzamam can be called an apt Pakistani leader.
Standing besides Inzamam, we have Misbahul Haq – a captain who never led the team from the front, even after facing serious criticism for not promoting himself at number three when the team required him the most. Misbah played 87 innings as captain for team Pakistan, averaged the best among other batsmen playing with him but could not manage many victories at the end of his ODI career.
The final match of the T20 World Cup 2007 and the semi-final match of the 2011 World Cup were the two occasions when he could have won the hearts of many by his 'leading-from-the-front' ability but his 'defensive' approach led not only the team but the entire nation down. His slow pace gave him the title of Tuk Tuk, which continued to be associated with him till the end of his career.
A few outstanding innings came by Misbah's bat on such occasions when Pakistan didn't need them; for instance, scoring the fastest hundred against Australia when Pakistan had already made 570 in the first innings. Misbah came to bat at the time when the team was already leading by 451 and a century at such a point could only be to attain the individual record status and nothing more than that. There is no doubt that some of the most exceptional innings are on Misbah's credit, but we wouldn't have fallen in our rankings if he had played those terrific innings at the required time.
We really needed a brave leader in the recent World Cup when we were against West Indies, and in the World Cup quarter-final match when we needed runs on board, and in the Champions Trophy 2013 when we returned without registering a single win; the list can go on.
However, with March 2015, his defensive era finally came to an end and Azhar Ali turned out to be the new captain – someone who hadn't played ODI cricket for almost two years at the time of his appointment.
However, he made a comeback in the team with a big responsibility on his shoulders.
In the beginning the decision of making him a captain was opposed by many as we needed a leader, not just a captain, but almost 60 days after his selection, Azhar seems to be the right man for the job.
Under Azhar's captaincy, Pakistan has to faced series whitewash against Bangladesh, which opened doors for many critics. Nevertheless, if we look closely at how Azhar ended the defensive era by opening the innings since the beginning of his captaincy period, we'll come to know that his approach is much larger than we thought.
Leading from the front requires lots of courage and Azhar has that potential which could be reflected by his scores as captain – 72, 36, 101,79, 102 and 46. After Amir Sohail and Rameez Raja, Pakistan has come across a captain who opens the innings for the team after a very long time.
Azhar is a talented man and his decisions prove that.
Azhar not only score big when the team was batting first but in the second ODI against Zimbabwe, Azhar came to bat when Pakistan had to chase the target of 268, knowing the fact that Pakistan couldn't manage much victories batting second. He played his part, hit a century and silenced his critics.
On top of that Azhar has the ability to convert his fifties into hundreds; a job which his predecessor didn't know how to do.
"You take the front line when there is danger".
While it is team effort that makes nations win matches, it is the captain who makes all the difference. Here's to hoping that Azhar becomes that kind of captain for us in the future as well.