Forbes' list of influential women: Are Pakistani women not good enough?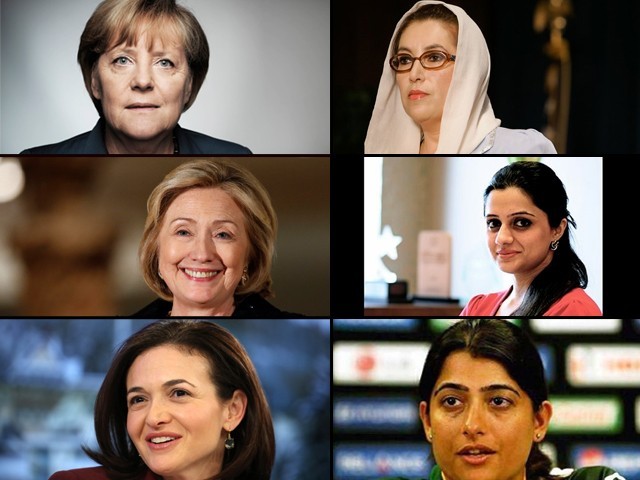 We are a nation of contradictions.
We are a nation that goes to watch Bollywood movies on the weekend and during the weekday, we like to blame RAW for terrorism. We are a nation where everyone has high sounding degrees but when we're standing on the road, we won't be bothered to find a trashcan. Then we blame the government for not cleaning up after us.
We are a nation that spends hundreds of thousands of rupees on our weddings but refuse to pay even minimum wage to underage labourers that we love to boss/beat around.
We are a nation that is home to an Oscar winner and a Nobel Prize winner but cannot manage to let its women enjoy equal rights as men. The local government elections in Khyber-Pakhtunkhwa (K-P) was a 'men's only affair' and 50,000 women were barred from using their right to vote in Lower Dir. There were reports of men with batons stopping women who actually tried to vote.
In the same country, a girl named Shiza Farhan made it into Forbes' list of 30 under 30 entrepreneurs.
Where Pakistan didn't feature was in the Forbes' list of influential women in the world. The list includes women like Angela Merkel, Hillary Clinton and Sheryl Sandberg.
So it begs the question: Where are Pakistan's powerful, influential women? Do they even exist? Ever since the sad demise of Benazir Bhutto, have we produced any powerful woman to come into the political limelight and become a leader? Sure, we have female politicians who are public representatives and are leaders in their own rights, but why won't these women rise from the levels of local politics and resident talk shows and become powerful enough for the world to take notice and appreciate Pakistani women?
Before we blame Jews and RAW and Mossad for this too, let's try to analyse our own fault-lines, shall we?
On the off-chance that the world isn't out to get us specifically, maybe we can try to analyse just why and how Pakistani women are only making headlines for being shot in the head by extremists or trying to get to polling stations or being gang raped or getting slaughtered in the name of honour. Maybe we can try to understand that Pakistan has a misogyny problem and blaming other people and hiding our heads in the sand or abusing bloggers on social media is not going to solve this problem.
Pakistan has many talented, hardworking, intelligent women. Everywhere you look, in schools, universities, workplaces, homes, you will find women proving their worth. They are professionals; they are mountain-climbers, cricketers, artisans, journalists, even commando fighters. But regardless of just how versatile and talented Pakistani women are, they are still facing horrible levels of misogyny and are being pushed back every day just because they are women.
So what's the difference between Sheryl Sandberg and an anonymous female corporate genius in Pakistan?
Opportunity.
Even though the rest of the world is also dealing with a massive misogyny problem, developed countries are offering more and more opportunities to women.
The solution begins at home.
Let's stop considering our daughters inferior to our sons.
Let's stop trying to force-feed ideas into their head that women are only valuable as unpaid labour.
Let's stop minimising a woman's choice.
Let's stop asking women to stay silent when they are being treated unfairly.
Let's have more of Shiza Farhans and Samina Baigs and Sharmeen Obaids and Sana Mirs and Benazir Bhuttos. Let's bring forward Pakistani women because they are just as capable as any other group of women in the rest of the world.